What is a Membrane Switch And Why Would I Need One?
|
As technology continues to improve, there are more ways for the user to interact with the technology. A membrane switch is an interface format that is used in place of a keyboard or a touch screen or a toggle switch. To put it simply, a membrane switch is a touch sensitive switch – and there are many reasons why you would need one.
What is a Membrane Switch?
A membrane switch is designed to be able to turn a circuit on or off. It is touch sensitive, allowing you or another user to go up, press it, and have it communicate to the electrical component to either turn on or off. It is comprised of a printed circuit board as well as a thin layer of plastic that helps to protect all of the electronic components.
The membrane switch has been used in many industries for more than 30 years. While it was not the most popular when first released, the issues have been worked out. Now it is considered one of the most dependable front panel solutions currently on the market.
Why Would I Need this Kind of Switch?
There is an array of reasons for needing a membrane switch. You need to look at the environment that your interface is going to be located in. If you don't use a membrane switch, you have to create some other way for the user to interact with the electronics. This means using one of the following:
– Touchscreen
– Keyboard
– Toggle switch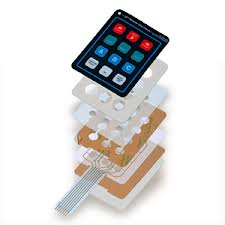 The touchscreen has advantages, but not in every setting. If it is too hot or too cold, it will be impossible for the screen to detect a person touching it. As a result, a membrane switch can be used because it is temperature resistant. Even if a person has fingernails, gloves on or has some other issue, the button can be pressed without experiencing a user error.
A keyboard may allow a person to enter in a variety of commands. The biggest problem with a keyboard in environments where it is very dirty, such as in a mechanic's garage or in a warehouse or even restaurants is that the keyboard can become jammed. Cleaning a keyboard is nearly impossible and that means that it would have to be replaced after the sensors get too jammed with dirt and other debris.
Finally, there is the toggle switch, which allows someone to physically switch something on or off. This is not always ideal because sometimes the controls need to be adjusted more than just to the on or off position. Even if the toggle is capable of doing more, it can still be laden with dirt, making it hard to clean, nearly impossible to keep sanitized and generally not as effective as a membrane switch.
Common Misconception
The most common misconception about a membrane switch is that it is a very basic switch that turns something on/off. This is not accurate. A membrane switch is an electric switch that is made of both copper and plastic parts. It can be printed with an array of circuits and be conductive. Due to this, it can be just as sophisticated as a membrane keyboard or switch panel to be used in conjunction with a computer.
If you need to create an interface for a user to be able to control an electronic device of some sort, a membrane switch can be used because of the many benefits that it has to offer. You cannot expect a user to be able to interact with the electronics without some kind of interface and in order to avoid problems, the interface needs to be able to function in the environment that it is being used in.
The membrane switch is temperature resistant, can be easily cleaned, and can be programmed in a variety of ways. It is just as customizable as any membrane keypad and this is why it is being used in more and more industries. If you need an interface to be used in virtually any environment, this is the switch you would want to look into.
Image Source: 3M.com