Sticker Market Review: Stickers, GIFs, Face Emojis and More
|
Human communication is complex and it gets even more complicated when we communicate online. Using various stickers and emojis is a very common practice recently as sometimes a single sticker or emoji can speak a thousand words. People of all ages use them in their online conversations to convey emotions, mood, attitude, and feelings.

If you're one of those who likes to spice up conversations with stickers and stuff, Sticker Market has you covered. It's an all-in-one keyboard app for stickers, GIFs, templates and face emojis, which you can use on almost all communication apps and platforms, including Facebook messenger, Viber, Whatsapp, and more. No app switching. All your favorite sticker sets, templates, and GIFs are right at your hand whenever you need them.
Let's have a closer look at the app and see how it actually works.
Below is the quick overview of its overall features, but we'll dive deeper and see what each of the app sections has to offer. 
Features
A quick keyboard setup
Huge Sticker Market: Free and paid sticker sets
Create and sell for illustrators
MILLIONS of trending GIFs
Sticker Cam
Personalized face emojis
Sticker Keyboard
Sticker Cloud
Public API
You can get it for absolutely FREE both for IOS and Android devices. Once you're done with the installation, you'll have to register. User registration is pretty easy as you can register using your Facebook or Google accounts or your email.
After registration, the app will take you through a quick keyboard setup tutorial on how to activate it. The tutorial is pretty comprehensive and if you follow all the steps, the keyboard activation will not take you long.
Menu
The app has a straightforward hamburger style menu, where you access all the app sections and your personal cloud with all your stickers, templates, GIFs and custom made face emojis. You can also check your cloud storage and adjust the app settings using the setting icon on the lower right corner. You can change your account settings, adjust the keyboard options, select between the light and dark keyboard themes, and more.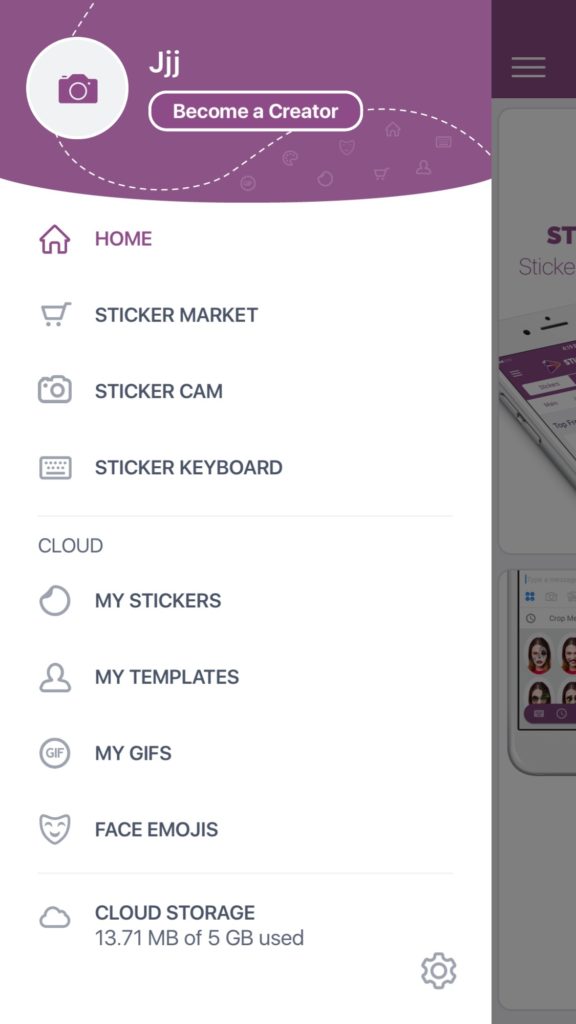 The app homepage is kind of building of the three main blocks: the Sticker Market, Sticker Cam, and Sticker keyboard, which makes it really easy to navigate to whichever section you want.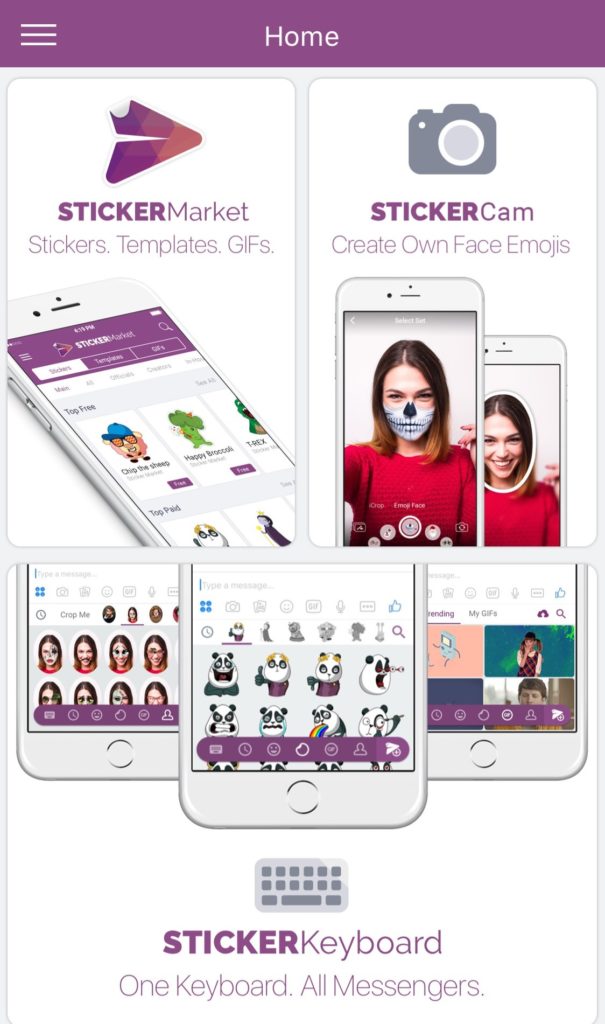 Sticker Market
Sticker Market is the section where all the sticker sets, templates, and GIFs are found. This is a searchable section, where you can search for sticker sets using specific keywords. Moreover, you can set search filters to be able to find the exact stickers you're looking for in just seconds. The sticker sets are also divided into categories, like trending, top free or top paid, to enable the users to search for the stickers in the right place.
There are both free and paid sticker sets in the app. The price for the sets ranges from $0.99 to $4.99.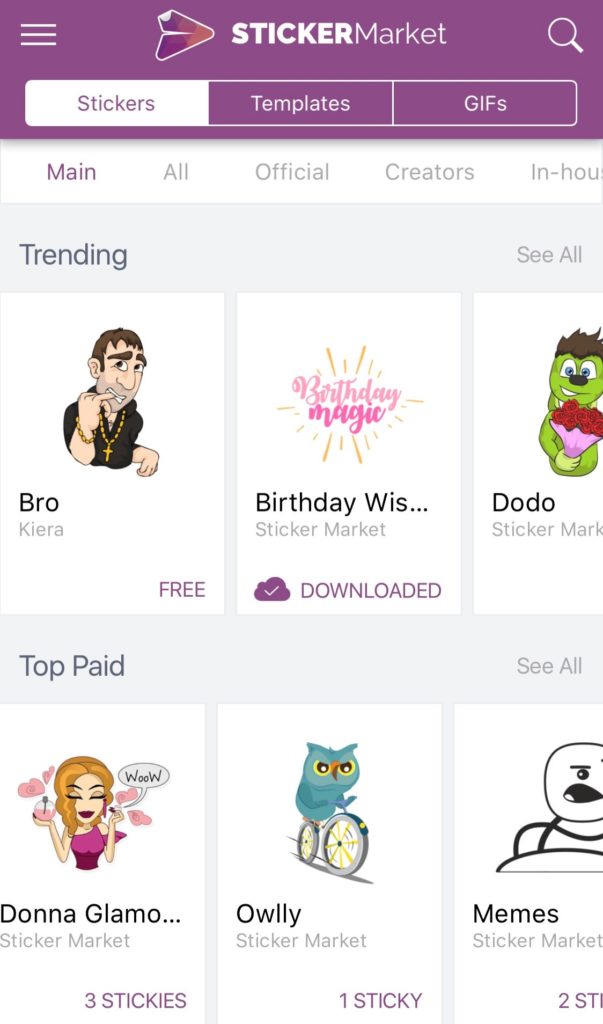 GIF section is also divided into categories, like actions, memes, comics, celebrities, emotions and more. You can browse the GIFs in thumbnail and list views, are just hit "see all" to have them displayed all at once.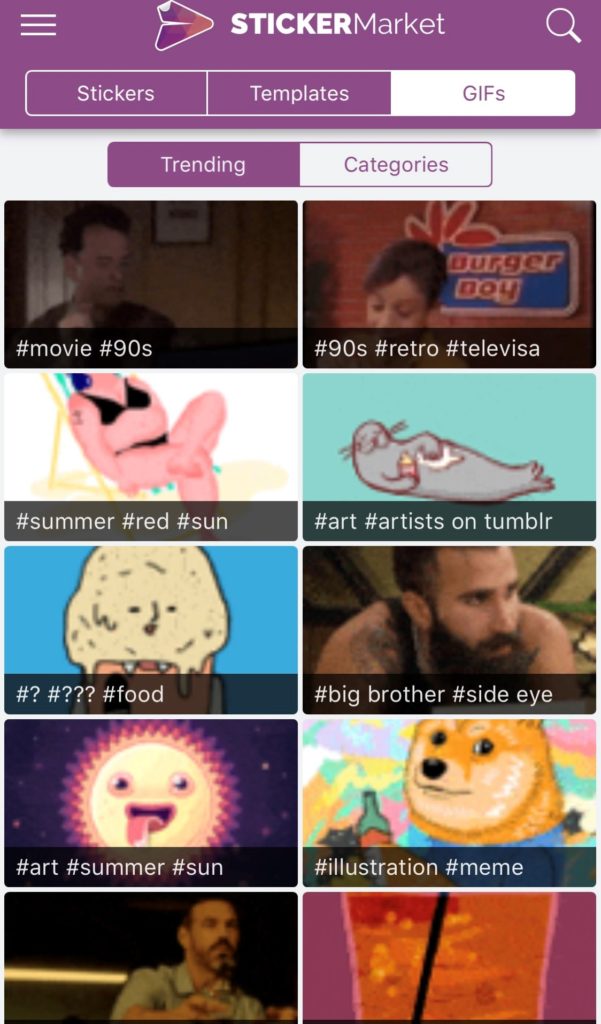 Another great thing about the app is that brands, illustrators or anyone else with a creative mind can download their own sticker sets to the platform and sell them. You can have your stickers used by thousands of users on all top messengers and get additional revenue along the way. There is no revenue sharing for the first year, and everything you make from selling the stickers is absolutely yours. So hurry up!
Sticker Cam
Sticker Cam allows you take pictures with your mobile phone and apply various cool templates and masks to the photos. You can download the templates and masks from the Sticker Market.
Also, there is an outstanding feature in the app, that lets you create your own face emojis which you can later apply to your photos. You just take a picture of yourself, outline the part of the photo you want to crop and make an emoji for, and go ahead and save it.There is a short step by step kind of a tutorial in the app that shows you how to crop, adjust and save your face emojis.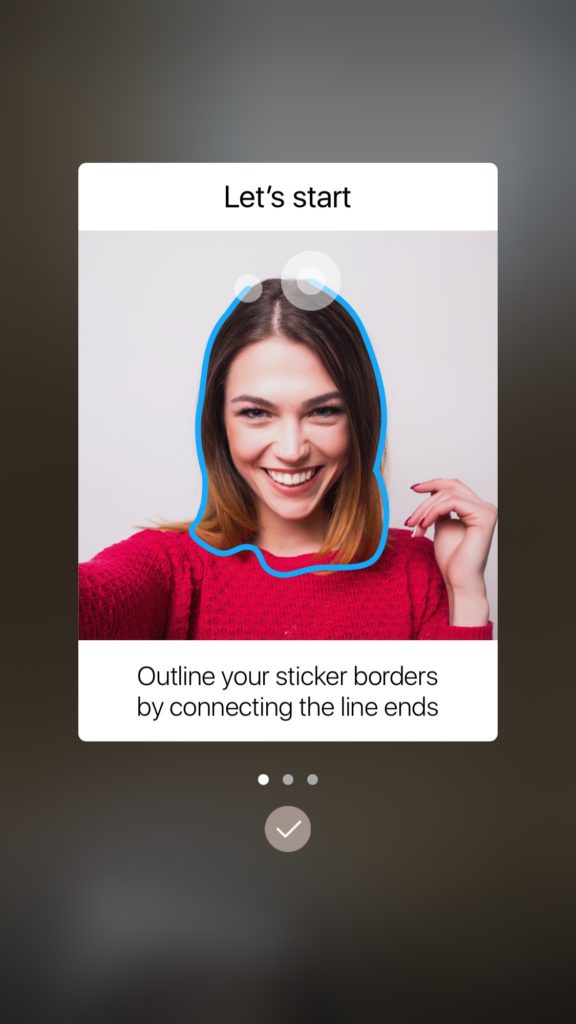 Sticker Keyboard
The app features a super flexible keyboard, which supports 7 languages and comes with two theme options. You'll find the Sticker Market icon on your keyboard, which will open up the sticker section and give you access to the downloaded sticker sets, GIFs, templates and face emojis. You just copy the sticker and paste it in your conversation. As easy, as that!
There is a number of keyboard settings in the app that you can absolutely adjust to your needs, such as enabling prediction, auto-capitalization, key press sounds, and more.
App Usability
The app is very user-friendly and has a straightforward menu and navigation. The keyboard works out of the box and provides a simplified access to the stickers and GIFs. It works the same way on all messengers and platforms and does not require any complicated actions.
Final Thoughts
Sticker Market is a great app that brings an advanced keyboard to your mobile phone and has all your favorite stickers and GIF right at your hands. It's has a huge market of authentic sticker sets that are updated on a regular basis. If you like to make your online conversations, even more, fun, give it a try.