Samsung Galaxy Player 5.8 Unveiled Officially
Samsung Galaxy Player 5.8 Unveiled Officially
Samsung has been in the news this week for all the wrong reasons. With plagiarism lawsuits pinning it down and Apple getting a hefty $1 billion in compensation, it has definitely not been Samsung's happiest times. Looking for a speedy recovery with more gadgets, it has unveiled the Samsung Galaxy Player 5.8.
Samsung Galaxy S3 Look Alike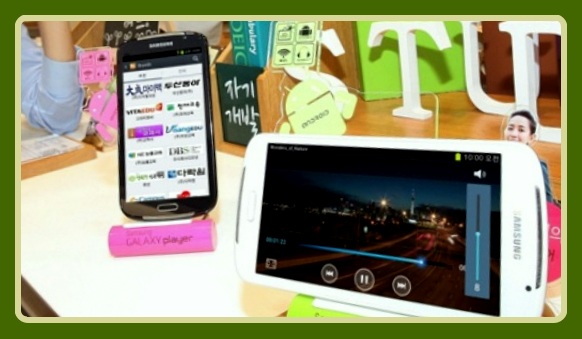 Samsung Galaxy Player 5.8 is the latest device to join the ranks of Galaxy Players, but unlike the previous 3.6, 4.2 and 5.0 versions, this one you will have more difficulty in fitting in your pocket. At a bulging 5.8 inch, it is the largest media player released by the company till date. But critics have voiced their concerns about this gadget as soon as it was unveiled. First of all, bigger is not always better because for media players, portability is a major concern.
Samsung Galaxy Player 5.8 is the fifth size to be introduced in the Galaxy Player line and many argue that it is one size too many. In fact, whether Galaxy Player 5.8 will be able to give iPod (which, incidentally, occupies a substantial 65 per cent market share) a run for its money is doubtful because of the former's cumbersome size itself. Besides, media players are a dying breed with Smartphones being more handy and multifunctional and having immense storage capacities. Carrying just one gadget instead of a media player and a phone makes a lot more sense.
Samsung Galaxy Player 5.8 Display, Processor, Storage and Battery
Samsung Galaxy Player 5.8 will have a 5.8 inch screen (hence the name) with an LCD display of 960 x 540p resolution. It will have front facing speakers, internal storage of 16 GB or 32 GB along with 1 GB of RAM.  Samsung Galaxy Player 5.8 will run on Android Ice Cream Sandwich and will be powered by a sturdy 2500 mAh battery.
Samsung Galaxy Player 5.8 Price
The price and availability of Galaxy Player 5.8 has not been made public by the South Korean firm yet. The previous edition, Galaxy Player 5.0, has a price tag of $199.99, so it is expected that its successor will cost a bit more. But officially the price of Samsung Galaxy Player 5.8 is not yet confirmed.
Samsung Galaxy Player 5.8 Availability in India
Samsung Galaxy Player 5.8 may not be released in India as the Korean Company hasn't launched any Galaxy Player in the Indian Market.