Review: Noteburner M4V Converter Plus for Mac
|
iTunes Store provides service for its users to download, rent or purchase digital videos and audios. It came as a blessing for all Mac users alongside all the other Apple device owners since the last decade. But then, despite being so practical, it suffers from a few drawbacks too.  For example, the videos downloaded from iTunes can read properly only via iTunes, Quick Player or on Apple devices due to DRM protection. Don't worry. When you feel the need to convert DRM protected media files in iTunes to some unprotected file formats, you can take shelter in Noteburner M4V Converter Plus for Mac.
Noteburner M4V Converter Plus for Mac, as the name itself suggests, specializes itself as an application for Mac users that converts DRM-protected M4V video files into conventional and unprotected video formats supported by non-Apple devices as well. It offers all of the functionality you would expect from a M4V Converter.
Convert both rented and purchased videos to unprotected videos
Noteburner M4V Converter for Mac launches with a visually pleasing interface in grey and white with the main options and controls located at the upper and right hand side of the window. This easy-to-use program can convert your M4V and DRM files into a wide range of other file formats including MP4, AVI, MPEG, 3GP, MOV, FLV and many more.  The program has been designed so simple that people will find it easy to use regardless of their level of experience. And the best part – despite all its rich functionalities and easy-to-use features, it converts DRM protected M4V video files at an amazingly fast speed.
What distinguishes Noteburner M4V Converter Plus for Mac from other video converters is that it can even remove the DRM protection from the rented iTunes video files.  What you need to do is to import the video files you rented or purchased from iTunes Store and choose the output profile. Noteburner M4V Converter Plus for Mac converts the protected videos to conventional video in few clicks and then you can keep the rented videos forever.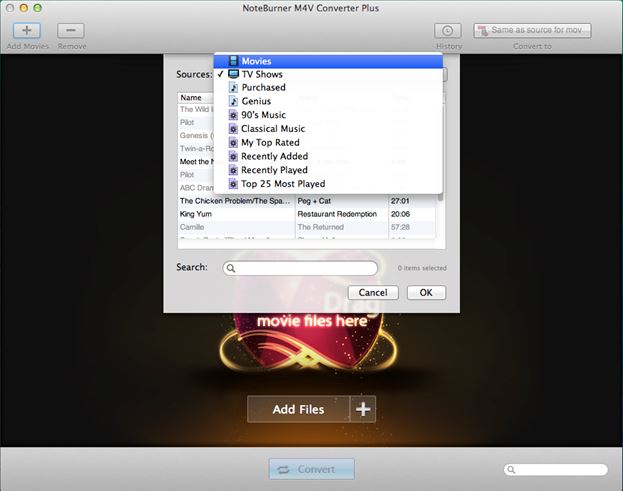 Give you full control of output video
With Noteburner M4V Converter for Mac, you can remove the unwanted scenes, adjust the output quality and choose the preferable video format.
In the dropdown output profile, you will find almost all the popular devices in the list, including smart phones and tablets. It also enables you to convert M4V videos to the file formats which can be recognized by iMovie, iDVD and other programs. Moreover, like other video converters targeted at Windows Platform, Noteburner provides flexible options to change the profile for both video and audio. And, it is by no means the only feature of the program. You can clip M4V videos or convert any part you need!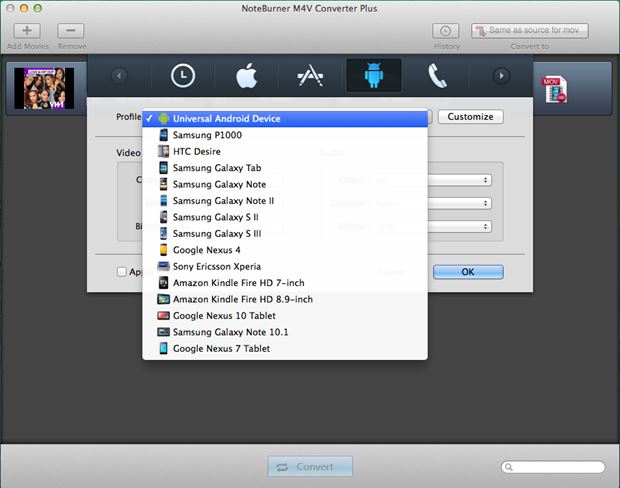 Easy to use and Get Lossless HD Movie
The main interface is so intuitive, and you can handle it at the first sight of view. Noteburner M4V Converter Plus for Mac converts iTunes M4V to unprotected MP4 and preserves 100% original video quality. You can easily watch DRM-FREE iTunes HD 1080P Movies, TV Shows with lossless quality on any device or media player.