PayTM Review: Why You Should Not Buy Anything From PayTM
|
E-commerce, for sure, has eased out the access to the amenities that one wishes to purchase, but, our over dependency on them has given them the license or should I say the bragging rights to ignore their mistakes and make their customers pay for them. I say this owing to a fraud that I experienced at the hands of a rather popular e-shopping website 'Paytm.'
PayTM Review: My User Experience In Detail
Date: SEPTEMBER 16, 2014
I ordered a product, a Bajaj REX 500 500 W Mixer Grinder choosing Paytm over other popular portals such as Flipkart and Amazon, but little did I know that this tryst with a new partner would result in a serious loss. They were offering 25% cash back, so I gave them a try. I placed the order, but to my astonishment, on the very next day, I saw that the product that I had chosen i.e. the Bajaj REX 500 500 W Mixer Grinder was replaced by another item named Prestige JMG 02 500 W Juicer Mixer Grinder. I canceled the order immediately, and the order was successfully canceled.
I reordered the product that I had initially chosen, i.e. the same Bajaj REX 500 500 W Mixer Grinder and this time the order was placed correctly. Note that I had paid for these products in advance, i.e. for both the orders, the first one and the second one, hoping that since the first order was canceled, the bill amount would be refunded back to my account within a few days.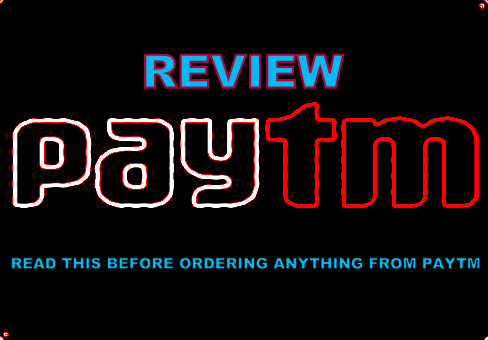 Date: SEPTEMBER 23 2014
I was in Hyderabad when I ordered the Mixer grinder and the order were to be delivered at my home ( which is in West Bengal). And When I reached home (W.B.) on September 23rd, I found that two products were delivered at my doorstep. Both, the canceled order and the correct one. When I opened my email account to inquire about this commotion, I found that Paytm had emailed me and had asked me not to receive the first order, but since I wasn't present at the time of delivery, and couldn't access the mail while I was out, I couldn't do anything about it.
The first question that came to my mind was: When the order was canceled, why did they deliver the product? And if they couriered it by mistake and wanted me not to accept the courier, why did they not call me? Anyways, I wanted to return the product, and hence, I emailed them and asked them to take it back.
After 50 HOURS, they replied asking me to courier the product back and said that they would bear the courier expenses up to 100 INR. They also asked me not to open the product. So I went to inquire about the delivery charges that were to be borne in the delivery of the product back to Paytm and I was informed that I would be required to pay 1300 INR. Now, it really didn't make any sense to pay 1200 from my own pocket just to return the product back to Paytm, which I hadn't even ordered. So, I immediately emailed them and asked them if they were ready to bear the courier charges. And, as it was expected, there wasn't any reply from their side for 5 days.
So, I had no option but to use the product. Little did I know that there was another con in store for me. When I opened the package, I found it to be defective.
Date: OCTOBER 1 2014
After 150 HOURS, they replied and told that they were ready to bear the courier charges, but neither provided me with a number nor did they arrange a call. There was still an ambiguity over whether they were ready to bear the expenses up to 100 INR or the full expense of 1300 INR. I emailed them again explaining the entire situation and also told them that the product that they had delivered was defective. I asked for a contact number again and stressed on the fact that I needed to talk to them directly. And yet again, there was no reply from their side. I was pissed to the extremes, but there was nothing more that I could do. Eventually, I had to give up and had to keep the defective product.
Date: NOVEMBER 28 2014
After almost 60 days, I finally got a reply and finally, after months of delay and frustration, they provided me with a contact number. I called them up, and talked to a senior officer on the following day, i.e. on November 29th and explained the whole situation. At first, it seemed as if he had understood my problem and said that he would give me a call within 2-3 days. They also credit 200 INR as Paytm cash in my Paytm account, most probably, as a consolation, and asked me to ship the product back to them within 7 days, else it would be considered delivered.
PayTM Customer Support: ZERO
Date: DECEMBER 5 2014
By now, I was habituated to their attitude and I knew that nobody would reply. And that is exactly what happened. Hence, I called them again on December 5 and the call was diverted to another 'senior officer' and hence I had to explain the whole episode again, which was very irritating. But I did it only with a hope that after so many days of pursuit they would be humane enough to understand my problem. But what came after that made my blood boil. The attitude of the officer was far from being professional. Heck, it wasn't even acceptable. He had the audacity to ask me as to what was I doing for all these days. Either he was out of his mind, or he was purposely handed over the call to fend me off, because after explaining the entire scenario which lasted for over two months beginning from September 16, he had the guts to tell me that I didn't do anything for the last two months. Let me repeat here that it was me who had emailed them on October 1 asking them to arrange a call, and it was them who came back to me after 60 days.
The way he was talking to me was like, "You have to return the product within 7 days, or you may very well go to hell. We don't care if your mom has to ship it back. We do not care. It is your money. So, if you want it, do as we say."
How Rude!
Is this the way a company talks to its customers? And he has the balls to call himself a 'Customer Services Representative.' After all this, I don't need the money. They can feed it to their Customer Services Representative and ask him to learn some manners. I want to share this experience with as many people has possible so that now, before ordering a product from Paytm, people actually think twice. Their attitude was so pathetic that I want to sue them in a court for fraudulence. But then, I have better things to do rather than waste any more time and patience behind a company that I would rate as the worst when it comes to customer care and grievance redressal. Please let my voice circulate, and share this post as much as possible.
PayTM Video Review
Check the user experience of Versatile Vicky which she had shared in her Youtube Channel. Listen to what she had to say about PayTM Customer Support.
PayTM Customer Review

This is what Priya Dayal had to say after she ordered Havells Juicer from PayTM.
PayTM Review: Should You buy From PayTM?
After reading the user experience, it is on you to decide whether you are going to buy anything from PayTm or not. But I am definitely not going to buy anything from PayTM.
My advice: Prefer sites like Flipkart and Amazon.
Update: They did refund my money after this post was published.