Top 10 Music Playing Apps for Android
|
The availability of number of Android apps has made our life easier. Similarly for music enthusiasts, Android ensures to make your music playing a memorable experience. Generally, to enjoy the music in a complete way, users download various tools streamlined from internet. They need to visit these tools separately to get updated with what they are looking for. But, now android is out with amazing variety of skins and interfaces that can make your music playing experience excellent. So, uninstall all those standalone apps and download these music playing apps now.
Here are some of the best music playing apps for android that you can choose from.
PowerAmp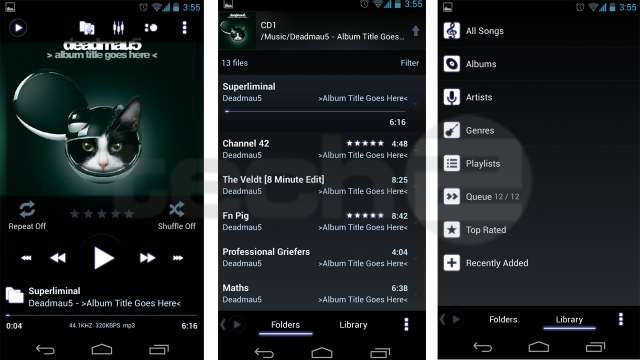 PowerAmp is considered as the best music playing apps among al other. It supports an array of audio files. Apart from this, it carries band graphical equalizer for every format, separate bass, custom presets, tag editor and treble adjustment feature as well. This app is also available in trial version for fifteen days that you can use for your convenience.
Player Pro
Player Pro is among the oldest music playing apps supported by Google. Through this app, one can listen o music as well watch videos. The advanced features make your media playing full of fun such as shake-to-play feature, choose album art, lock screen option and pause less playback. This app also supports SRS, Dolby and audio beats to deliver best sound quality to you.
Winamp
Winamp is the oldest media app available till now. From old PC desktop to new android handset winamp is available in every form. This incredible app supports internet radio, various music discovery tools, iTunes import, last.fm and lick screen player feature as well. This music playing app is the most reliable and trustworthy app in the market among other media players.
DoubleTwist
DoubleTwist is a free app that acts as a boon for Mac users due to its syncing abilities. Through this app, you can download any album, create your own playlist, subscribe to podcasts and sync music as well. You can even make purchases within the app.
RealPlayer
RealPlayer is a renowned app which first came in Windows platform and now designed for Android OS. Supported by Google Play, this app has earned over ten million downloads. The features it supports are graphic equalizer, music identification, ID3 editing and cover art downloads. It acts as a hub for music and photos.
Cubed
Little different from other apps, this app displays your music collection on the surface of cube. The collection runs alphabetically with the swipe of your touch. Through this app, you can download album art and scrobbles to Last.fm as well.
Neutron Music player
The user interface of this app operated efficiently. For those, who own a smartphone, this app acts as a added feature. It is easy to use and loaded with the music of every genre and domain. The trial version of this app is also available for your easiness.
Z Player
If you are bored of usual music playing tools, then Z player can be a good change for you. Build with Microsoft zune style user interface, this app allows you to watch videos and play music as well. You can shuffle the songs and edit ID3 tags as well. The animations with artistic pictures make the background look more appealing. There is default lock screen feature as well within the app.
Last.fm
Before, Last.fm was only recognised as an online radio app, but now this basic looking app acts as an android music player as well. Through this app, the users can scrobble music tracks. It means you can now use your tunes via your mobile phone instantly without any hassle.
Mixzing
This advanced music player allows you to listen to your favourite tracks along with their lyrics. The playlist you create automatically gets saved in the app. There is an option in the app that enables you to discover new music. This app is available in free version as well as paid version.
Though there are numerous such applications, but these are top-ranked music playing apps available today. So, download the one you find the best and get entertained.