Specs and Review of Micromax A88 Canvas Music: Can Shake Anything
|
Micromax has come up with a new A88 Canvas Music smartphone with JBL headset. The phone is in shape of a candy bar, which is designed especially for music lovers who do not want to spend much on any other premium Smartphones. This new canvas music can support all audio and video features like MP3, AAC, WMA, WAV, MP4, WMV, H.264 and H.263. With a music application like MLive, users can download over 4 Lac songs, all for free.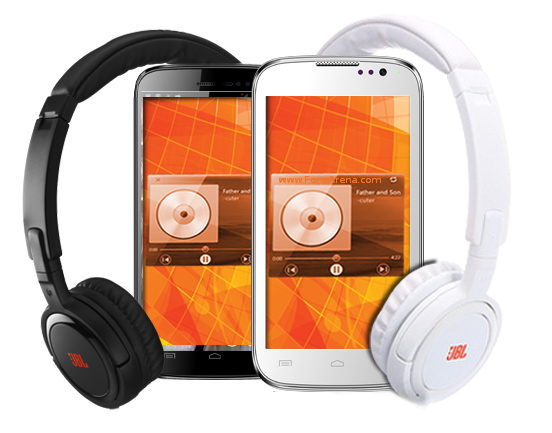 Display
Micromax Canvas Music handset comes with a 4.5-inch capacitive touch screen display with a resolution of 480 X 854. The density it offers is 217 ppi that is worth as many inexpensive handsets with 4.5 inches usually comes with 244 or even higher.
Features
From front, Micromax A88 Canvas Music is average looking. However, the back panel of canvas music looks good due to its rubber finish. This also gives phone a good grip. Logo of the company on the back of the phone enhances overall look of the phone. With a thickness of 11.3 inches, the phone is light weight and easy to carry. Apart from these, the phone features Wi-Fi, latest Bluetooth 4.0 version, GPS, micro USB 2.0 and a 3.5 mm jack.
Camera
In- build 5 MP rear camera of the Music Canvas A88 offers dual LEDs. With this auto focus camera, you can easily record high definition videos of 720 X 1280 Pixels. You can also rely on its HDR functionality for good pictures.
Battery
The new Music Canvas A88 has 1800mAh Li-ion battery that offers 260 hours of standby on 2G network and 5 hours talk time.
Processor
The phone has a Mediatek 6577 dual core processor along with 1 GHz and 512 MB RAM. The Operating system used in the phone is Android Jelly Bean.
Price
The new Micromax Canvas Music A88 is available at the price tag of Rs. 8,500 along with a JBL handset of Rs. 1,500
Pros and Cons
Talking about the pros of the handset, this new phone offers many mind-boggling features at affordable rates. The phone is good for intensive games and mildly graphics. However, the official figures of this phone are not very impressive. As if, the device is used for an hour for gaming with W-Fi connectivity, it uses 15 % battery. If the user watches You Tube videos, then in 40 minutes the phone will utilize 20% of battery. In addition, it is crucial to use a task manager to clear the memories otherwise the phone will hang for sure.
Micromax A88 Canvas Music: Can Shake Anything
To impress the customers, Micromax is offering good quality JBL headset and normal earphone with the device. In the competition, where every company is coming up with latest and hi-tech devices, this new phone is certainly tempting to those who cannot afford other expensive Android phones. However, Micromax should be appreciated for offering this new Android 4.1, rather than ICS. Micromax Canvas Music A88 is best for Music and is truly a phone that can shake anything.