Micromax A116 Canvas HD Available in Stores from February 14th
|
Micromax A116 Canvas HD, what a 'love'ly surprise! After having set the stage with the announcement last month Micromax has decided to roll out its latest offering, the A116 Canvas HD on February 14th. This 5-inch phablet comes as a successor to the Micromax A110 Canvas 2. The Indian smartphone manufacturer is trying its level best to get into the global competition with announcing the Micromax A116 Canvas HD just a day before technology kingpin Samsung announced its Galaxy Grand.

Micromax A116 Canvas HD Tech Specs
The Micromax A116 Canvas HD specs look quite impressive. Since it is a combination of a phone as well as a tablet, the Micromax Canvas 3 has a solid 5-inch HD display, which supports a 720 x 1280 pixels resolution.  Running on Android 4.1 Jelly Bean the phone possesses an IPS LCD capacitive multi touchscreen. This basically means that issues like poor color reproduction, slow response and image inconsistency are done away with. These along with the goodness of HD ensure that the results are clearer, sharper and of very high quality. The pixel count has been raised up to 294ppi.
What's Inside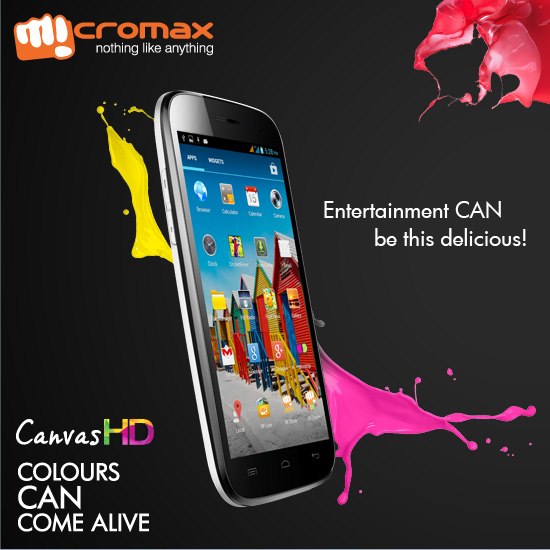 Getting to the crux of matters, Micromax has used a power-efficient 1.2GHz quad core MediaTek MT6589 processor and this is one the A116's main USP. The processor supports features like dual SIM abilities. The Micromax A116 Canvas HD GPU gives a smooth and vivid performance, playing HD games and videos quite easily.  Along with 1GB of RAM the phone has 4GB of storage space, and thankfully a microSD card slot which will expand up to 32GB. A minus point for the phone is that 4GB of memory is hardly sufficient for the applications that will be saved in the internal memory by default. The Android 4.1 Jelly Bean OS has been used for the first time in a Micromax device, ever since its launch. Trust android for a smooth, ultra-responsive interface. Other new features include ramped up notification arena, high resolution contact pictures, enhanced Android Beam and Google Now, improved camera interface among others. Finally, the Micromax Canvas HD comes with a lithium ion 2100mAh battery.
Camera- Smile, please
The Micromax A116 Canvas HD camera has a good 8mp lens equipped with an LED flash,  gives a resolution of 3264 x 2448 as well as 4X zooming power. This is pretty decent for the usual picture-clicking.  However, owing to the unavailability of the BSI sensor the camera doesn't capture high quality pictures in low lighting conditions. This is a minus point again since the other low budget smartphones out in the market do include this feature. The Micromax A116 Canvas HD video calling is a good experience with the phablet showing off a VGA front facing secondary lens of 640 x 480 pixels resolution.
Connectivity
All of those expecting Micromax to include NFC in its latest handset, sorry for the disappointment. However there is no other compromise made anywhere else since the company has exhaustively covered almost all other areas of connection with 2G, 3G, Wi-Fi, EDGE, GPRS, Bluetooth 4.0 and microUSB 2.0. Also the phone comes set up with applications like M!Store, M!Buddy  and the likes. Google Chrome is the default browser.
Money Matters
The Micromax A116 Canvas HD price is a mere Rs. 13,990 and is available only through the company's official website. Micromax declared the sale open and the delivery is stated to take up to a week's time.

Competition
Micromax till date has played it safe by sticking with single/dual core processors and the same old Android ICS OS. However, the company has taken a giant leap right into the boxing ring with launching their A116 Canvas HD powered by a sophisticated quad core running on the latest Jelly Bean OS.
My thoughts after reviewing Micromax A116 Canvas HD
The A116 Canvas HD presents the budget-conscious Indian consumer with all the great, high-end tech features and comforts of a smartphone at an affordable price. The other players include Samsung's Galaxy Note 2 priced more than double of the Canvas, has a 5.5inch display and faster processor. LG'S Optimus Vu comes at RS.26900 with a better front camera plus NFC connectivity. Wickedleak's Wammy Titan and Karbonn's Smart Titanium 1 are also stiff competitors for the A116 Canvas. Will the Micromax A116 Canvas HD hold strong in the race or succumb to the pressure of the competition is yet to be seen.
Read this to find more details-  Micromax A116 Canvas HD