iSkysoft iPhone Data Recovery: A Complete Review
|
One of the worst things happening to any electronic device is the loss of data. A similar thing can be experienced with any of the devices of Apple, which can prove to be quite harsh both in terms of economy and mentality. One fine day, your device may go blank and not boot, and if do not happen to have a back-up of your data saved and stored, you will have to part from your contacts, messages, memories in the form of pictures, or any long cherished entertainment media like videos, and what not. The losses can be huge, if among those things to have gotten lost were passwords, banking details and stuff.
Better than Rest
To counter such situations, one may do a full restore to a previous backup or sift through various recovery tools available, before using the latter with various degrees of success. That's where iSkysoft iPhone Data Recovery steps in.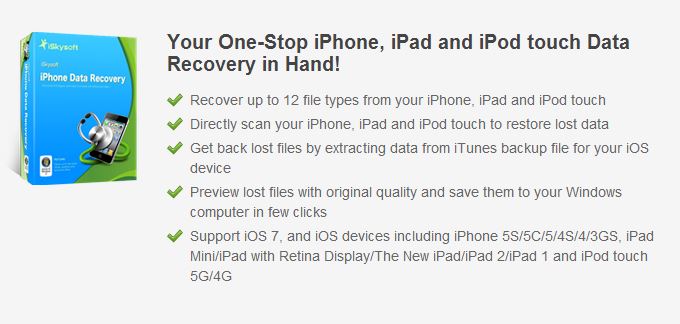 The track record of the makers of this tool have a proven record in the field of data recovery, and so expectedly iSkysoft iPhone Data Recovery stands up to most of the expectations, and is a boon when one needs to urgently recover some data from a faulty device.
Simplicity
This tool is simple to use and works like most of the others of its kind. One has to connect their device to the PC and then run this tool, as a result of which most of the data is recovered according to the preferences given and then restored back to the device. In today's age, where almost everything is on a iPhone and it is being used heavily, especially with a lot of apps, then there is a chance it may break down, thus emphasizing the need for an efficient data recovery tool.
Features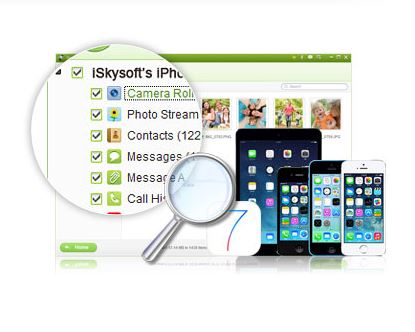 In times like these, tools such as iSkysoft come in handy with its simple and easy user-interface. Also, most of task is performed automatically after the tool is run after connecting the device with PC/Mac. Irrespective of whether, the device is booting or not, the tool scans the device, and picks up all the data that it can which then can used to restore the device directly, or one can save it on their PC/Mac. One of the plus points of this tool is that for selective backups, its performance is the best in its class.
Price
69.95 USD
Advantages
One of most popular functions of iSkysoft iPhone Data Recovery is the recovery of accidentally deleted data, which can happen a lot while clearing out the system and during iCloud syncs. Those lost contacts, messages, images, etc. can be easily recovered with the intelligence of this tool.
iSkysoft iPhone Data Recovery tool for Windows and Mac can be found here.