Heavy Traffic: Is Your Host Providing Enough Resources to Handle Your Site Traffic?
|
Almost everyone wants more website traffic, but can your current hosting company handle a significant uptick in the number of visitors to your website? If you don't know the answer off the top of your head, the answer is probably "no."
Much of this answer depends on the website platform used because some are simply not designed to handle large amounts of web traffic.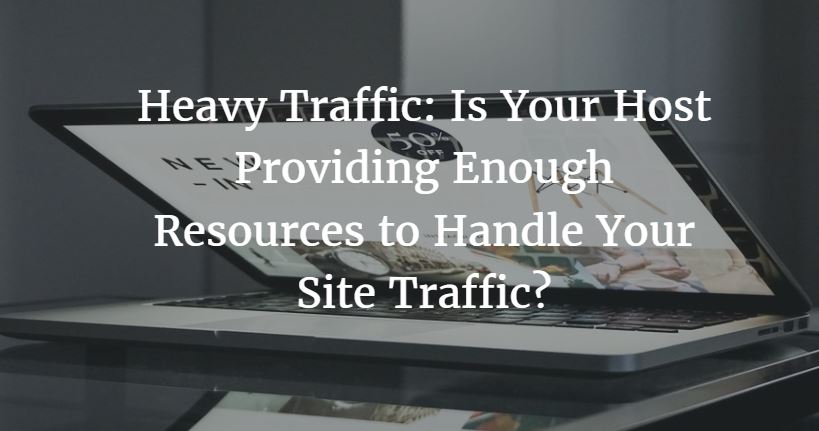 Why is Your Hosting Inadequate?
Many business owners do not plan for success. So, when they select a web hosting company, they select the smallest package that handles only a few visitors a week. If the site moves up the SERP or some content on the site goes viral, the company simply has not committed the necessary resources to deal with the sudden spike in website traffic.
Other companies upgrade their site's look but fail to upgrade their hosting package, so new visitors can only look at the site and wonder what it would be like to form a commercial partnership.
What to Look For
Pragmatically, most people look at bandwidth when selecting a web hosting company, and that metric is ideal for static HTML pages that seldom ever change, because the server simply has to download a set of script to make the text or image. But more and more sites rely on dynamic content, such as blogs, to improve SEO. Google rewards fresh and authoritative content by moving the website higher up on the search list. To address this problem, business owners should pay attention to:
CPU Minutes: If all the central processing unit's time goes to a dynamic page that must be downloaded from several different locations, the other pages usually load slower, at least by comparison.
RAM Use: Much like CPU minutes, short-term Random Access Memory is a finite resource, because RAM cannot be supplemented from other sources. When more of these resources go to one place, there is less for everything else.
Database Connection: An error message like "Cannot Connect to SQL Server" means that there are too many requests on the server at once and so that computer is unable to reconstruct the site.
Static sites have these issues as well, although not to the same extent as dynamic sites.
What to Do
These problems are usually fairly easy to address without an expensive upgrade that the hosting company almost certainly will try to sell you.
The "Unlimited Data Transfer" Trap: This promise is enticing and not untrue, but as outlined above, data transfer and bandwidth is only one element of web hosting.
Plan Your Site: There are pros and cons to both static and dynamic sites, and there really is no wrong choice. Consider what you want your website to do, and then select both a platform and a web hosting company that fills those needs.
Hopefully, by understanding all these different needs, business owners will be more empowered to make the right hosting choices, as well as the right design choices, that best support their company's mission.