Facebook Unveils Graph Search: A Smarter Search Engine
|
Facebook is world's most popular social network they are continually trying to connect more people than it was possible ever before. Now they are about to introduce a new search tool which will definitely change the way people use Facebook now a days. They named this new tool as "Graph Search". It will appear as a slightly bigger search bar at the top of the page and according to Official Employees, the search engine will remind everyone the very first look of Facebook and let you connect with people of your interest in a very convenient way.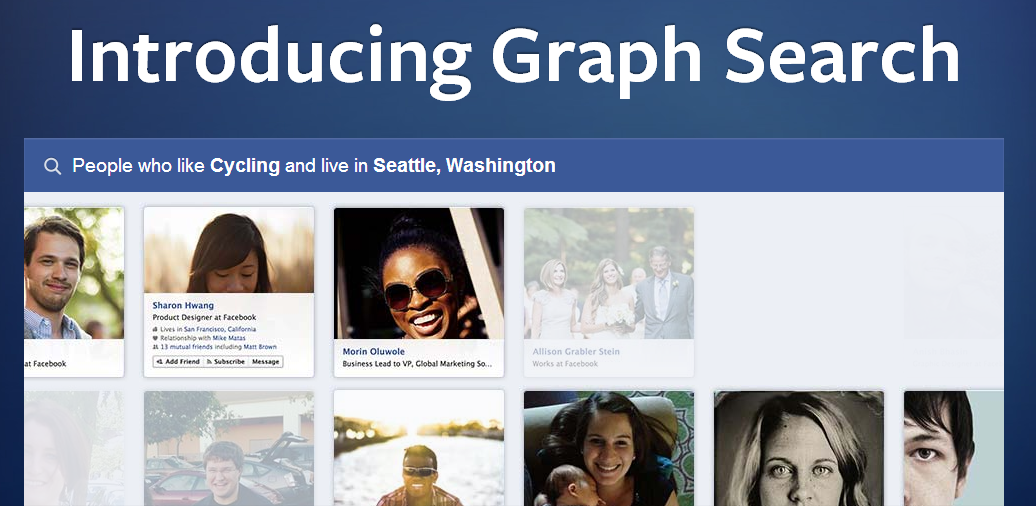 Graph Search: What's new?
Graph Search is not like a conventional web search and will not determine results on some keywords or short key phrases you have entered, but it will take conventional search to the next level by providing results about a place, people and content of your interest. Graph Search is a completely new idea and about one and half year of intense hard work.
How It works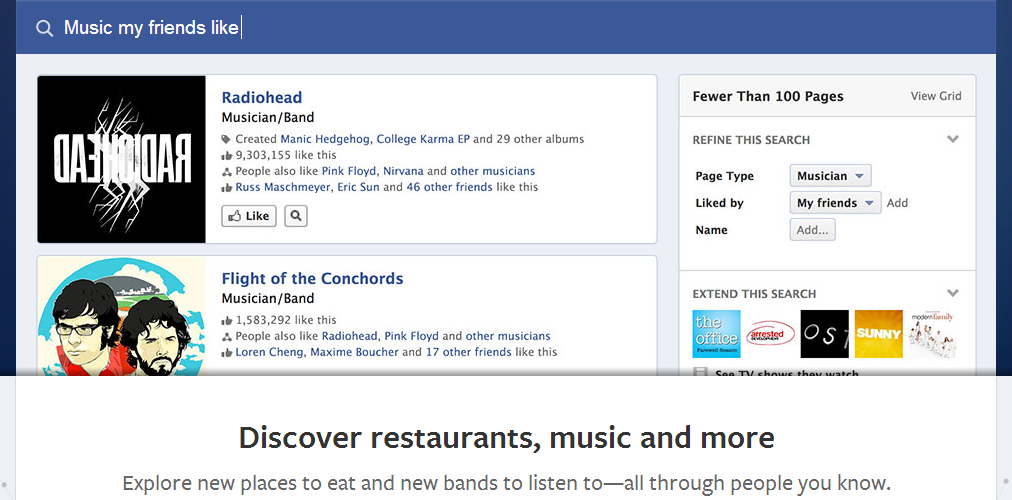 Graph Search will make it a lot easier to search anything you want. Let say you want to search "People studying in my college" and it will show all people studying at your college. You can also search "People from my city like soccer" or you can search "Neuro Surgeon in US". Similarly you can search about places, photos and interests.
Personal Information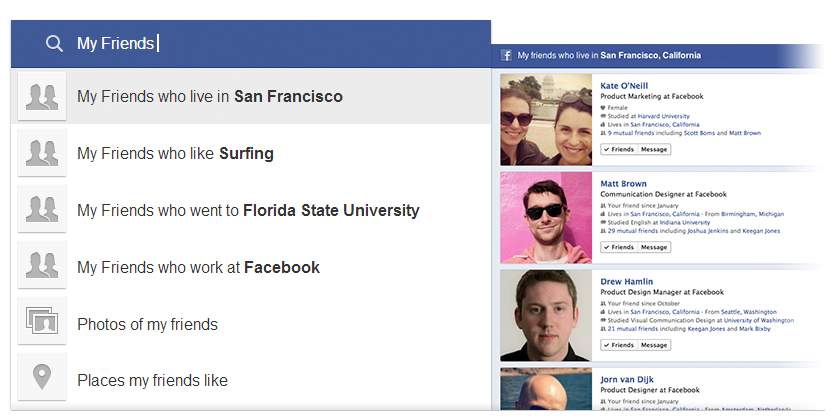 Obviously privacy is the biggest concern, so Graph Search is designed in a manner to search from the only information that has been shared by someone and will not crawl through your private information. In order to get maximum protection some of new features have been already introduced in privacy tool. If you have some posts, infos or photos you shared with yourself only or restricted than Graph Search will never show them in any search result. Graph Search will only show thing that was already visible on Facebook, it means Graph Search will only boost the search and will instantly provide the content you searched for. They have also introduced new privacy features to each post you share, to prevent any exposure of restricted content.
Graph Search: A threat to other search engines?
After introducing Graph Search, Facebook will emerge as the strongest competitor to other search engines like Google, Bing and Yahoo. Bing has decided to work in partnership with Facebook and will show relevant information on the right side of Bing's query result page. Google has already introduced its Plus social search, but it seems that they are far behind the Facebook.
As Google and Microsoft are generating revenue from featured search, Facebook is also planning to generate revenue from Graph Search, whereas some analysts are saying that Facebook ads will not like the other's compelling and auto match type, which I guess sometime annoys a user. Well let see what Facebook is up-to and as far as Graph Search concerns, It is yet a beta version and will available only in the US and after some time it will available throughout the globe.