A Complete Review of EaseUS Data Recovery Wizard
|
An utility software, developed by EaseUS and based on Windows, Data Recovery Wizard is the most commonly used software for recovering your lost files. Data can be restored from FAT 32, FAT 16, from storage media, Ext3. NTFS or Ext2 file systems. The lost files can be restored with the help of information contained within the header as well as the footer of the damaged file, and also with the help of knowledge about the structure of the file.
Data Recovery Wizard operates in three different modes for restoring deleted or damaged files. Such deletion may be attributed to system malfunction or human errors. The modes are : Deleted File Recovery Mode, Complete Recovery Mode, Partition Recovery Mode.
Why Data Recovery is Needed
You need to recover or salvage data when it gets inaccessible from secondary storage devices, or the data has been corrupted or damaged. Physical damage of the storage media may also make salvaging necessary. If the file system is logically damaged and cannot be loaded by the operating system, restoration has to be resorted to. Most commonly, data recovery is required when the operating system fails to work. In such a case, the most common way of salvaging the data is to copy all the files and folders into another disk. Another way in which data and files may be lost is when a hard disk, a file system or a disk partition fails to function. In each of these cases, the data is not easily retractable. In each of these cases you may have to take recourse to repairing the hard disk, damaged partition or the file system, using data recovery software.
Different Modes of Data Recovery Wizard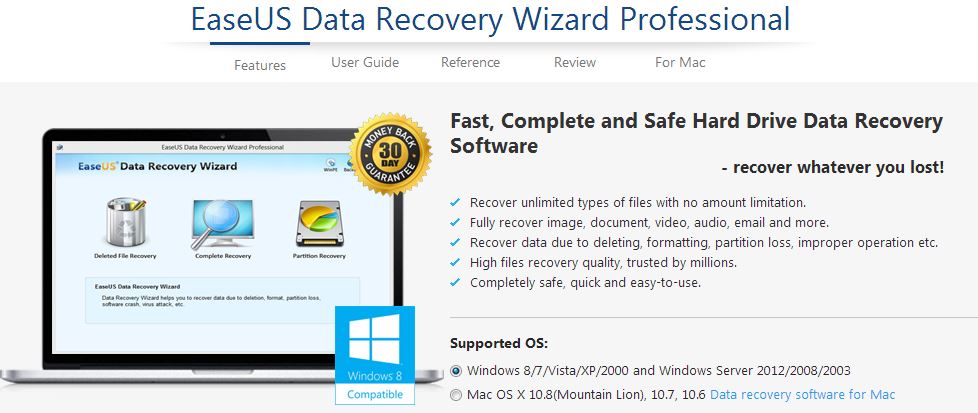 The three different modes, depending on the type of restoration and salvaging required are :
Mode for Recovering Deleted Files : Until and unless the disk spaces where deleted files existed are overwritten by new data, the free spaces remain unchanged and are kept marked by the operating system. So, the files can be restored in their original disk sectors.
Mode for Complete Recovery of Lost Files : If volumes are totally corrupted or formatted or so are the partitions, then this mode may be used. With corruption of data due to formatting, the reference entries against these files in the root directory are also lost, damaged or erased. The lost files can be restored, in that case, by using Data Recovery Wizard by building the file system all over again by making use of program algorithms.
Mode for Recovering partitions : When files are lost due to change in the partition structure or from spaces not allocated to them, this mode has to be used to recover them.
Data Recovery from Hard Disks
It is quite common and very easy to have data and files erased from the hard drive. Data Recovery Wizard provides easy solution for hard drive data recovery. Hard drives, being the most dynamic storage media, is more susceptible to breakdowns and not entirely safe for data storage. Data Recovery Wizard provides the safest and most reliable data recovery mechanism to the users of Windows. It has the capacity to recover data resulting from partition loss, inaccessibility, formatting of data or deletion of files. It can restore data like music, documents, e-mails, photos, videos etc. It is the most cost – effective, read – only and totally free from risk data recovery software.
Do not Miss: Review for MobiSaver: The Ultimate Data Recovery Reviser
Data Recovery Wizard – a simple solution to all lost data problems
EaseUS data Recovery Wizard Professional is an amazing tool for restoration of hard disk files and data. Loss or damage of files may be due to any reason like virus infestation, partition damage or loss, unexpected shutdown, or other indiscernible reasons. Data Recovery Wizard appears as a blessing when the disaster strikes in the form of data loss and deletion of files. It is useful for recovering data also from USBsd, Memory Cards, Externalk Hard Disks, MP3/MP4 etc.
Some more features of Data Recovery Wizard
Data Recovery Wizard is the most easy to be used, safe and dependable software around. It is not time – consuming, very precise in its job and highly flexible. In case of overall loss of data, resulting in utmost disaster, Data Recovery Wiuzard is the only solution that will bring back your system to work.