5 Best Video Editing Software
|
Those who are into short-film making or amateur video shooting and regularly upload videos on video sharing sites like Youtube are often in search of some good tools for editing their videos to make them look more elegant and professional. Video editing is very lucrative career option as well but it requires full-fledged commercial software and good bit of experience. Not only that, in case if you even purchase a comercial software, it is of no use to you if you do not know how to use it to its full potential effectively. However, if you are into amateur video editing and want to give your videos a polishing look, this article discusses 5 best video editing software available as freeware that will help you greatly.
Ezvid
Many users are now opting for this program because of its ease of use, interesting features and problem-free video editing steps. It is unarguably the best video editing software in the freeware section, especially for Windows users.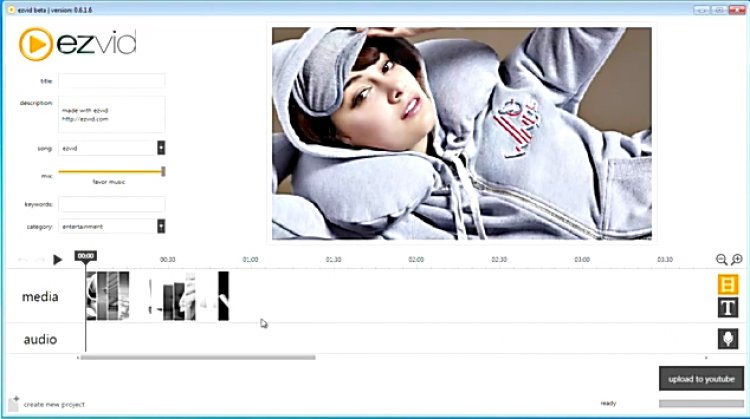 One of its stand-out features is its ability to capture the computer screen with a single click of a button. It also has a very unique feature of text-to-speech conversion which is not offered by any other free video editing software. Other features that are included in this superb package are video splicing, speed or slow motion and creation of duplicate projects. It is designed to support almost all versions of Windows like Windows XP, Vista, 7 and the more recent Windows 8. What's more, you need not register in order to download this program. With Ezvid, it is now possible to create a cool video of your choice in less than three minutes if you are well versed with its usage.
Check the video now to know How to Use Ezvid
Windows Movie Maker 2.6
How can we miss this one when we are talking about top video editing software. Although its latest version is compatible only with Windows Vista, there are a host of new features loaded in it, which keep it at the forefront in the freeware section. On the negative side of it, there have been some reports of problems due to bugs.
VideoSpin
This video editing software is quite similar to Ezvid when it comes to functionality. However, it is incompatible with Windows 7 and there have been some recent reports of bugs and other problems. It supports direct Youtube uploads and has drag-and-drop features which are very convenient to use.
VirtualDub
It would be appropriate to include VirtualDub under the list of top video editing software category. It is one of the best programs that can smartly process .avi files and can also read MPEG-1 files. When compared to Ezvid, it is still far away from being in the forefront but a definite help for those who cannot afford to purchase the costlier softwares
Avid FreeDV
Very less people know about this rather versatile program which supports not just Windows but also Mac PCs. Recent updates from its creators have stated that the freeware version is being pulled out and a more sophisticated Studio version will be made available at a price very soon. But the freeware is a very good program as far as amateur usage is concerned.
There are a number of freewares being added in the video editing category. It is rather difficult to choose the best video editing software because every program has something unique which others do not have. However, form the five programs discussed here, Ezvid is easily the pick of the lot.