3 Reasons as to why Data Recovery is Important
|
Data recovery entails recalling or recovering data from storage media after facing data loss. Data recovery is necessary where data is lost as a result of; system booting failure, accidental hard drive formatting, partition loss, Windows reinstallation and lots more.
The process of data recovery involves retrieving specific information that becomes inaccessible as a consequence of physical or logical damages to the storage device.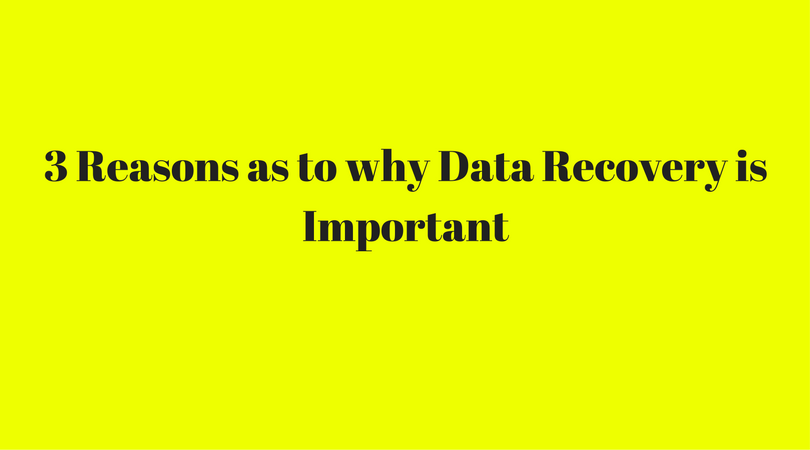 Defining data recovery
Recovery of data is made on a variety of storage devices including; USB, desktop or laptop hard drive, solid-state drive, SD or memory cards, or hard disk drive. Distinct storage devices have something in common; they carry a set of electronic equipment susceptible to abrupt failure and damage or just stop working, thereby compromising all the stored data.
Data recovery searches for the desired files in the storage area of the mentioned storage devices and recovers them even when the drive is inaccessible or stops working.
Why data recovery is important
Accidents do happen, and we have to be well-equipped to tackle them as they come. Recovering data should be part of the plans to get you back on track after experiencing data loss. We will explore 3 reasons as to why data recovery is important to us.
1. Downtime isn't fun
Data loss leads to downtime. For businesses, loss of data would halt operations. Working without your critical business applications would be impossible. For instance, it would be arduous to handle clients without the ability to access their account status or contact information.
In such situations, you'll be required to pull out all the stops to recover the lost data. Without a recovery solution, your restoration efforts become rebuilding efforts to reconstruct whatever was lost.
2. Your reputation is of utmost importance      
For a minute imagine that you've lost irreplaceable data. How would it feel trying to reveal this to your customers? Wouldn't it be embarrassing? Most likely it would be awkward. How would your clients react? Perhaps a little bit irritated and nervous. You can't rule out that some would decide never to do business with you.
Loss of data would affect your clients' and the public's perception of your business and their relations with you. A perceived lack of professionalism would negatively impact your business.
3. All kind of data is a potential target
Whether you are running a mom-and-pop store, working at a Fortune 400 company, an attorney or a dentist, your data is always prone to threats. Accidents, viruses, goon teenagers halfway across the globe aren't picky, and they are capable of attacking any business to acquire sensitive data, realize a vendetta or because they can. Studies revealed that 43% of cyber attacks target small businesses.
The Bottom Line
Data recovery is potentially challenging depending on the storage device involved. Nevertheless, robust mechanisms with great capabilities address the most common data loss cases. Recovery on sophisticated devices such as SSD isn't supported.