Wix Code is the New Feature Making Website Building Even Easier
|
Today, when the competition is so much high in the market, it is not very easy to start a business and succeed in it. But if you have decided to start a business, then one of the best ways is to create a website for that particular business. Just creating a website again is not the only solution. You need to have a website that is best and is capable of attracting a good number of viewers to it.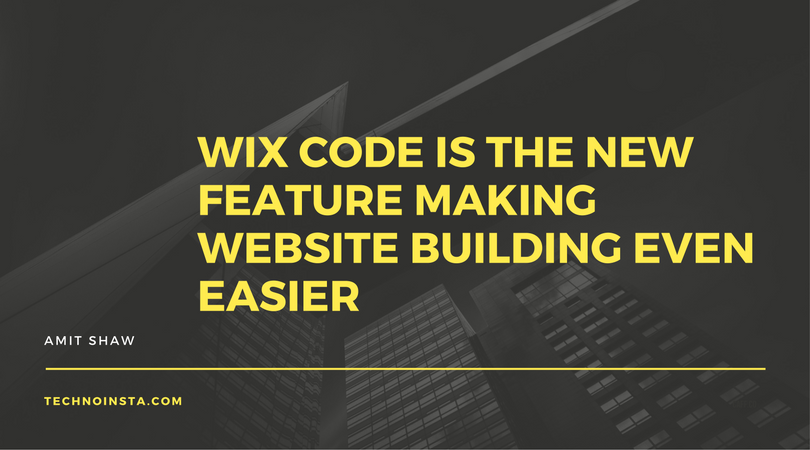 If you are looking forward to building such a website for your business, then one of the best options that you can have is that of Wix. It helps you in building a website for your business in an easy method that is quite interesting to follow.
Wix Code
Wix code is a new product from Wix that is specialized in allowing you to build up a website or an application of your choice. Not just creating a website, it also allows you to use the customization feature in order to customize the data and also some of the elements of Wix in an advanced way. Some of the most important activities that you can perform here in Wix Code easily are:
Creating dynamic pages
Collecting information of the users
Using API features of both Wix as well as the other third parties
There are much more that you can perform among which only a few important ones are mentioned above. These technical terms may seem to be a bit scary, but in fact, while you start using Wix Code, it will start getting easier and you will be able to understand it smoothly.
The Method Of Website Creation With Wix Code
So, you are not aware of anything about website creation or coding? You do not have to worry anything about it, because Wix is for people who do not have any technical knowledge about coding also.
Normally, if you are a novice, you may copy and paste your information in different pages manually and then design them individually. But when you are creating your website with Wix Code, you do not have to go for such hard work. You simply have to create a database of all your information and data along with all the multimedia too that you wish to include. You can choose a design from the various html5 website templates and enjoy a stunning look for your site. Due to such feature, these data rich pages are called dynamic pages.
Various Features Offered By Wix Code
So, when you have first time used to code to create your website, now you can make use of other various features to learn more about it. As you dig in, you can realize that there are so many things to explore.
Database Collections: You may need to save data for future use. It may happen that you may not find the exact data when you need them to be posted on your website. Wix offers the feature of Database collections so that you can keep all the data and necessary information saved so that you can easily use them on the website whenever you need them.
Dynamic Pages: This technique has been discussed in the last section also. Dynamic pages feature is to provide you with the ultimate level of convenience. You can create many different pages with one single template design. You just have to select one design and then the site will keep on creating pages as you need them. All the pages will be SEO optimized and will be as per your requirement.
Forms Of Custom User Input: If you make the website interesting, then only viewers will get attracted to your site and will suggest other to visit it also. Thus, it is important to make the website highly interesting and attractive. For this, you can use different modes such as application forms, reviews, and quizzes. If you do this, there will be two things at the same time. A number of viewers will get attracted and also you will be able to collect information data of your viewers. Wix has a feature to create such options.
Custom Interactions: If you provide a plain and simple looking website, it may offer good readability but this may also seem boring at some point of time. Creativity in the website makes it attractive and hence it also keeps the viewer engaged in the website. Wix offers features such as toggles, sliders and many others that you can use to create such options.
APIs: To customize your website, you need to extend the functionality of the website. This can be done either by Java or API. Wix offers APIs that you can easily make use of if you have a slightest idea about coding.
Thus, it can be said that Wix Code is a professional way of creating new websites. It does not require you to be a professional in coding and hence it can be used by anyone and everyone.