Video Calling Experience with Tango For PC
|
Users have it easy as they can now get Tango for PC which has a full advantage if you are already a tango user but if you are not then we can tell you all the many advantages that you can enjoy to be a part of TANGO and take full use of its advantages.
Tango for PC and it's Attractive Features
Easy Connectivity:  Tango for PC can essentially be used to connect your PC with android and I-Phone users.  If your friends,distant people have tango installed in their smartphones,pc or laptop with wifi-enabled (or access to internet) in it then you can make free calls to them without leaving your computer. This easy connectivity feature of TANGO makes it a very accessible phone among the users to call friends while staying connected with all the different kind of applications like i-phone and Android.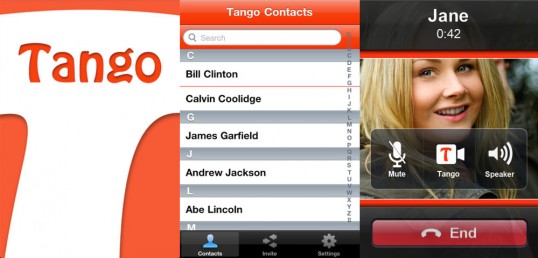 Consistent Quality:  If you are more of a quality based user then this software will definitely not disappoint you. Tango has a good video and audio quality that creates a fine balance of making the person clearly audible ( infact, much more audible than phone ) where the user can take away to glory.
Amazing Features:  Tango For Pc, brings with itself a host of amazing features along with have a good quality video calling experience. The software provides other rich experiences of sharing pictures, typing and expressing in words, making smileys which constitutes for an awesome package for a chat messenger. Now, the program users have also launched the tango music messaging experience where the users can share playlist with their loved ones, listen to your favorite tracks with just a click away.
Simplicity:  The interesting part of Tango for PC is its simplicity of use. The users who are not even experienced about using a chatting browser can completely take advantage of this software. It's very simple to use and doesn't require any registered tango user, in the sense, that you can use tango with friends having i-phone and smartphones. Just the phone number and the rest are on the software to make the user feel elated.
These four features are strong enough to take your decision forward of installing Tango for Pc. It's easy in connecting friends and family members, simpler to use than other complicated chat messengers and provides for a wholesome chatting experience with nothing to miss.
How to Install Tango for Pc?
Tango For Pc can be successfully installed in Pc's having Windows XP,Vista, Windows 7 and also the latest Windows 8 with 32 and 64 bit operating systems that are fully supported by the software.
Users can install the software by going through the website or searching for 'tango for pc free download' on google search and get the software by following few instructions which are mandatory for its installation. Have the best chatting experience by installing tango!