Top 10 Web Games to Help Children Perform Better in School
|
The prevalence of smartphones and tablets has caused an explosive growth in mobile gaming. A 2014 study showed that children under age 13 play mobile games for over two hours every day. Since then, mobile gaming popularity and revenues have increased significantly. Much of the gaming market isn't focused on education. But there is a strong selection of games that can provide positive academic benefits.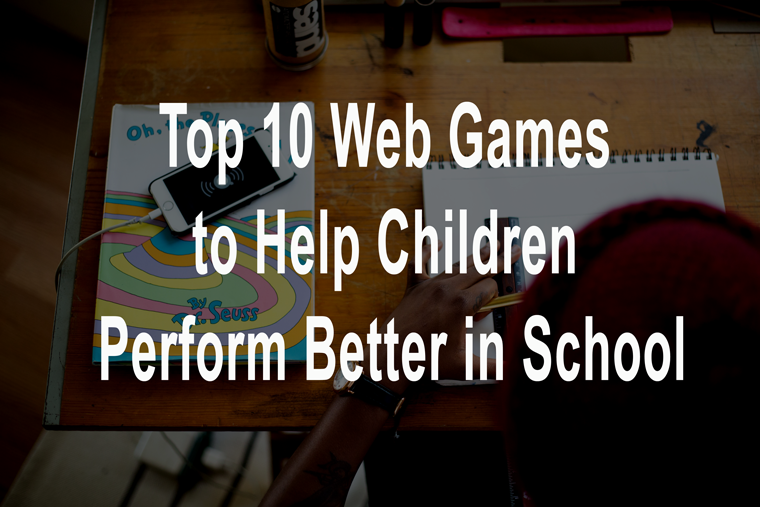 Poki is a web portal with thousands of free games. The curated collection is divided into helpful categories and subcategories, including educational games. With so many titles at their disposal, kids can easily spend a portion of their 2+ hours of daily playtime learning. Below is a selection of web games that can improve children's performance in school. The games are arranged by academic subject and/or educational category.
Typing
ZType
Written communication has nearly been completely replaced by digital devices. Is cursive taught in school anymore? Electronic communication is the de facto method—whether on computers, tablets, or mobile phones. Thus, learning to type effectively is absolutely essential. ZType makes practicing typing fun. It gamifies the experience by sending players into outer space. In ZType, gamers must type the words that appear to control their spaceship and fire rockets at alien foes.
Zombie Typocalypse
Older students might think ZType is too easy. For them, Zombie Typocalypse could be the ideal keyboard-learning companion. In this action-packed typing game, players will be thrust into a gripping tale of zombies vs. humans. The game's colorful comic-book graphics showcase multiple monster-slaying weapons, shields, and power-ups. Zombie Typocalpyse capitalizes upon one of this era's biggest trends, letting players become part of a gripping monster affair.
Math and Logic
Sum Tracks 2
Studying math isn't every student's ideal way to spend a weekend. That's where Sum Tracks 2 comes into play. This math-based logic game includes the main arithmetic operators: addition, subtraction, multiplication, and division. The first group of levels is simple, challenging players to add and subtract numbers to reach a total of 0. The equations are relatively short, letting gamers of all ages partake in the fun. After that, the going gets tougher, with longer paths and more advanced operations.
2048
2048 was one of the most popular games of 2014. Based on the original logic puzzle Threes, 2048 challenges players to combine and multiply numbers on the board. Each square can grow exponentially, teaching gamers about addition, multiplication, and powers. The game's unique logic component makes winning harder than it may seem. 2048 is simple and fun enough to be truly addictive. Plus, it naturally causes gamers to practice math.
Science
Bond Breaker 2.0
The physical sciences make for great games. Bond Breaker 2.0: Chemistry at the Space Time Limit is filled with science lessons. Taking the form of an action-packed puzzle game, Bond Breaker 2.0 teaches about electrical forces. Protons and electrons, hydrogen atoms, and real chemistry tools will help players complete the educational levels. Gamers can also create their own puzzles with scanning tunneling microscopes (STMs), filters, and lasers.
Little Alchemy
The virtual science lab has unlimited possibilities. In Little Alchemy, young scientists will experiment with hundreds of natural elements. Players start with the essentials: fire, water, air, and earth. When two items mix together, they will form something new. Some elements are to be expected, such as mud from earth and water. Others are quite surprising; curious gamers can evolve the basic elements to complex living beings and beyond. Little Alchemy is an easy-to-learn game that could inspire younger students to develop a passion for life sciences.
Geography
Geography Game: Europe
The title says it all; there are no life-changing revelations in Geography Game: Europe. But, players can compete in sharing knowledge of every European country. The in-game map doesn't have any labels. When the name of a territory appears on the screen, players must find the corresponding piece of land. There are more than 30 possible answers, and there are no do-overs. After playing this game, students will have a much stronger grasp of European geography.
USA Map Test
How well do you know American geography? USA Map Test includes two modes that test players' mapping expertise. In States mode, gamers will build the North American country from 50 state-shaped pieces. While there are no hints, answers that are simply close enough will count for full credit. In Capitals mode, players must identify the capital city of each state. USA Map Test is a great tool for elementary school students, and it's an even better refresher for high schoolers.
All Subjects
Tingly Brain Trainer
Tingly Brain Trainer is an all-in-one educational suite. It has mini-games that test players' memory, reaction speed, logic skills, and focus. It includes daily challenges and a notebook to record progress. The variety of included mini-games is ideal for entertaining and educating a broad range of students. The graphics are skewed towards younger players, but certain challenges are tough enough for older kids, too.
Millionaire Quiz
The multiple-subject education continues with Millionaire Quiz. This trivia game teaches facts about technology, health, science, music, and sports. Based on the Who Wants to Be a Millionaire TV show, each game of Millionaire Quiz includes 15 increasingly difficult questions. There are three lifelines, so players can ask for help when necessary. Many of the answers in this game aren't just fun facts; they're truly useful bits of information that quench students' thirst for knowledge.