Top 10 Ultrabooks for Business
|
The Ultrabook sales and usage is increasing day by day and the users are demanding them more. The sales are at their peak just because this device is superb, extremely portable, reliable, cost-effective, and powerful notebooks. Ultrabooks have made computing so easy and effortless that everyone feels more comfortable while using them as compared to desktops or laptops. This Intel product has tried its level best to beat Apple's MacBook Air providing numerous features to users. Here is the list of most favorite and highly used Ultrabooks especially adopted by most of businesspersons.
Samsung Series 5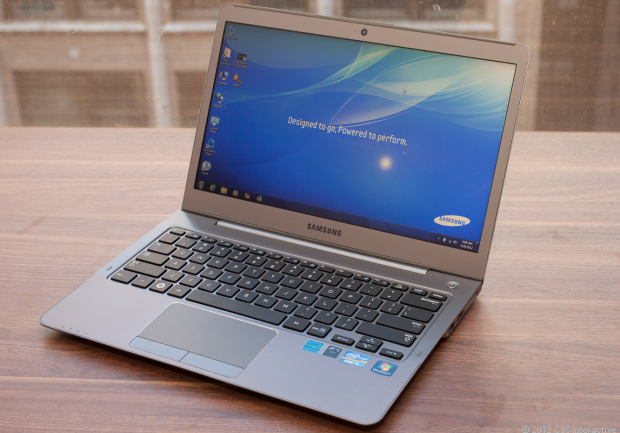 Undoubtedly, Samsung Series is little old-fashioned but a perfect product for business people. It is an extremely cost-effective device with amazing storage capacity, which users love to have. Its latest and maximum demanded version is Samsung Series 5, which comprises of two screen sizes 13.3 and 14 inches. Samsung Ultrabook Series 5 costs £530 and comes with 500 GB RAM and Intel core i5 processor.
Novatech nFinity
Novatech is another old product but still is much popular among the users. This product of Novatech costs £395 to users and is available in the market with Intel Core i3 processor; 128 MB RAM, and full support of Windows 8 System.
Dell Inspiron 14z
Dell has never disappointed its users and again, its Ultrabook is a complete magic for everyone. It provides USB 3.0 ports, which weight 2 KG, measure 344X240X21 mm in dimensions, and provide HDMI support, Ethernet, multi-card reader support, microphone, HD graphics, i3/i5 processors, and lots of other features to users.
Toshiba Z 930
Toshiba has impressed its users with this Ultrabook having superb features and available at the most affordable price of £749. The core features of this device include 1.7 GHz processor, Intel i5 CPU, 6 GB RAM, three USB Ports, and 210 minutes battery life.
Sony Vaio T13
The very first Ultrabook of Sony, which is well-designed and much cost-effective for users, is Sony Vaio T13. It is extremely slim in design and looks much decent as compared to other books. It is fully equipped with core i3 processor, aluminum-magnesium chassis, 1.4 GHz CPU, 320 GB HDD, 32 GB SSD, and HD 3000 support for the users. The best part is that this amazing device is available just for £580.
Lenovo IdeaPad U410
Lenovo Ultrabook is a 14-inch book providing unique and the most decent interface as well as hardware to users. It weighs 2 KG, costs £649, and offers 6 GB RAM, 750 GB HDD, 32 GB SSD, 610 M CPU, and lots more. However, the battery timing for this book is just 181 minutes.
HP Envy 6
HP surely offers superb products to the users but this Ultrabook is almost half of other HP products in terms of size and price. Its price is £580, which is almost affordable by everyone. It is equipped with Intel core i5 processor, three USB 3.0 ports, HDMI, 15 inches screen, 1366X768 resolution, 500 GB HDD, and much more.
Acer Aspire Timeline U M5
This Acer product with Intel core i5 processor is capable of complex calculations but in a very easy manner. It consists of 6 GB RAM, GeForce VGA card, DVD RW, and many other unique features. VGA card is best for gaming and one of the major reasons, which is why users love this Acer product. It is slightly expensive and costs £580 to the users. Most importantly, this Acer product has 15.6 inches display screen, which is, undoubtedly, a very large size available for users providing 1366X768 of resolution.
Apple MacBook Air
MacBook Air is perfect for users but cannot compete Samsung Series 5 because of some limited features. This product of Apple is normally compared with the same Apple product i.e. MacBook Pro, which is considered better than this Air product. It is available to users in just £1100, which is surely little difficult to afford. However, the amazing features it provides to the users include 17 m thickness, USB 3.0 ports, 11.6 and 13.3 inches screen size, 1.8 GHz CPU, Core i5 processor, Unibody aluminum structure and much more.
Asus ZenBook Prime UX31a
This Ultrabook is known for its smart design and is available in just £1100. It is the most expensive Ultrabook available these days. The cost is little high because of its amazing features like 2 GHZ processor, wide screen size, lots of USB ports, Full HD, 1920X1080 resolution, 4 GB RAM, and many others.
Keep in mind that the users always prefer Ultrabooks because of their specifications, features, and cost. The one providing more features available in low cost is preferred more as compared to the one, which are available at high prices.
Image Credit- Cnet.com
Author Bio

This Guest post is written Muhammad Azam who is a technology blogger. He has written lots of posts on home and business gadgets and smartphones. Also, if you are looking for laptop insurance services then laptop insurance site Protect your bubble UK would be a place for you.