Top 10 best VPNs for you to Compare
|
You always have to be careful and try to secure your system when you are connected to a public Wi-Fi. Public Wi-Fi is available in restaurants, parks, and hotel, etc. When we connect our laptops and smartphones with this public Wi-Fi, we put our device in a risky situation. This precarious situation is where the cyber crimes can take place. Public Wi-Fi networks are very vulnerable networks, and you can easily expose your personal data to the attackers.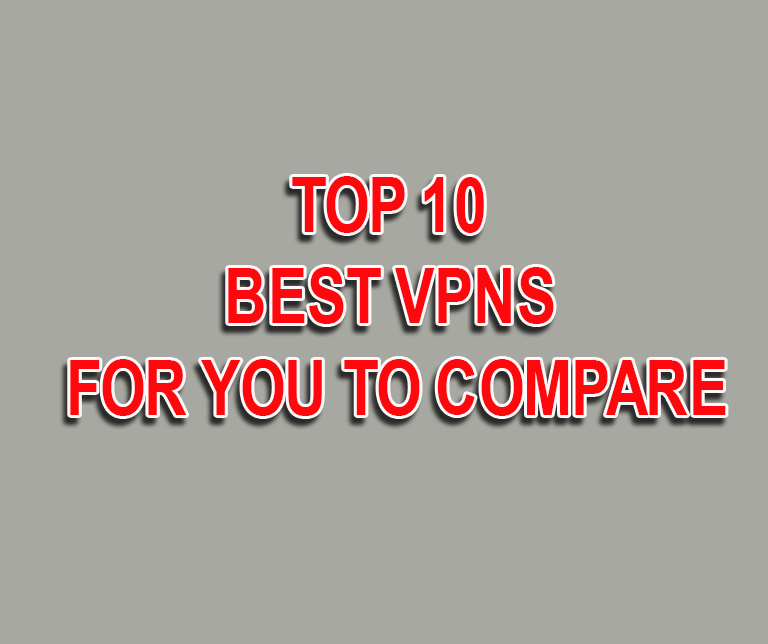 So to tackle and avoid this problem there is a tool called a VPN or a virtual private network. You might have already heard about VPNs, but you might not know what exactly they do to your network and what you need them for. So let me tell you what is a VPN service first, and then I'll share with you the Top 10 best VPN services of 2017, which I recommend.
Virtual Private Network (VPN) is a service technology for your public or open Wi-Fi internet connections that provides you with an encrypted connection which makes your device safe and secure from any possible hackers or eavesdroppers on that open Wi-Fi network. It avoids all the possibilities of the cyber attackers that can get a virtual hold of your device.
Technically your laptop or any other device which is connected to a VPN service like Le VPN (or any other from my top list below), it securely connects to the server operated by the VPN service and your connection also become encrypted. So all your networks are going through this protected server of VPN. That means your network and your device is totally secure. All the other networks trying to get through your networks will be blocked by the VPN encryption.
One of the best advantages of using a VPN service is that it protects you from the other person who is on the same network and trying to hack your system. VPN is a must to have if you are always working on your laptop on the go and use public Wi-Fi quite often.
So to all those travelers, workers and others who use public Wi-Fi once in a while, I have compiled up the Top 10 best VPN of 2017.
Top 10 VPN Services
Le VPN – Le VPN is the best VPN service of 2017 because of its extensive servers coverage in 114 countries and its innovative service and features, which also include HybridVPN and SmartDNS connections, which are the best of online media streaming. Le VPN is also set to release in the first quarter of 2017 its latest iOS app for Mac and iPhone/iPad, which we've tested in their Beta version and loved it! This premium VPN service counts clients from all over the world and their website provides a vast amount of information on VPN technology, online freedom and cybersecurity topics in 5 languages.
IPVanish VPN – IPVanish is also an excellent VPN service which provides lots of VPN service. It secures your web traffic from all those attackers. But the subscription is quite expensive.
ExpressVPN – ExpressVPN does an excellent job in encrypting your network and securing your web traffic. Although it is not as good as Le VPN or IPVanish, it certainly gets the job done.
Private Internet Access VPN – A straightforward and minimalist user interface VPN with great features. Secures your web traffic at a high subscription price.
NordVPN – NordVPN can encrypt your network with ease and protects you from cybercrime. Although it is not that reliable, it can secure some of your online activities properly.
Spotflux Premium VPN – Spotflux Premium VPN has a decent service, and it also provides Ad blockings and malware protection for your browsing experience.
KeepSolid VPN Unlimited – KeepSolid VPN Unlimited has all the essential features of VPN service. From encryption to Ad blocks KeepSolid VPN has it all.
TorGuard VPN – This one is for the torrent seeders and leechers who want to be anonymous. TorGuard has your back with secure web traffic.
AnchorFree Hotspot Shield Elite – Good downloading speed and Internet experience are what you get on AnchorFree Hotspot Shield Elite.
PureVPN – Pure VPN has a high-Speed test scores, and it packs featured protection for your web traffic. It has a bad history of securing their users' personal details and that's why it's at the bottom of my list.
Your Call
These were the top 10 most popular VPN services out there right now: have a look, compare and decide for yourself which one suits you best. If you want insights on which VPN to use, let us know in the comments section below.