Sharing Files Between PC and Other Devices, Use ES File Explorer for PC
|
Sharing Files between your Android device and a Windows computer has become simpler and easier with the latest ES File Explorer For PC, a powerful Android file manager that helps users manage their files on their local Android Device.  There are various ways and methods in which users can utilize this device and help bridge the gap of sharing everyday data of sending,receiving and transferring the files from one system to another. There are many interesting features of ES explorer which users can enjoy it to fulfill their needs.
Features of ES File Explorer
Efficient Organizer
This application which is a part of Android, knows how to organize the files and which is why ES file explorer manages your files on PC using multiselect/cut/copy/paste/move/create/share/hide/create shortcut and host of keys available that helps in the operation of performances of your files and application in your android device and in your PC.
Enhanced File Storage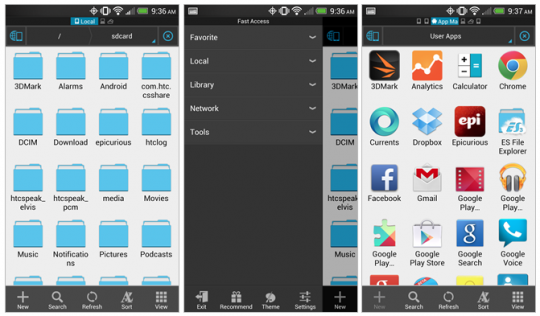 ES file storage houses many other applications like Google Drive,DropBox,Box.net,Sugarsync, Skydrive,Amazon s3 and others that you can easily enjoy with this application which is supposed to have other extra functional areas than their official versions.
Fast Performance
With one single click, your task is completed because that how efficient ES File Explorer For PC is.  The program includes a simple widget for automatically killing tasks,with an ignore list to ignore the applications you want to keep running. To use this feature it's necessary to have the ES Task Manager Module installed.
Functions as FTP and WebDev Client
With ES file explorer, managing files have become very easy with various FTP,FTPS,SFTP and WebDev servers which help users to amanger their files by using SD Card.
There are many other interesting features of ES File Explorer For PC, which make it worth using it. Come to think of it, with this software the user doesn't have to follow the traditional and old method of sharing files like plugging a USB to your PC and then transferring the files. The ES File explorer explores the system and serves a simple and easier way of sending files.
How to share files with ES File explorer?
Follow the following steps to know how you can share files between your android device and PC
First Step. Create a shared folder. Name it anything to identify the shared file
In ES File Explorer on your Android device, tap the globe icon in your upper-left corner and then navigate the network – LAN
Tap Search on the menu at the bottom to search for networks. If you don't see any, then connect the Android device and Windows till you see the IP Address of your PC listed on your Android Device
Tap on the icon and add your Windows Username and Password
After your shared folder appears, you can add sharing files back and forth using ES File explorer.