Samsung Galaxy S3 vs Galaxy S2
|
Finally, Galaxy S3 has arrived. Its launch was preceded by multiple rumors, leaks reviews and anticipations stating that Galaxy S3 is going to be so revolutionary that it'll give competition to iPhone. It has pretty much kept the promises and hasn't brought disappointments for sure. The buzz in the market now is that what are the differences between the  Galaxy S3 and Galaxy S2? How much progress has been achieved by Samsung since the launch of Galaxy S2 last year?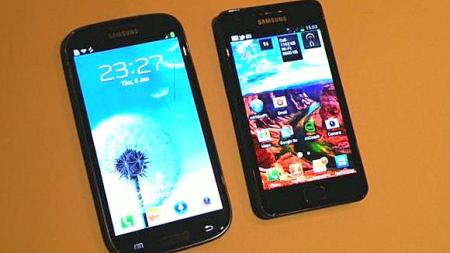 Let's take a look on features of Samsung Galaxy S3 and Samsung Galaxy S2 :
Samsung Galaxy S3 vs Galaxy S2 – Hardware
Samsung Galaxy S3 has a body much similar to that of S2. The body is again made of plastic (yeah! No metal!!) like S2. But, the plastic body is justified because it doesn't add much weight to the handset (unlike metal). S3 has dimensions of 136.6×70.6×8.6 mm while Galaxy S2 has dimensions of 125.3×66.1×8.49 mm. Galaxy S3 is bigger in dimensions owing to the increase in size of the screen which is 4.8 inch, against 4.3 inch of S2. Galaxy S3 weighs 133g while S2 weighs 116 g. But once you hold the handset in your hand, you won't feel much difference. Both would seem very light!
Samsung Galaxy S3 vs Galaxy S2 – Display
Galaxy S3 has taken a huge leap in terms of display as compared to S2. It has a  Super AMOLED 4 inch screen in comparison to the 4.3 inch screen of S2, and has a terrific HD resolution of 1280×720 while S2 has 800×480. The color saturation is terrific. A unique feature which completely distinguishes Galaxy S3 from any other smartphone is the eye tracker. It is a sensor that detects if there is a face looking at the screen. The screen lights up automatically allowing you to view things on the screen more comfortably. It definitely saves battery and is a smart feature too.  Galaxy S3 has evolved to a next level in terms of display as compared to its predecessor, Galaxy S2.
Samsung Galaxy S3 vs Galaxy S2 – Software and Processor
Samsung Galaxy S3 has android version 4 ice cream sandwich, making it android 4.04, as compared to the Android version 2.3.4 in galaxy S2. Galaxy S3 and S2 both have the TouchWiz overlay, which has been revised and refined in Galaxy S3 to give it a more organized look. The Galaxy S3 has a new feature named Smart voice. The phone vibrates when you pick it up and lets you know what has happened since you were away, updating you about texts, calls, mails etc. One can keep raving about the amazing apps and software introduced in Galaxy S3.
Talking about the processor, it is one of the main features which have made Galaxy S3 the oh-so-popular phone in the tech world. It has a 1.4 GHz Qaud core processor with a new chip called Exynos 4. It delivers mind boggling speed! Galaxy S2, on the other hand, has 1.2 GHz dual core Exynos processor, which also delivers superb speed, but it doesn't even stand in front of the quad core processor of S3. Infact, Samsung has claimed that the new Exynos 4 chip enables power saving. That is, the four processors can work on a single battery on sharing basis, and is still more energy efficient than S2! Samsung Galaxy S3 is definitely the daddy of all smartphones in the market!!
Samsung Galaxy S3 vs Galaxy S2 – Cameras and Storage
The Samsung Galaxy S3 has an 8 megapixel camera, just like Galaxy S2. But, it has some amazing added features including autofocus, LED flash, face/smile detection, geo-tagging and image stabilization. Galaxy S3 features a 1080p video recording with a feature of full 1080p HD playback. It fares slightly down in terms of the front camera. The Galaxy S3 has a 1.9 megapixel front camera with 720p while Galaxy S2 has a 2 MP front camera with 720p.
Talking about storage, Samsung Galaxy S2 has 16 GB and 32 GB variants while Galaxy S3 takes it up to 64 GB. Samsung has launched a 64 GB model of Galaxy S3 and other models have a memory extendable to 64 GB.
Samsung Galaxy S3 vs Galaxy S2 – Battery life
The Samsung Galaxy S2 featured a 1650 mAh battery, while Galaxy S3 contains a 2100 mAh battery. Samsung also claims that the new Exynos 4 chip has been designed to make the phone energy efficient. All four processors can work on limited battery and be energy efficient. Samsung Galaxy S3 wins by a huge margin here too!
In a nutshell, Samsung Galaxy S3 is much more advanced as compared to Samsung Galaxy S2 in terms of screen, processor, battery, apps and software. It is definitely here to rule!
Do share your comments and let us know which one is better- Samsung Galaxy S2 or Samsung Galaxy S3 and why.