Samsung Galaxy Note 8 Review: Best Tablet Under Rs. 30000
|
With the world going hi-tech and technological advancements pushing the limits to what we, as humans, do with technology, newer product is seen in the market each day. Just when we had thought Smartphone were it, the innovators and designers brought to life the new phones and tablets. While phones are mobile devices with internet, connectivity that keep us connected on the go, they also take the experience of connectivity, work, play, fun and enjoyment to a whole lot different level. Keeping on these lines Samsung has designed and brought to the market Samsung Galaxy Note 8.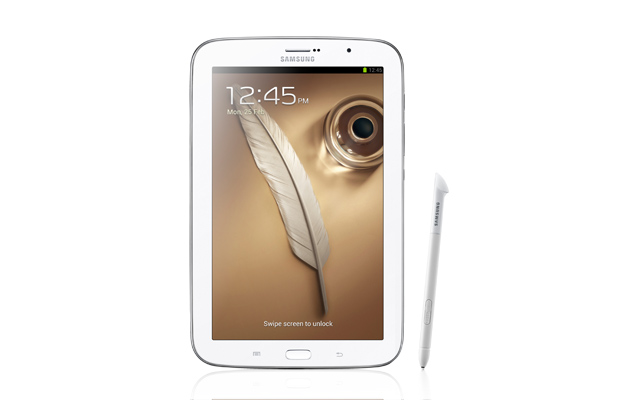 Display
Samsung Galaxy Note 8 comes with a TFT capacitive touchscreen that makes it a delight to use indoors and even in the sunlight, though giving away more battery usage for screen light up. The screen comes with 16M colors for better picture quality and viewing and has a size of 800 X 1280 pixels for an 8-inch screen. In times of AMLOED display, this one seems to be a step behind. It has slimmer edges and looks more sleek than its competitors.
Features
Samsung Galaxy Note 8 uses the operating system Android version 4.1.2, the jellybean. The dimensions for the note 8 are 210.8 x 135.9 x 8 mm and it weighs about 338 grams, which is very light for its size and design.
It has inbuilt GPS and comes with pre-installed java software that allows for many additional application and software to run on the note.
One can scribble, create sketches and draw, watch movies and listen to songs without a glitch. The S pen that accompanies the Note 8 is a great tool to explore and fully utilize the capabilities of the Note.
Note 8 has an inbuilt Gyro, accelerometre and compass. It has two versions, one for WI-FI and 3G and another that only has WI-FI.
The sound quality is decent and Note 8 comes with stereo speakers and an audio jack of 3.5mm.
Galaxy Note 8 also offers Bluetooth, infrared port, and WLAN connectivity with a data usage speed of 21 MBPS for HSDPA and 5.76 MBPS for HSUPA.  It also a a micro USB port for extensive usage and data sharing requirements.
Allows the user to set reading mode, to make the screen less harsh for reading purpose and also has the Samsung smart stay feature that keeps it on if you are looking.
Camera
Samsung Galaxy Note 8 comes with cameras on both side. The primary camera is 5 Megapixel with a standard photo size of 2592X1944 pixels which comes with an autofocus option along with touch focus. The tablet is built in with the standard settings for many smartphone from the house of Samsung. It allows for geo-tagging, image stabilization and face detection. It also has a secondary camera with a 1.3 Megapixel camera.
Storage
Galaxy Note 8 comes with an option of internal memory of 16 GB and 32 GB. The external memory micro SD card slot allows for expansion up to 64 GB. The expandable memory means that one can store tons of data without ever worrying about space and the tablet performance. There is ample space on this one.
Battery
Galaxy Note 8 is powered by non-removable battery that is lithium-ion 4600 mAH. This tablet has a talk time of up to 8 hours and can play music for upto 120 hours with full charge.
Processor
Note 8 is packed for performance with a 2 GB RAM with speed of 1.6 GHz, a quad-core Samsung Exynos 4 Quad processor at the heart of the smart device.  It is powered for smooth and trouble free performance. It also has a very responsive touch screen, which makes it a pleasure to use.
Price
Samsung Galaxy Note 8 is priced at Rs. 28,000 for the Indian market. For its price range, it is quite affordable. With its lightweight, it is also easy to carry and manage and if used well, one can derive full value for money from this smart organizer and gadget.
Pros and Cons
The best feature of Samsung Galaxy Note 8 is its light weight instead of being a 8 inch tablet. It works fast and smooth, and comes with a split screen feature that enables easier note taking.
For its price, it can be a turn off due to the screen, which comes with reduced resolution, and the phone looks like it is plastic made and that reduces the overall look for many. Also, most of the 16 GB space is consumed by the application bundle it comes with.
Verdict
If you are looking for a tablet that offers you utility of a tab and phone, Samsung Galaxy Note 8 will do the trick. From scribbling, drawing, clicking photos, watching videos, listening to songs and using a whole range of S applications, the note is a catch and offers great use. It is easy to carry but won't slip into pockets like your smartphones.