Samsung Galaxy Grand Review, Specs and Price
|
The whole Smartphone market is now warming up with new launches; high end and low end phones are being launched regularly. But the mid range market is not left out of action either. Samsung has launched the Galaxy Grand in India, which lies somewhere between phone and tablet, mid-range and high end phones. It shares characteristics with handsets of different price ranges, but does this smartphone borrow all the USPs of the different gadgets or has it inadvertently imbibed some of the glitches too? Let's find out.
Samsung Galaxy Grand Design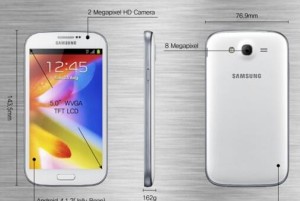 Samsung has not broken barriers with this one; Galaxy Grand has the look we are used to in Galaxy Note II. It is a big phone and some may find it a little cumbersome to use with one hand. It has a slim build, so it does not look very chunky. The glossy back cover is kind of under-cutting to the otherwise sophisticated look, and perhaps the only factor that makes it appear cheaper than high end handsets.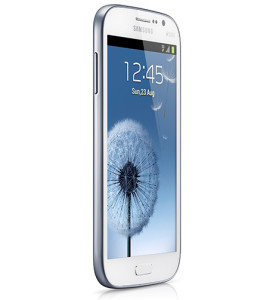 The power button is on the right hand side whereas on the left hand side, there is the volume rocker. You can find the 3.5 mm jack at the top whereas at the bottom, you can find the charging port alongwith the microphone.
Samsung Galaxy Grand Display
Samsung Galaxy Grand has a 5 inch screen with resolution of 480 x 800p. This is the first aspect where Galaxy Grand reveals its price bracket; the resolution is not nearly as good as Note II or other such otherwise comparable handsets. It is disappointing to see Samsung give its typical AMOLED screen a miss in this Smartphone. So don't expect the same color rich, brilliant display you see in Galaxy S III and the likes. But Galaxy Grand has WVGA resolution too and the pixels are not discernible. The LCD panel provides the much needed contrast as well.
Samsung Galaxy Grand Hardware
Samsung Galaxy Grand's hardware is much more impressive than display. It is powered by a dual core ARM Cortex A9 processor with clock speed of 1.2 GHz. It has 1GB of RAM, which means the phone can easily handle multi tasking and perform basic tasks quite smoothly. However, if you were looking for a gaming mobile, you better keep looking. Samsung Galaxy Grand has 8GB of internal memory, which is fantastic especially for heavy app users. The phone memory can be extended up to 64GB using microSD cards.
Samsung Galaxy Grand Camera
Samsung Galaxy Grand
The Samsung Galaxy Grand has a camera of 8MP with LED flash. It is equipped with a number of features and works quite well in low light. The phone is powered by a 2100 mAh battery. Samsung Galaxy Grand has also a 2 MP HD front camera which makes it one of the best phones for Video calling.
Samsung Galaxy Grand Connectivity
The connectivity option is versatile. The handset has dual-SIM technology, but it doesn't use two SIMs at once. It transfers call from once SIM to another and incurs call forwarding charges. Apart from that, it has Wi-Fi, Bluetooth 4.0, EDR, USB 2.0, 3G dual band, EDGE connectivity. However, it does not have NFC compatibility.
Samsung Galaxy Grand Software
Samsung Galaxy Grand runs on Android 4.1.2 Jelly Bean, which works in tandem with Samsung's TouchWiz UI. As with all Samsung Galaxy Smartphones, the UI and OS have been molded together to give a consistent Android experience.
Price of Samsung Galaxy Grand
Samsung Galaxy Grand is launched in India at the price of Rs. 21,500. Compared to Micromax phones, the price may look a bit high, but this is certainly the Samsung's best dual sim Smartphone below Rs. 22000
What I think about Samsung Galaxy Grand
Samsung Galaxy Grand is an ideal phone for those who had wanted a taste of Galaxy Note II but couldn't because of a restrictive budget. But Galaxy Grand has its work cut out for it because the mid-range market is warming up and good phones like Micromax Canvas HD A116 offer almost similar specs (better too, in some respects, with a quad core CPU) at a much lower price. The resolution could have been better. Now the question is that will the Samsung Galaxy Grand pull through for its brand name? Or will it fare better than the rest because of its superior software and performance? We must wait a few weeks to actually see how the Indian Smartphone market responds to the handset.