Samsung Galaxy Camera Review
|
Well, there are one too many Smartphones out there that take photography as one of their main USPs, but Samsung Galaxy, the flagship phone series, has taken a different route altogether. Instead of incorporating state of the art photography technology in a phone, they have launched a new camera. After being unveiled at IFA, Berlin in August, finally it has been launched in India. Let's take a look at the specs.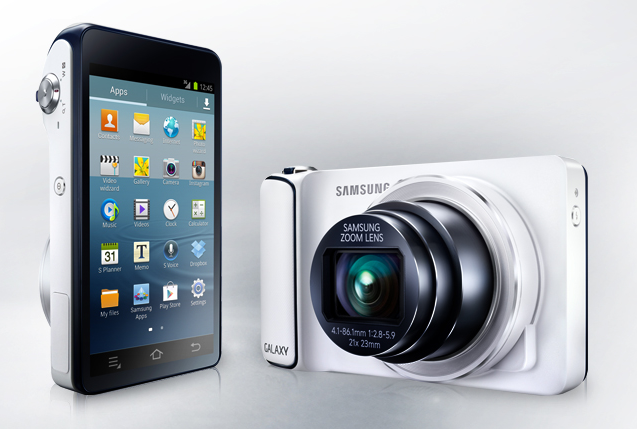 Hardware
The 21x optical zoom makes the camera a bit bulky, but apart from that and the slight bulge of the grip, it is quite slim at 19mm. As the lens is not removable, the camera is not ideal to be carried in pockets. The glass touchscreen and very smooth build makes holding the camera a tricky task, even though there is some textural element in the grip bulge. The design is minimalistic; a little too so in our taste. There's nothing on the smooth, plastic body (which does not look cheap, unlike some Galaxy phones) apart from a power button, trigger for the pop-up Xenon flash and the shitter release button with zoom control ring.
Software
With so few physical control tools, the phone has more than made up with the touch controls. The gadget is decked up in Android 4.1 JellyBean, which is still a more updated version of OS than most Smartphones have. Naturally, it is far ahead of Android-based cameras that Polaroid and Nikon have out in the market. For an Android user, the interface is like an old friend the moment it is switched on. The Android intuitiveness, Samsung's TouchWiz UI- it's all the same, only the orientation is landscape instead of portrait. You can put on a user customizable wallpaper and there's access to the Play Market so you can download a bunch of third party apps. Cloud integration and Gmail, IM and the regular fare is there too.
Camera Performance
I wish I could say the camera performance is singularly brilliant, but it depends on your expectations from the gadget. If you take into account the Exynos quad core 1.4GHz processor, it costs much more than point-and-shoot devices of the same image quality. In terms of price, it is in the league of Olympus, Micro For Thirds from Panasonic and Sony NEX-5N, which yield much better results with interchangeable lens. In good lighting Galaxy Camera works well but as the ISO increases, so do noise levels. The camera tends to produce over-saturated images that look bright in first glance, but the warmth compromises detail. Video shooting is quite good thanks to optical zoom and image stabilization. Colors are cool but accurate and low-light performance is far better than what you generally get from Smartphones. Video playback is also a treat in the expansive 4.8-inch display.
Battery
The camera runs on a 1650mAh battery which affords 4.5 hours of heavy use and 168 hours of 4G standby.
Price in India
For now, the camera is available at Rs. 29,990 in India.
Conclusion
As an Android camera, it is certainly groundbreaking with its JellyBean support. Its interface is almost as good as high end Smartphones. However, if primarily judged on photographic criteria, it falls short of expectations and similarly-priced competitors. For a point-and-shoot, it is quite expensive. However, as an overall package of communication and camera, it is definitely worth a buy.