Review of Wondershare MobileGo for iOS
Ever thought of a technology that would take you back your good old PC days? Sounds like a hoax, but well not really. Wondershare MobileGo for iOS is that little bridge between your Apple device and your good old PC. It scores a tad bit higher on the scales when compared to the much trusted iTunes. Needless to say, it does come at a hefty price too. Unlike the older counterpart, which comes for free. So if you don't mind shedding that extra buck from your pockets, this deal is fair enough. MobileGo keeps its basic promise of outdoing iTunes. Of course, one might argue about its unnecessary pricing, but that is a different side of the story.
Let us pretend that we have decided to shed that extra buck. So, what does Wondershare have in store for us?
MobileGo for iOS
The said app has a very intuitive interface which describes everything about the content in your iPhone/iOS device, right from music, contacts, photos playlists and much more.
There's a tab in the left which has the options media, playlists, sms, contacts, photos toolkit, and even an option to connect another device.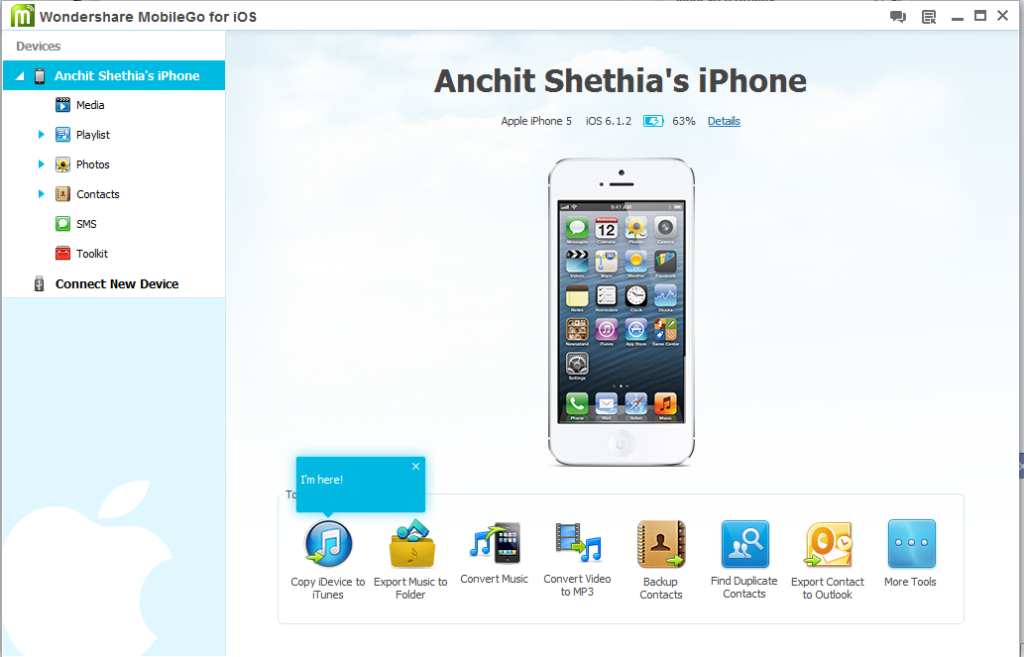 There's another tab in the bottom center with the options such as copy iDevice to iTunes, export music to folder, some format conversion options for media files, finding duplicate contacts, and exporting contacts to outlook for backup purposes.
Compatible with all Windows platforms, this application with its repertoire of some brilliant features, this application, comes with its own pros and cons. Apart from providing excellent media and contact management, it also comes at a hefty price and fails to act as an absolute substitute to iTune.
Transfer your entire world of Apple to your pc, and vice versa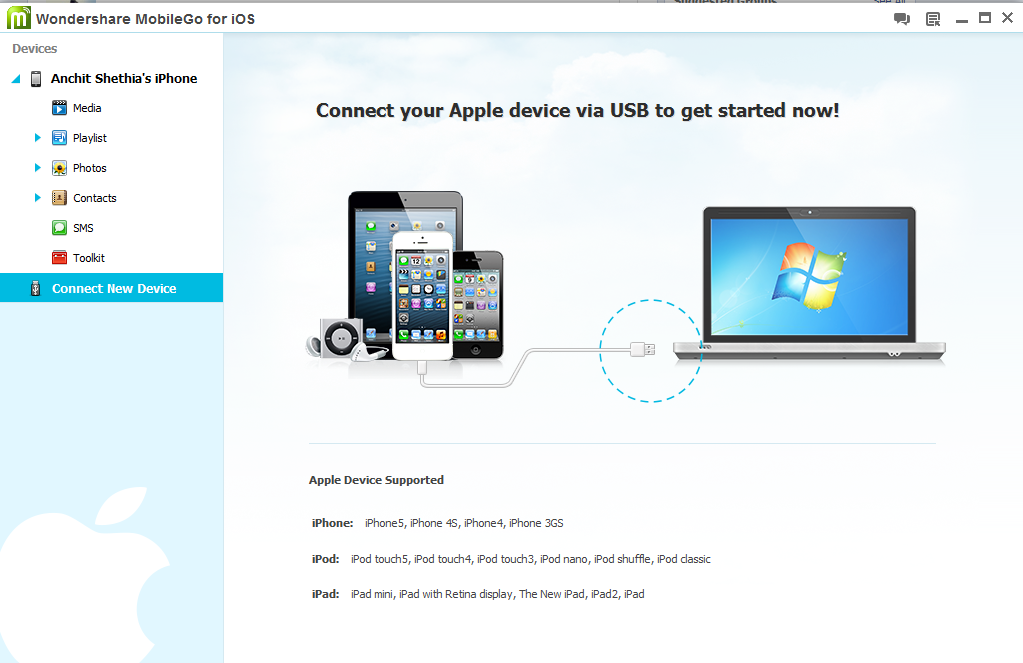 All that you ever wanted to do with your music
Most of us have suffered from the inevitable doom caused due a certain formatting process that our personal computers had to undergo at some point of time. Resulting in an absolute loss of data. Of course you could never get it back and all the music that you collected throughout your life went to the docks. Or maybe, you just simply wish to listen to all your music on your pc for the sake of old times. Here is your obvious solution.  MobileGo facilitates an excellent transfer process for your music. It is a cakewalk of a process where you just copy playlists to your iTunes and back to your computer. MobileGo instantly recognises your iPhone, iPod or iTouch when it is connected to your computer. The contents of your device will be displayed on the left side of the application, from where you can copy your music to your computer and vice versa.
You can also copy videos, iTunes U and podcasts in a similar fashion. In case of a video that is not compatible to iOS, this application would automatically recognise it convert it into the desirable form.
Manage Contacts and Text Messages
For many of us, managing our phonebook becomes more troublesome than the music. With the help of MobileGo, you can not only copy music, but also import and export your contacts to and from your pc. It is completely compatible with vCard files, Outlook Express, Windows Address Book, Windows Mail and Outlook. You can also edit contacts and remove duplicate ones. That does save a lot of space indeed! And for all those business users who were not quite happy with iTune's contact managing system, this one's certainly is a class apart.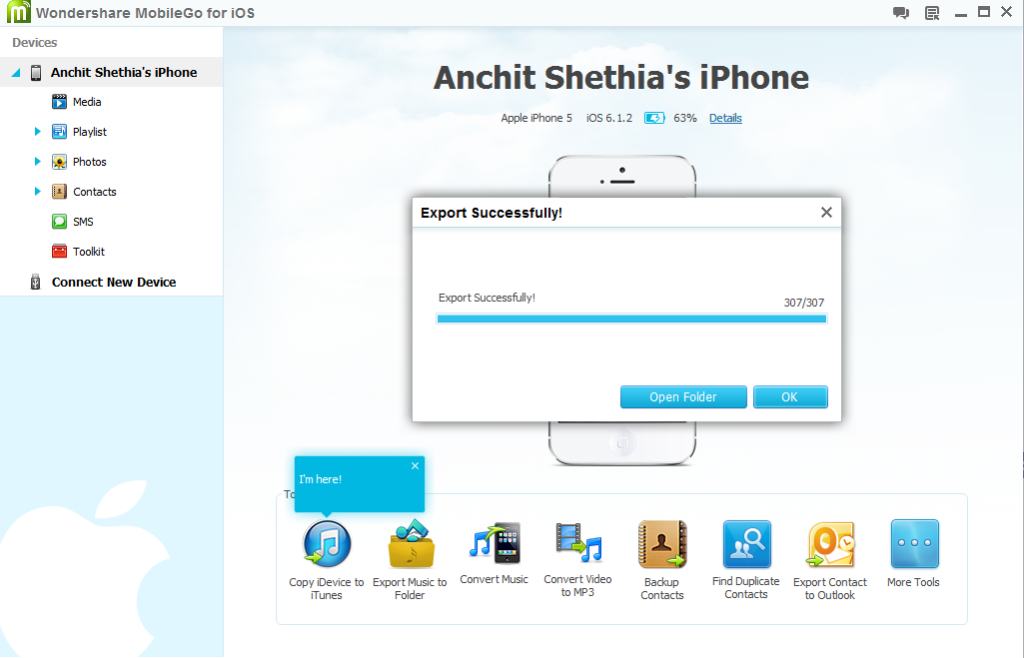 This apart, there is another feature that is going to be a complete favourite of the text generation. We all have those special messages saved on our phones which we never want to part with. Sadly, we have to delete those every time the message memory exhausts itself. Thanks to MobileGo, you get to keep your messages longer than you thought. So, what do you do? Simple. Copy your messages to your pc just like your copied your favorite playlist or your excessive contact list. As a result, your entire message threads on a broader screen. It's only drawback is you can't compose message from the pc. Nevertheless, getting to keep them with you for a longer time is a deal fair enough.
Freeze your memories forever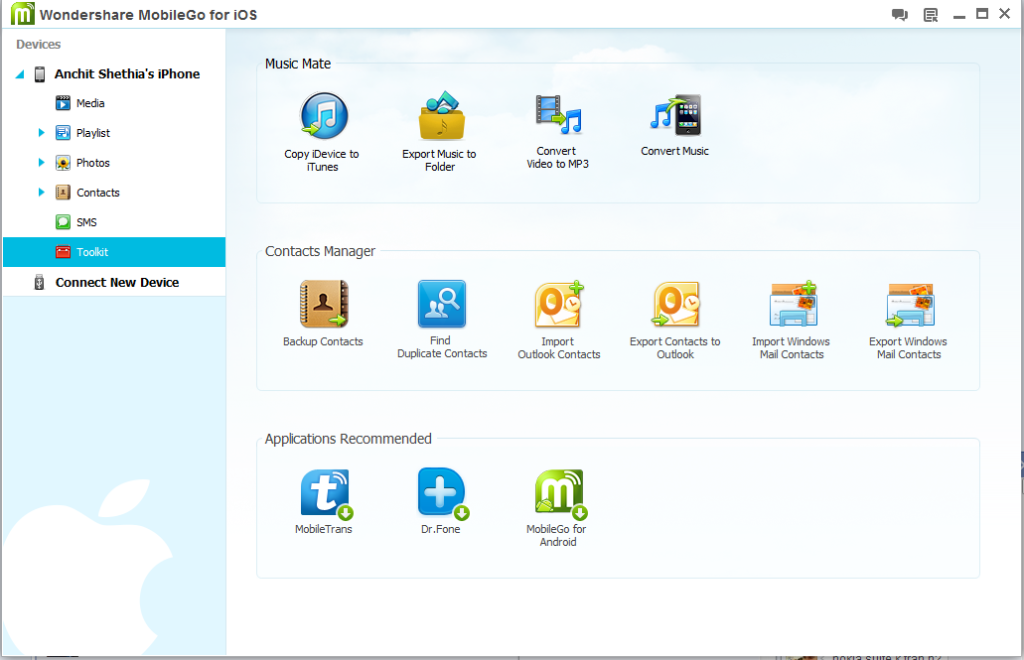 There are a lot of things you can do with those precious moments captured in your phone camera. You think some are not as precious as the other ones, but you would still want to have them with you? And with your phone's memory almost about to hit the final alarm, choosing photos becomes a tough job. You might not be having a usb around you all the time. Guess what, you don't need one. Transfer all your precious photos to your pc or an external hard drive, so that you can even later incorporate them into a slideshow with the help of MobileGo using a simple drag-drop process. What more, apart from switching photos between your iPad, iPhone and pc, you can also delete duplicate or multiple photos from your iDevice. Also, create an album in your device so that you can add photos later. However, it should be kept in mind that the trial version does not delete photos. Unless you pay the buck, you can't make us of this facility.
Use multiple Apple devices at the same time
Are you one of those die-hard Apple people with multiple Apple devices? Wondershare has a solution for that too. It recognizes multiple Apple devices at a time, thus allowing you to shuffle the contents between them. Therefore, it provides an overall excellent content management system for your Apple family.
Nice interface
The interface is quite user friendly and clean, with attractive and large icons making it easier to perform tasks.
Darker sides of it
However, like every other new technology, this too comes with its own set of disadvantages, which one might want to consider.
Firstly, money becomes an important factor while choosing applications for your phone. Though it is mostly worth the 40$ you pay, you one might as well want to stick to their iTunes and other sharing devices instead of paying such a hefty amount.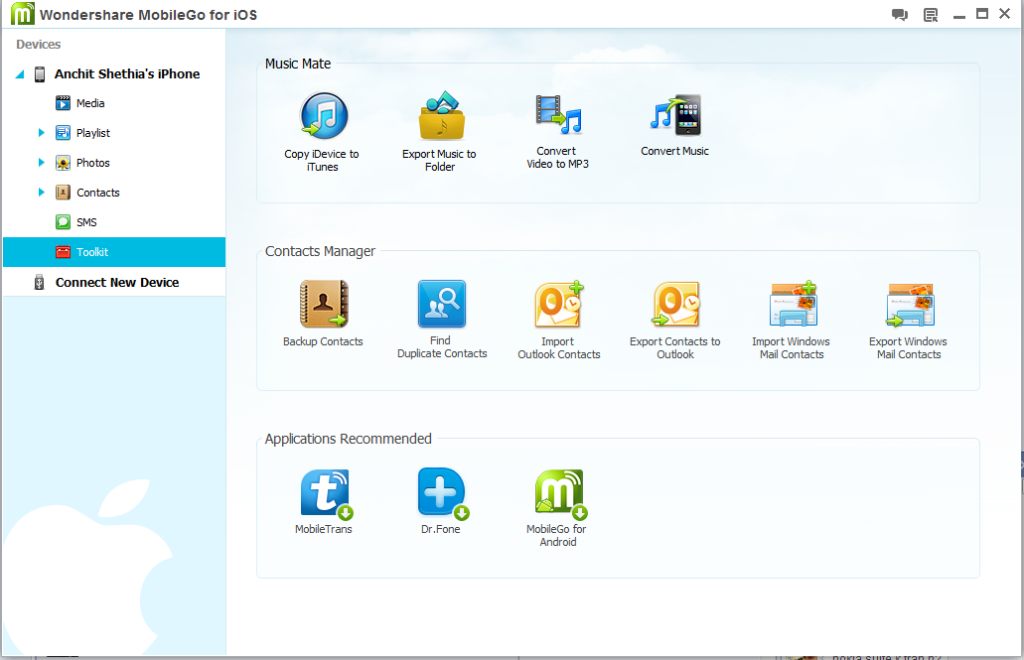 Also, though this comes with the promise of outdoing iTunes, at the end of the day, it is absolutely not capable of replacing the iTune. You cannot purchase or download content, neither does it include tools for managing iOS apps on your device. Hence, this can be considered an accompaniment to iTune rather than a complete replacement. You can definitely manage with just the iTune. But you might not be able to manage your phone with just  MobileGo.
Popular reviews
However, if one might go by the popular reviews received by this application, it fairs quite decently. While some found this to be a perfect replacement for iTunes for their music, others who preferred to move back to their PC found the best way to transfer all their music to their PCs.
Also, quite a lot of people found the SMS shuffle facility majorly advantageous. According to a certain user, this facility helped her preserve important records that were saved as part of her SMS even after emptying her mailbox. You can just all your stuff into the pc and still not lose any of the data. That is certainly the main idea behind this application.
Even the contact shuffling facility has worked quite well with people. Being able to merge contacts has helped Fiona manage her iPhone phonebook.
A user-friendly app does score higher on anybody's list any day. So has MobileGo. As a lot of users are gawking not only about its efficient management abilities, but also the simple methods by which it does its job. This, accompanied with an awesome tech support does manage to steal a lot of hearts.
Apparently, it also helps in fixing problems that appear while subscribing to iTunes U and podcast. Moreover, it has also been known for fixing a couple of bugs.
However, it does have its share of negative reviews too
The most important factor being its price, which might not be affordable for everybody. That too, in a scenario where one can manage his/her Apple devices without this application. Also, rather than "going beyond" iTunes, it rather works as an accompaniment that makes up for the limitations that iTune has. It can never serve as a complete substitute. Lastly, as has been pointed out by some users, the trial version does not have all the features. For example, one cannot delete photos in a device and does not CR2. The trial is good only for a limited number of purposes. However, if you are paying all the money, you get all the facilities it promises to come with.
All in all, if you are one of those people who would go ahead and spend the extra money on your iPhone management, you might as well give it a shot. In spite of disadvantages here and there, it serves you well. However, if you think you have spent enough on your iPhone anyway and would just like to stick to iTunes, that is fair enough. As you can pretty well manage without this application. All that MobileGo does is, making content management a tad bit easier. That certainly does make it mandatory for your Apple device.
However, the fact that it has received excellent reviews from most of its users, gives it a place in the list of luxuries you would rather spend on.  Apparently, pampering your iPhone never got better.
For more information, please visit here: http://www.wondershare.com/ios-manager/
About The Author
Sanjib Saha
Connect with me on Facebook, Twitter and Google plus.