Review of UseNext: Does it deliver the goods?
|
Yes, as the name suggests it does use the Usenet technology. For many, the term Usenet may be relatively new while for others, it might probably be a 'been there, used that' kind of scenario. Usenet has been around years before the World Wide Web came into existence. It is a form of communication and discussion medium; at least that was the idea behind its origin. However, with times, the usage has also changed and the technology is used for file sharing and various other things apart from being a good discussion forum. UseNext here is client software developed by Tangysoft which brings this Usenet technology, in a cleaner and efficient way to the end user.
Why UseNext?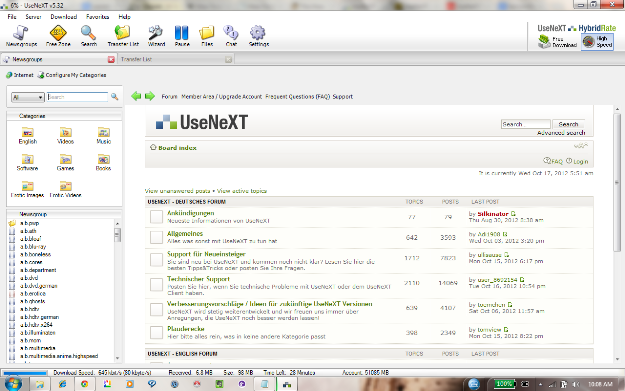 This is first question that you may ask is- Why UseNext? . The answer is: Faster downloads, constant bitrate, easy file availability and wide community to interact with. Files from the UseNext servers have got downloaded at an excess of 100Mbps, without and major variation in the bitrate. Majority of the uploaded files found on the torrent websites first find their way to the Usenet forums. Therefore, you get what you want first and fast.
User Interface and Usability?
The UseNext client is clean. The newsgroups are presented on the left side without looking crammed. You can start your search according to the given precursors such as music, software, etc. At the end of the screen you'll find the speed and data calculator. The binaries are shown in an order and you may choose where to go and what to add. UseNext also provides a chat system which is very efficient. This may be what discussion forums are headed to. Moreover, the activities open in a tab format and you can easily switch between them to keep pace with your work.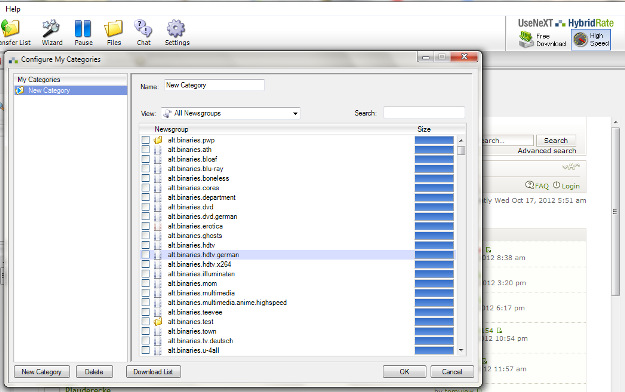 UseNext also features a 'free zone' where you can download or upload anything for free, as the name suggests. Obviously, the idea here is to expand the access and make available every bit of information to the user. For a first timer, it may look like a bland interface without much frills, but believe me, it gets the job done smoothly.
The service is subscription based. The packages start come with 10GB, 20GB or 50GB worth of download per month at a reasonable price. Yearly membership is also available. There is also a 14 day trial period during which you may try out the service. It's totally free. However, during the process of registration of an account, you have to give up your Paypal account any other mode via which you can make transactions. If you are not satisfied with the service, you make terminate it without incurring any cost.
Verdict
The service provided by UseNext is incredible and the speed at which you can download files is something you can feast your eyes upon. With various top notch technology news houses like PC Magazin and PC Welt and many others lauding UseNext, it is definitely worth a try. At some point, you may well ditch your torrent client and shift to UseNext.