Now Order Microsoft Surface Pro 2 for 449 USD– ATablet for Optimal Utility
|
Good news for all tablet lovers because Microsoft has launched its latest Surface Pro 2 with it's USP of using the gadget like your Windows desktop or a mini laptop. This new gadget has lot of fascinating features with advances optimization level of utilization. The Surface Pro 2, which was launched in New York, is officially targeting the professional people in the business who wants to use it as a mini laptop or desktop for their official purposes. With the launch of this latest gadget, one thing is clear. Gadget users can carry their work to all the places and get finished with it.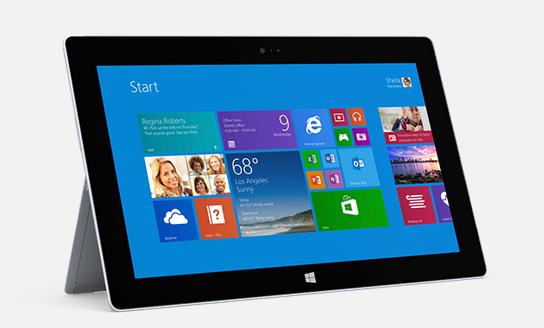 Features of Microsoft Surface Pro 2
Advanced Design:  The Surface Pro 2 tablet comes in four amazing colors – pink, purple, blue and black – the cover is illuminated with black lightning, silent keys and a smooth typing pattern almost giving the feel of using a laptop.  The tablet has a decent screen inch for a professional mini laptop – The screen inch being 1o to 12 inches in size.
Improvement in Battery Life:  The Pro 2 Surface Tablet of Microsoft, has as much as 75% of improvement in the battery life as compared to its previous models.  Another interesting feature of this tablet is its docking station that allows Pro 2 to be exactly used like a laptop. The tablet also features a cover accessory which extends its battery life further. Now, it makes sense for all the professional users to use Microsoft Surface Pro 2.
Cheaper in Pricing: Microsoft, which has installed serious and professionally advanced specifications in this tablet, has also become considerate in its pricing. The price range of Surface Pro 2 Tablets starts from $899 with 64 GB and 128 GB configurations with 4 GB of RAM. The advanced version i.e. 8 GB of RAM with 256 GB and 512 GB of configuration is also said to be sold in the coming future. With such advanced mechanism to this tablet, pricing becomes a reasonable factor to spend on.
Digitizer Pen & Kickstand:  The newer tablet also features an exciting digitizer pen for drawing images, writing and using lot of graphic related stuff on your tablet.  The dual stage kickstand is also introduced in the tablet, for those who experiences issues related to the adjustment of device in a particular place.
Other Technical Features
Supports the latest Windows 8.1
Surface Model at 10.6 inches.
Expandable 12-15 hours of battery life
Surface pro has 1920 x 1080 of resolution screen
Pre Order Surface Pro 2 Now
Final Thoughts
With all these technical specifications embedded in one tablet, it is the best business device to have been launched in the market. Microsoft, having, had a record of serving tech users with the most advanced and suitable device has clearly showered Surface Pro 2 as a gift to professionals. Thumbs Up for this device! Use a tablet with exciting features at the minimalist of price.