Nokia Unveils New Asha Touchscreen Gadgets
|
Nokia Unveils New Asha Touchscreen Gadgets
The Asha series is Nokia's very popular series of Touch phones and it is now rolling out two new phones- Asha 308 and Asha 309. According to Nokia, these will be two of the most inexpensive capacitive touchscreen gadgets till now. With a very fluid and flexible swipe user interface, a suitable environment for third party app development, these two phones are expected to take the market by storm.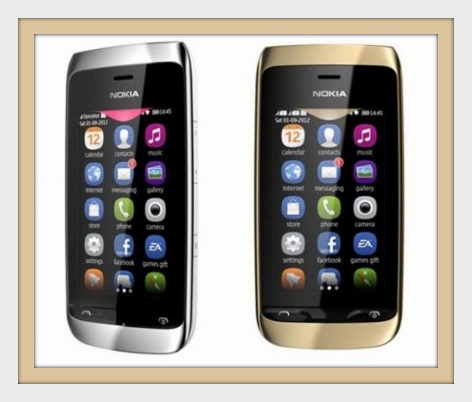 Asha 308 and Asha 309 Specs
Specs wise too, both the phones are quite impressive. Asha 308's key specifications enlist Nokia's Symbian Operating System, 3-inch WVGA capacitive touch screen with resolution of 400 x 240 pixels, Dual-SIM slots, 2 MP camera, Bluetooth 3.0, 1110 mAh battery, 64 MB internal storage that can be extended up to 3 GB with a microSD card and RM radio with RDS. It has Nokia's Easy Swap technology that lets users switch between two SIM cards easily. Asha 309 has similar specs in terms of OS, camera, screen, battery, internal storage and radio. Connectivity is slightly better, though, with WiFi capabilities along with Bluetooth.
Asha 308 and Asha 309 Features
The Asha 308 and 309 have almost forty premium games from EA Sports incorporated in it. This means Nokia is targeting a wider user base and the games move will certainly help it rope in ardent gamers. Twitter and Facebook integration is excellent and the video streaming Nokia messaging service are some new features that are debuting in the Asha series with Asha 308 and Asha 309. The newly released Nokia Xpress Browser will help users browse the net with 90% more efficiency than more conventional browsers. The web apps experience is also expected to be more fulfilling. The Nokia web app that has been launched recently will help people explore new destinations simply by searching nearby locations. It can be used through Nokia Xpress Browser or as a part of Nokia Maps.
Nokia Xpress Web App Builder
The Nokia Xpress Web App Builder is a web-based tool that is new in the market and it makes building new application very easy. Publishers, old and new alike, may use this app builder to create apps that will run on New Asha Touch phones. Even those who are relatively new to the app world and don't have in-depth knowledge of applications may turn web-content to a cool, user-friendly app for Nokia users.
Nokia Life+
The Nokia Life+ web application is a very useful app that can be used by Asha users to access all types of content; education, information, health, entertainment- all available at the touch of fingers. Nokia Life+ is available in English in 18 countries. In the fourth quarter of the year, India, Indonesia and China will get the local versions of the app.
Price of Asha 308 and Asha 309
Currently, Asha 308 and Asha 309 are priced at $99, excluding taxes.