5 Reasons Why Lumia 520 Is the Best Windows Smartphone Ever
|
The new born baby of the Nokia Lumia family, Nokia Lumia 52o, is the perfect replacement for the Nokia Lumia 510 and squeezes in underneath the Nokia Lumia 610. Moreover, with a pay as you go scheme working in its favor, there are several reasons as to why the Nokia Lumia 520 is listed among each of the best Windows smartphone.
Five among these are as follows:
A stunning design packed inside a small shell
One of the best things that you will first notice about this tiny little smartphone when you pick it up in your hands is its design. Keeping up with the expectations of the customers in terms of their hallmarked standard of design, Nokia has designed this smartphone with equal vigour as any other. It has an interesting outer shell, a bright and bold colour and fits right into the palm of your hand, as if you and the phone were made for each other. The patent yellow Lumia 520, in fact, however neon it may sound, provides a very refreshing change from the mainstream sea of blacks, white, blues and reds. What makes the design more interesting is the black contrasting buttons and jacks on both side panels that lend it an interesting colour combo.
Display blinds your eyes and hardware stuns your mind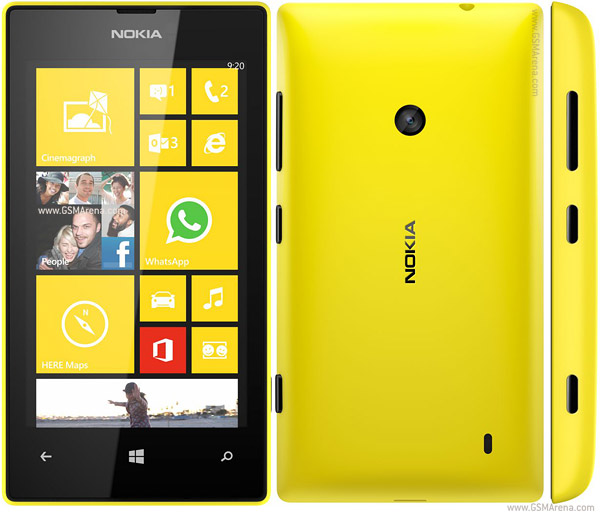 Equipped with a QUALCOMM SnapDragon dual core S4 processor, which clocks at 1.5 GHz, the Nokia Lumia 520 is powered by a RAM of 512 MB. The display, on the other hand, is 4 inches with a resolution of 800 by 80 pixels. While we do admit that this doesn't exactly fit your description of the most powerful and best Windows smartphone, you must also admit that for a smartphone within that budget, you will hardly find something competitive enough.
Enjoy one of a kind smartphone experience within your budget
One of the main reason that makes the Nokia Lumia 520 one of the best Windows smartphone is the amazing Windows phone experience that you get to enjoy within a pocket friendly budget. Running on an operating system of Windows 8, the Nokia Lumia 520 brings to the palm of your hand the very best of both worlds – the advantages of Microsoft Windows along with the additional features by Nokia, giving you access to a world of apps and services.
Capture your small moments with an amazing camera
Pushing the limits hard on the Lumia collection in terms of camera, Nokia Lumia 520 excels the bar with a superb 5 mega pixel camera. Once you allow it the marginal problems of a slightly slow focusing and low shutter speed, you will be able to capture the exact shots with the best Windows smartphone.
Talk to your heart's content and your phone will not be tired
The Nokia Lumia 520 offers you an amazing power back up as well as a very long talking time too, making it the best Windows smartphone. Talk all day long, even if you get tired of all that talking, your phone will hold up tirelessly.