Micromax A25 Smarty Announced – Review, Tech Specs and Price in India
Micromax A25 Smarty Announced – Review, Tech Specs and Price in India
Micromax is once again in the news with the release of Micromax A25 Smarty. They have already marked an impact in the market with the release of Micromax Canvas A100 and Micromax Superfone A90. Android phones have more or less eclipsed the Smartphone market, so now the focus is on releasing low end phones that can give high end gadgets a run for their money. With the race for a budget Smartphone on, Micromax has launched a sub 4K Android phone with impressive specs and a sophisticated mould.
Micromax A25 Review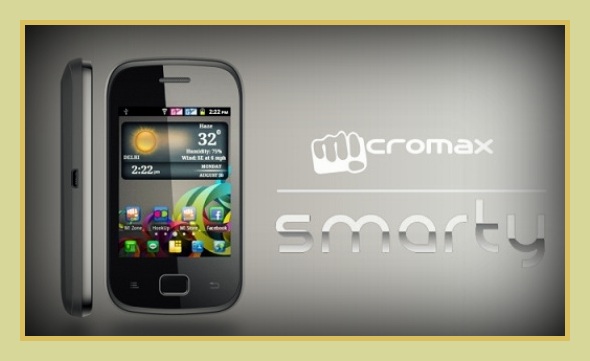 Micromax A25 Smarty Display
Micromax A25 Smarty has a capacitive TFT touchscreen with a resolution of 240 x 320 pixels. The display is 2.8 inches in size, which, while not of regal proportions, serves for a decent visual experience. The display is, however, not scratch resistant which is a concern. Its lack of multitouch leaves room for improvement.
Micromax A25 Smarty Software
Micromax A25 Smarty runs on Android 2.3.6 Gingerbread. While the market is riding on Jelly Bean, this is somewhat of a disappointment, but one can hardly expect the latest version of Android in a budget phone. The 1G Hz processor backs it up well with 256 MB RAM and 512 MB ROM. The external memory can be extended up to 32 GB via microSD card.
Micromax A25 Smarty Other Applications
Micromax A25 Smarty supports games, voice recording, MP3 player, video player and radio. SMS, MMS, IM, Email, Facebook and Twitter are the services it caters to. It has a good T9 dictionary that is handy while typing in a hurry. However, Office Applications and voice dial and sync is sorely missed in the phone.
Micromax A25 Smarty Camera
Micromax A25 has a barely satisfactory camera. Although maximum photo resolution is 1280 x 1024, but the weak 1.3 MP camera does the pictures no justice. There is no camera flash or optical zoom or a front facing camera for video chatting.
Micromax A25 Smarty Connectivity
Micromax A25 scores high on this aspect. It has 3G, EDGE and class 12 GPRS capabilities along with top notch Wi-Fi 802.11 b/g/n connectivity. It also has Bluetooth 2.1 and USB 2.0. However, some users have complained the EDGE capability is not entirely functional.
Micromax A25 Battery
Micromax A25 runs on a standard Lithium ion 1280 mAh battery. Micromax claims that it has a standby time of 180 hours and talk time of 4 hours, although for market models quoted battery life barely works.
Micromax A25 Price
For now, the best online price for Micromax A25 available in India is Rs. 3899.
Will you buy Micromax A25 Smarty?
For a phone that comes under a pocket pinch of four thousand, Micromax A25 is surprisingly well equipped both in terms of software and hardware. It is the ideal Android phone for students and those who want the Android experience without splurging a fortune on it. Let us know if you are planning to buy Micromax A25 Smarty.