Max Polyakov and Association Noosphere's Influence on Technological Environment
|
A good tradition has been the hosting of interesting technological events in Ukraine. Every year they become bigger and are developed with the support of organizations such as Association Noosphere, founded by Max Polyakov.
Spectacular techno-events
This year was no exception and one festival of robotics and innovation in particular, BestRoboFest 2017, was held in June. The robot army seized the territory of the Meteor Stadium in Dnipro city for 2 days. The spectacular family holiday pleased its audiences with a lot of interesting things, such as:
robot fights
drone racing
an exhibition of technical novelties
workshops by inventors
A monster cars show
and even an exhibition of contemporary art
Noosphere Co-founder, Max Polyakov, shared his opinion on the Maker movement, which originated in 2006 in California. He commented that he believes that young people in Ukraine deserve to have a platform for the development of their ideas in the fields of technology, science and at a do-it-yourself approach as a whole. After all, such festivals as BestRoboFest will contribute to the renewal of the Ukrainian techno-industry.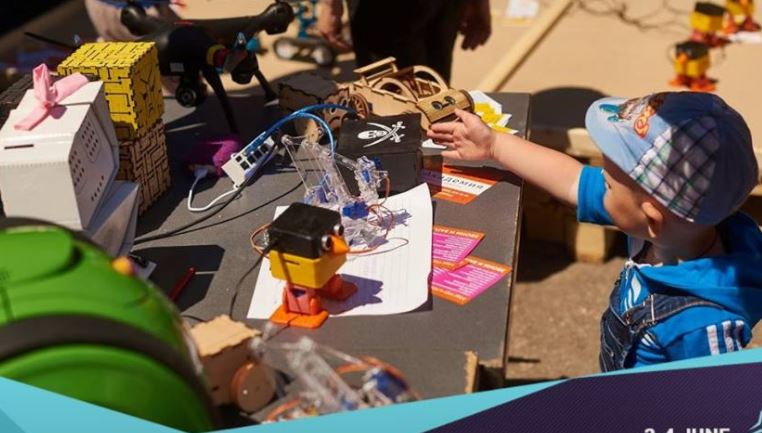 This year's festival was family-oriented, to arouse the interest of young inventors trying their hands at engineering. A lot of young people participated in something like this for the first time: some created their own rockets, others built and programmed their first robots, and some just discovered the world of technology.
If BestRoboFest was aimed at novice innovators, then Vernadsky Challenge can be called the next step. This annual engineering start-up competition is a project of Max Polyakov, Managing Partner at Noosphere Ventures. It gathers a lot of ambitious ideas and provides financing for developing the most promising of them.
This year, the scope of the competition expanded so much that the organizers received applications for participation from the USA, Israel, Peru, Azerbaijan, Albania, and other countries. And, for judging the finalists, famous MythBuster, Jamie Hyneman, joined the judges panel.
Closer to Space
This is not the end of the list of social initiatives promoted by Max Polyakov. In February, a partnership agreement between Noosphere Ventures and the World Air Sports Federation (FAI) was signed. By becoming FAI Global Technical Partner, Noosphere plans to bring an innovative revolution to the world of technical sports.
This partnership has already begun to bring results. In May 2017, the student innovation tournament "Best device for FAI" was organized by Association Noosphere. The purpose of the tournament was to find a way to automate the process of scoring points and improve the accuracy of the competition results – in this case for a particular sport – ballooning. Three winning teams were given the opportunity to make prototypes of their devices, one of which was successfully used at the World Games 2017 in Paramotoring, Glider Aerobatics, and Canopy Piloting.
The FAI cooperation with Noosphere began a few years ago with space modeling. Being a big fan of amateur rocketry, Max Polyakov, through Association Noosphere, took part in the organization of the World Championships for Space Models 2016, which gathered 300 sportsmen from 19 countries.
Continuing on the space theme, this year Association Noosphere did not ignore another important event, NASA Space Apps Challenge. This is an annual international hackathon lasting 48 hours, during which space enthusiasts around the world develop and present their innovative solutions to meet global needs. Noosphere acted as a Hackathon partner in Kiev, Kropyvnytskyi, and also organized the Space Apps Challenge in Dnipro for the first time. EOS DA Inc., a space and gis-data processing and analysis company founded by Max Polyakov in 2015, also contributed to the event.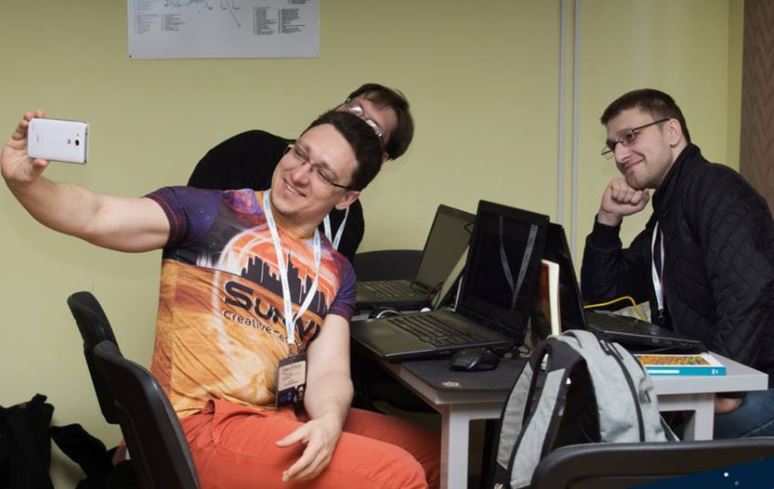 Image credit: NASA Space Apps Challenge Dnipro via Facebook
Ukrainian teams have presented quite interesting projects, but in particular, it is worth noting the Diversity project from the Spacer team, Dnipro. Its goal is to open research hubs for creating orbital station models in order to attract young people from all over the world toward deep-space exploration. Having won in the People's Choice local nomination, Diversity received tremendous support and took 8th place in the world ranking. To get into the top 10 most voted for projects from the 2000 projects available is a huge achievement.
The idea of the project is closely related to Max Polyakov's principles on which Association Noosphere is built:
to increase interest and awareness of advanced technologies among young people
to create an enabling environment for knowledge sharing
to promote the use of intellectual potential and knowledge in everyday life
Only by following this philosophy it will be possible to bring the "sphere of human thought" to a new level.