LG Announces its Newest Dual SIM Competitor: LG Optimus L3 E405
|
LG Announces its Newest Dual SIM Competitor: LG Optimus L3 E405
LG revealed that are going to launch a Dual SIM edition of the low-end L series Smartphones in Ukraine next month. LG is clearly targeting a specific region because LG Optimus L3 E405 has made an appearance in their Russian website too.
Dual-SIM LG Optimus L3 E405 Specifications
A comprehensive LG Optimus L3 E405 review of any sort, at this stage is not possible but based on speculations, LG's own press releases and rumors, we can get a vague idea of what this Smartphone would be like. Unlike the Optimus L3 (the single SIM version), which runs on Andoird 4.0- the Ice Cream Sandwich model- E405 will have Android 2.3 Gingerbread Os. There haven't been any official announcement on upgrades as yet, but it is expected that the users can upgrade their OS to Android 4.0  soon. It is not exactly a large phone, at 102.6 x 61.6 x 11.9-mm, weighing 110 g.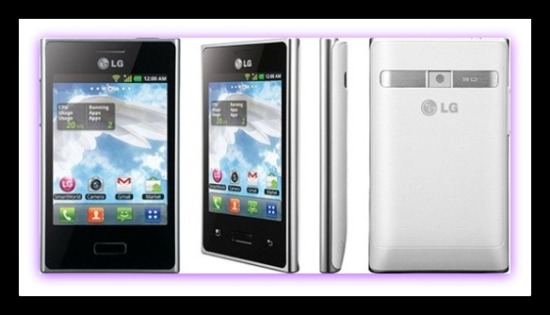 Dual-SIM LG Optimus L3 E405 specs are pretty impressive considering the fact that it is decidedly a low-end Smartphone. It boasts of a 3.2 inch QVGA display, a smart resolution of 240 x 320 pixels, dual SIM capacity, 800 MHz processor, 3.2 MP camera, VGA video recording, 3G connectivity, WiFi 802.11 b/g/n, 3.5 mm audio jack, Bluetooth 3.0 with EDS, 384 MB RAM, 1GB internal memory, MicroSD card slot, 32 GB of external memory and a promising 1540 mAh battery. That sounds like a mouthful of hard numbers to crunch, but overall it looks impressive.
Did You Miss This : Top Upcoming Android Phones in 2012
The video recording would have a frame of 24 frames per second and also a geo tagging feature. It will support all the basic apps like YouTube, Google Search, Gmail, Google Maps and so on. Of course, how the Smartphone fares in the actual competition cannot be predicted until it hits the market.
Dual-SIM LG Optimus L3 E405 price
LG has announced that Dual-SIM LG Optimus L3 E405 price for Ukraine will be 1500 UAH, which is roughly about $185. After its July launch in Ukraine, it will be available in Russia, Europe and Asia.
Is LG Optimus L3 E405 going to rule the market?
Usually Smartphone makers do not bother with dual SIM; hopefully as the Dual-SIM LG Optimus L3 E405 is announced, this trend would break. Dual SIM serves businessmen and executives especially well, but whether this phone will be good enough to make them discard their high-end BlackBerrys or iPhones is the real question.