Lava Iris 405+ Review, Tech Specs and Price in India
The Lava Iris 405+ is very new and in fact newest kid on the block. This Android enabled device is the New Year's gift to the customers loving high octane smart phone. Smart phones are smart enough to make people go gaga over it. The costumers will find this smart phone their darling.
Technical Specifications
Lava Iris 405+ comes with a display of 4.00-inch and the processor is having 1.3 GHz dual-core. The smart phone is having a frontal camera (with 0.3-megapixel). The resolution that is provided is 480×800 pixels. Memory is not at all a problem. Innumerable objects like songs, images, videos and the like can be stored. The storage capacity is 4 GB. The RAM is 512 MB. It is really whopping a number for a smart phone.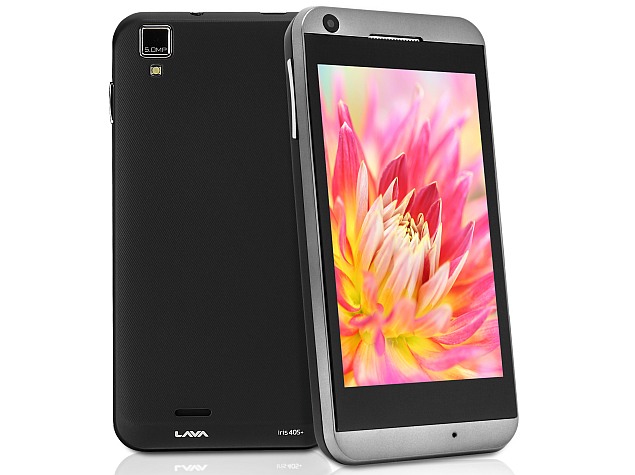 Lava Iris 405+ will support many applications, games and software because of its operating system (Android 4.2). The rear camera comes with 5 megapixels and thus can click any crystal clear images. Charging is not at all a problem. The battery capacity is 1400m Ah.
Lava Iris 405+ – darling of the masses
It is on the threshold of becoming the newest darling for the masses because of its technical specifications. It has been launched this week only. The dimension itself speaks volumes – 125.00 x 64.00 x 9.00. It is weighing 127.00. The battery is removable. It is touchscreen – another trendsetting feature of a smart phone. The touchscreen type is capacitive.
Knowing about the hardware details will make all go crazier.  The memory is expandable and the expandable kind is microSD. One can store up to 32 GB and it is really enough for a smart phone. Java is being supported. Wi-Fi connectivity is provided thus making it a computer itself. Bluetooth is a common feature and it is also there in Lava Iris 405+.
Lava Iris 405+ with its more spectacular specifications
The L. headphones are having 3.5 mm jack. Once the user uses it for hearing songs, they will simply away with the quality of sound and music. Frequency Modulation (FM in short) is also there in Lava Iris 405+. The USB is Micro-USB. Charging through the Micro-USB is done and thus it is hassle free process of charging in this case of Lava Iris 405+. There is provision for two SIM cards. Thus one can use a singe smart phone (Lava Iris 405+) with tow SIMs. GSM facility is also provided. The ultimate format for any smart phone or phone, the world wide craze, 3G support is being provided in Lava Iris 405+.
 Speaking about sensor
Proximity sensor and accelerometer sensor is also there in this super trendy smartphone.
 Smar phone at its cheap and best
Lava Iris 405+ has been launched in the country with a price tag of just Rs. 6,999. It is very much affordable an amount for the all. The facilities and the specifications are too highly placed and the price is equally very low. Buying this phone will make the buyer feel elated and thus they will be able to show-off even if they want to. There is not only style in this smart phone, but also content.