iPhone 6 Rumours, Concept, Price And Release Date
Lot of rumours are running on the air about the launch of the Apple iPhone 6. Well, will it really be named as iPhone 6 or iPhone 5s? Or both! Yes, dont be surprised! On a post published on Macrumors, it was said that this year Apple may come with two iPhone 5 successors- iPhone 5S and iPhone 6. What ever be the the case, the question that everyone has in their mind is how is the next version of Apple iPhone going to be? What new features are going to be there in the Apple iPhone ? If some sources are to be believed, then it is expected that for its next version, Apple may opt for producing a cheaper processor. Reports in China reveal that Apple is said to make use of Snapdragon chips out of Qualcomm.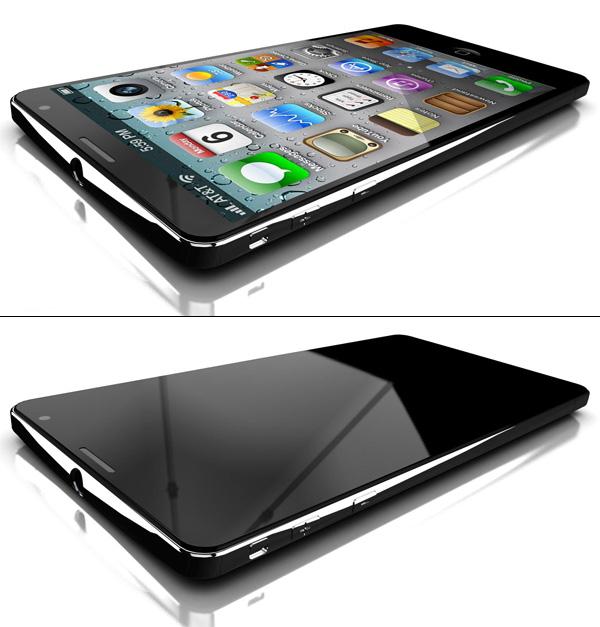 Snapdragon Processor- A Big Disappointment!
As mentioned by a source in China times the phone is expected to use a snapdragon single chip from Qualcomm which will be supported by Wifi and Bluetooth. As the Qualcomm manufactures separate versions of its chips Apple would have a choice of releasing the separate versions with different connectivity. If the rumor turns out to be true, this will be a major disappointment for all iPhone fans. Galaxy S4 has Octa-Core processor. How can next version of Apple still use Snapgragon processor? Oh Common Apple! You can't stay behind Samsung. Go for Octa- Core Processor, or try something new- a 16 Core Processor!
Wireless Charging!
Apart from the Snapdragon chips the Apple iPhone 6 features might include wireless conductive charging. Apple may utilize wireless charging technology, however the use of wireless charging capability for the future iPhone generation is not known.
Polycarbonate body with a BIGGER Screen
Apple iPhone 6 rumours suspect that the phone may feature a polycarbonate body and sport a bigger screen with high definition display which may be defined by bright colors and sharp images. Another new feature that can be expected to appear on this phone is the sonar which may replace the existing infrared sensors that utilizes sound as its sensor.
Smart Bezel- Now this is Something New!
One of the fascinating features that this phone might have is the smart bezel which can flash the information on the screen. It may use the secondary display system that can guide the users who provide the inputs to the phone. This secondary display system could be fitted on the backside of the device to make use of the new controls. As told by the patently Apple it may utilize the secondary display which includes illuminated indicators that may be able to change the work controls.
Fingerprint Scanner
According to some rumours, a feature that could likely appear on the Apple iPhone 6 is the Fingerprint scanner. It could adopt the fingerprint scanning technology which will allow a secure lock mode. The rumour surfaces from the fact of Apple buying the Authen Tec in the year 2012.
No more an Overpriced Gadget!
Apple mostly aims at releasing its new models for a price that is similar to the old models. It is likely that the Apple iPhone 6 price will not be expensive. If that is the case then we can expect the price to be around $529 for a 32 GB model and $599 for a 64 GB model. We can expect a 128 GB model to be priced at $699. It can offer a memory addition which might cost you about $100.
What more!
As per the Apple iPhone 6 specifications rumor, the screen of the phone may incorporate IGZO technology for its display. Unlike the other displays this new technology may consume less power. It is expected to have a powerful navigation system.
The Same Old Design or a Brand New One?
Rumours suggest that the design of iPhone 6 is similar to that of iPhone 5 and is expected to have a glass body that has an excellent rectangular shape. It is said to sport a classy look and is known to be light in. It is said to be powered by the latest processor which utilizes iOS 7 operating system. Apple iPhone 6 might also have a plastic body. Some sources also says, Apple iPhone 6 might have a plastic or a combination of plastic and steel body, something which is unbreakable and 100 percent water resistant.
iOS 6 or iOS 7?
It is expected that Apple might release a new version of iOS 6 before announcing iPhone 5s and iPhone 6. iOS 6 has many flaws and Apple Engineers have worked on it. So it is like to be released with the latest and the best Apple iOS, iOS 7.
There is something more for you- p-Si LCD display
iPhone 6 may sport a p-Si LCD display which is the Polysilicon Liquid Crystal Display. It is advantageous since it will be able to produce high resolution screen. Due to the built-in display drivers the need for the TFT section will not be necessary. This in turn would produce a lighter and thinner display.
What about the Camera?
It is anticipated that there will be additional camera features that will be added to the iPhone 6. It may be equipped with a 13 MegaPixel camera that will have a 2 MegaPixel front facing camera. The front facing camera will provide a better video call experience to the user. It may feature a camera that is best in resolution and high definition video recording.
You get a Projector too?
It is also expected to feature a sleek projector that will enable the user to project an image or video on the surface that will be at a shorter distance. It may come along with a visual keyboard that can be projected on the desk.
Am so excited! When is the iPhone 5s and iPhone 6 releasing?
iPhone 5S from Apple is most likely to be released in the month of June and the cheaper iPhone 6 is going to be released in the month of September. There are still possibilities that Apple might release only one iPhone 5 successor. Let's wait and watch. What is your thought on this? In case you have some suggestion, you can share with us. We appreciate our readers choice and we value your opinion.