HTC Desire X Officially Launched: Review, Features, and Price in India
HTC Desire X Officially Launched: Review, Features, and Price in India
We all know that HTC is one of the leading phone manufacturers of the world. In India, mobile phone market has mostly been captured by Samsung and Nokia but many people are fond of  HTC mobile phones and as far as the features are concerned, the phones by HTC are indeed very appreciable. HTC has launched HTC Desire X officially, and in Indian market it is priced at Rs.19,799.
HTC Desire X Review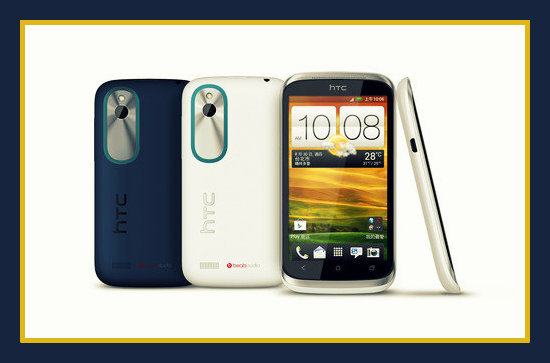 HTC Desire X Display
The display of HTC Desire X is bright and beautiful. The phone comes with a LCD display screen of 4 inches. The visuals of this phone are very clear and crisp.
HTC Desire X Operating System
This model from HTC comes up with 1 GHz of dual core processor and Android v4.0 OS. The phone has RAM of 768 MB. Multiple tasks can be carried out easily and one can easily switch from one application to another.
HTC Desire X Connectivity
The phone supports Wi-Fi connectivity. Seamless transfer can be done with other devices because the phone has a USB and Bluetooth connector. It also has an audio jack of 3.5mm. You can stream media wirelessly from your phone to wireless PC or TV because the phone is DLNA enabled.
HTC Desire X Multimedia
HTC Desire X possesses excellent visual but also the audio experience of this phone is also great. A host of video and audio formats are supported by this phone. If you buy this phone, you will be able to enjoy the sound experience.
HTC Desire X Camera
One of the most important thing to look here is the picture quality. HTC Desire X is loaded with a 5 MP camera with an LED flash. Some other features of the camera are BSI sensor, auto focus etc. Whether you are shooting outdoors or indoors with this phone, you will never be disappointed with the quality of the captured image. With this phone WVGA video recording can also be done. While video shooting, image capturing is also possible. A smart flash is there in the phone which automatically detects the level of flash required according to the light and distance of the subject.
But if you compare HTC Desire X with other Android Smartphones below 20000 INR that have come in the market recently, HTC Desire X may not prove handy. Micromax A90 comes with 8 MP camera just for 13k INR. Several phones have been launched recently.
Close competitors of this phone are- Sony Xperia Go and Samsung Galaxy S Duo.
Battery and Memory
HTC Desire X is powered by a 1650 mAh battery. The internal memory of this phone is 4 GB which can be expanded up to 32 GB. So, the memory of this HTC phone is enough to create important files, or music files or favorites etc.
HTC Desire X Price
HTC Desire X is available for only 19,799 INR.
This particular phone from HTC is worth buying though the price is little high according to the Indian market. But the features of support the high price and people are buying HTC Desire X after its introduction in the market.
So what will be your move? Are you going to buy HTC Desire X? Let us know under comments.