How Virtual Desktops and Virtual Servers Can Save Your Money
|
Virtualization is a new technology that uses revolutionary advancements in cloud computing. It enables data centers to reduce their need for physical machines, save energy and secure their data. This technology also provides for a new degree of flexibility when it comes to desktop computing with virtualized desktops. This technology has become the standard for many industries, and with so many money-saving advantages, it's easy to see why.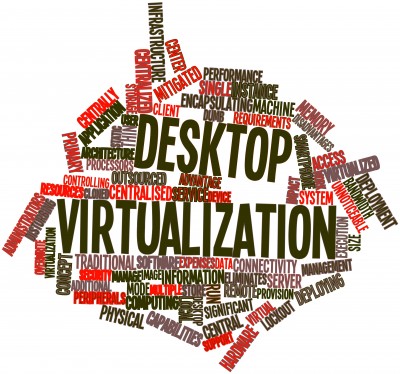 What Are Virtual Desktops and Servers?
If you are unfamiliar with these new technologies, thoroughly understanding what they are is essential to their use:
Virtual Desktops: You are familiar with how standard desktops function: the entire capability of the desktop is contained within the physical machine. Virtual desktops provide dramatically advanced capabilities. The desktop connects to a cluster of servers, and this is where the actual operating system resides, so the capabilities available to the user are dependent upon them. This means the average employee has access to essentially unlimited resources. The employee can also access his or her desktop from anywhere.
Virtual Servers: Traditionally, a server were configured to handle only a single task. This task would likely consume less than 30 percent of the server's actual capabilities, yet for troubleshooting and networking reasons, it was risky to place multiple tasks on a single server. Virtualization has reversed this logic by allowing a single physical server to create several virtual servers. On the network, they will each be viewed as separate servers; however, they will all physically reside on the same machine.
How Can They Save My Company Money?
Below are the primary savings that companies which use virtual desktops and servers have discovered:
Reduction in Hardware Expenditure: A new server used to have to be purchased for every new task. The cost of purchasing new hardware can quickly add up. However, using virtualization technologies, a single server can perform a dozen different tasks. The price of a single server will replace the price of multiple new servers.When it comes to desktops, new hardware will still need to be purchased for every new hire. However, since the majority of the processing power will be done at the server level, the new hardware does not need to be top-of-the-line. As long as it is capable of processing data, the new hardware will be sufficient.
Energy Savings: The electrical costs of running even a small amount of servers can be prodigious. Not only do they consume electricity, but they produce heat that must be mitigated with cooling systems. While both of these factors must be considered with virtualized servers, it is significantly less so. Instead of physically housing 15 different servers, you may only have to power and cool two or three physical machines.
Data Loss Prevention: A properly secured virtual desktop or server can significantly prevent the loss of data. While configuring an in-depth disaster recovery system can be complex, it can be done with virtualized servers. Data can be quickly transferred between virtualized servers, regularly backed up and, as a result, never lost. While this may not seem like an immediate cost-saving measure, consider the cost of data loss. How would it affect your company if even 10 percent of your operational data was lost? Even though this is a hidden savings, it may be more significant than the aforementioned two money-saving factors.
Reduce Your Expenditures and Increase Productivity
Virtualization can help save your company significantly. It does so in two ways: decreasing direct expenditures and increasing productivity without additional payroll. Employees who can work from multiple locations with virtual desktops are likely to be more productive. Consult your IT manager to enact a plan to adopt new virtualized solutions.
About the Author: Alfred McKinney is a contributing writer and IT tech for a major corporation. Alfred has found that using secured virtualized desktops and servers has saved his company a lot of money. He has used Trend Micro protection of his company's visualizations effort.