How To Gain 2000 Followers On Instagram In Two Months
|
Our modern societies are ruled by social media channels. There are plenty of social media platforms that present people a lot of fun, entertainment, opportunity to share images and videos, send messages, make voice calls and videos calls and much more. Some of the most popular social media platforms these days include Facebook, YouTube, Twitter, LinkedIn, Instagram, WhatsApp, etc.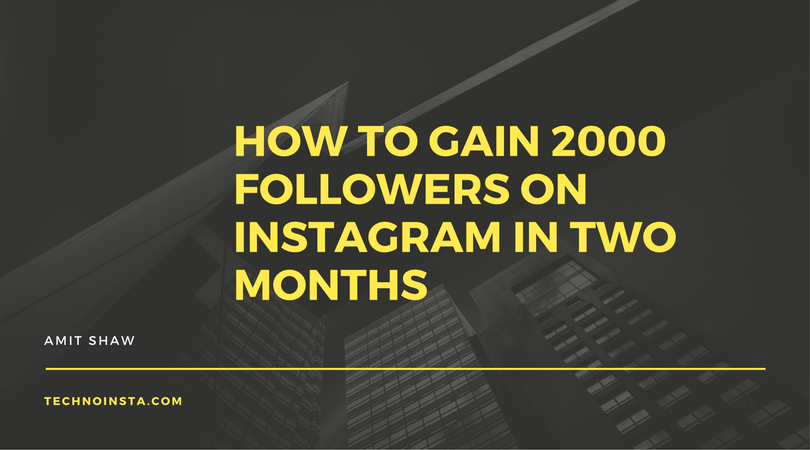 People not only use these social media channels to communicate with others or entertainments purposes but also for promoting their businesses, services, and products. It is hard for people to find a person who does not have accounts in any of the social media channels at the moment. Instagram is one of the much loved and favorite social media channels amid people across the world regardless of their age, gender and generation gap.
Instagram is a mobile, desktop, and Internet centered photo-sharing app that lets people share pictures and videos in public as well as in private. It is true that Instagram is an easy method to take photos and share one's best moments with the world. It can help people to make their relationships stronger by means of shared experiences.
A lot of people have used to try different methods in order to gain more followers in Instagram but they used to fall short in their every attempt. Would you like to get more followers on Instagram? Here are some of the top methods that will aid you to gain 2000 followers on Instagram in two months:
Define Your Target Audience
One of the main methods that help you to gain more followers on Instagram is defining your target audience. You should understand your target audience and carry out your actions based on your targeted audience which will lead you to reap the results so quickly. You have got to take a thorough look at your clients and characterize the audience explicitly.
Know What You Are Targeting
Make sure to have a clear understanding of who you would like to attract. You have to know who is going to buy the services that you provide. You should also understand the age group of your audience such as youth, matured, and aged people. Once you are familiar with who you are targeting, it is easier to make a strategic plan that guides you to gain followers on Instagram rapidly.
Search Out Hashtags
Would you like to increase the followers on your Instagram Page? It is time for you to search out hashtags. You have to look for hashtags within your niche and it can help you to reach to a lot of people in a limited time. It is crucial for you to search for and come up with hash tags that your target audience generally uses and also worth going through.
Hashtags for Content Discovery and Optimization
Once you tag your post with a hashtag, you can tap the hashtag to find out a page that displays all photos and videos many other people have uploaded with that hashtag. The hashtags assist people to put in order and classify photos and video content. It eventually assists them with the method of content discovery and optimization. If you earn more followers, more people will notice your posts, and other people who use Instagram will start to pay heed.
Content is King
In social media marketing, content is king and you cannot ignore the importance of content if you would like to boost the followers on your Instagram Page. You should make clear, precise and positive nature photos to make an impression on your targeted audience. You should make sure to add catchy and interesting captions along with the image and video posts that you make on the Instagram page. Posting good quality content can guide you to foster a community of followers who will aid you grow your brand and in the end, increase the followers on your Instagram Page.
Other Important Methods
Engaging with your followers is very helpful and therefore, you should ensure to create and share contents regularly.
Create the images of high-quality and give importance to quality over quantity.
The content that generates more likes, shares, and comments generally has the ability to awe, inspire, motivate, and keep clients engaged.
Promote a style and you should bring in your personality in every post you make.
You have to post your content to Instagram hashtags if you would like to earn more followers.
Build your community and engage with your customers.
Use the most popular hashtags and some of the most popular hashtags include love, cute, amazing, follow, eyes, smile, nice, beautiful, girl, happy, style.
---
Author Bio :
I am Juanita. I love writing and therefore, I chose to become a professional writer over other careers. I used to write promotional as well as academic papers. I have been writing as an academic writer for the past 14 years now.  Presently, I work for a custom essay writing service online. I also used to write articles for different blogs online during my spare time.