How to Extract Data from Documents and End Manual Retyping
|
When communicating in the modern business world, the transfer of electronic documents is essential. This process often includes receiving files, editing, and then sending them to other people within your business or personal network. Receiving documents that are hard or even impossible to edit is not at all uncommon in these circumstances. This is commonly the case when working with PDFs which are great for presenting and saving the look of formatted documents, or with scanned image documents which are merely an electronic representation of their paper counterparts. Sometimes the document is in editable, but simply not in the preferred format. For example, it can be an HTML table that you would preferably want to have as a Microsoft Excel file format.
In such situations, many busy people and students with a tight deadline find themselves manually transferring the information in by retyping it into a new, editable document so they can improve and modify it. The fastest and best way to deal with this is to find a way to extract the data from the document into an appropriate, modifiable format automatically, and instantly boost productivity by doing so.
To achieve this, it is necessary to find a file converter that tackles the task of extracting data and transferring it into the right format. One such productivity utility that enables users to swiftly and accurately extract data and convert it into more editable documents is the Able2Extract 8 PDF Converter. It is a leading PDF to Excel conversion solution, but also much more than that.
Able2Extract is a universal professional software solution that works for Windows, iOS and Linux users. It allows users to perform customized and incredibly accurate conversions between various file formats.
Apart from converting PDF to Microsoft Excel, it converts PDF files to HTML, Text, AutoCAD, MS Word, PowerPoint and Publisher documents. But it's not simply a PDF converter; it can also convert HTML files to Excel, Word and Text files and Text files to Excel, Word and HTML files. So it goes above and beyond simply being a PDF conversion tool.
Able2Extract's evolved user interface design is incredibly intuitive and easy to use. Any conversion can be performed following the three simple steps.
In this example, we will be converting an excerpt from a PDF version of the book "Moby Dick" into an editable Microsoft Word file.
1. Open the document you want to convert (PDF, HTML, or TXT).  
         
The easiest way to do this is to click on the "Open" button, or by selecting Open on the File menu
2. Select the data in the document you wish to extract.  
            
You can click on the "All" button to select the entire document or choose to select a certain area, page or a page range.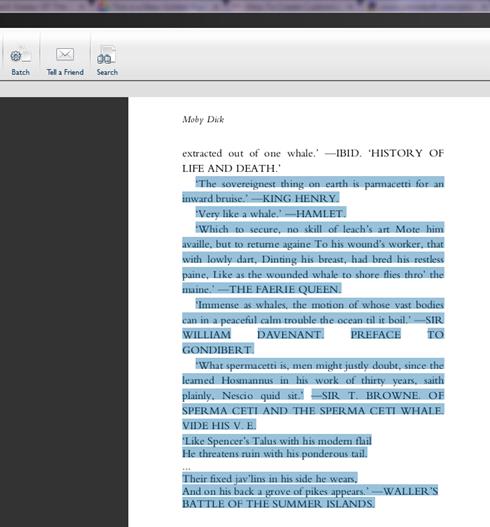 But in this case, we only want a short excerpt, which we will select manually with the mouse.
3. Convert!
Simply click the "Word" button to convert this excerpt from the PDF into a Word file.
And that's all there is to it. The selected data is instantaneously transferred into the MS Word file format.
Of course, Able2Extract also provides a variety of options for customization when you are dealing with complex documents and want to tailor the look and format of your output document very specifically.
Able2Extract comes in two versions: standard and professional. Users who work with scanned documents and often transfer paper documents into electronic formats opt for the Able2Ectract Professional 8 PDF Converter. It uses industry-leading OCR technology which enables not only native, but also scanned PDFs to be converted effortlessly.
Both versions of the software come with a free 7-day trial, which will give you enough time to test it.