How To Create The Ultimate Home Theatre System
|
Tech conferences like the Consumer Electronic Show (CES), IBM InterConnect, and Google Next are a tech buyer's dream. They not only feature the latest and greatest in today's technology but also showcase emerging trends within the industry.
CES 2017 was a true TV gala. The likes of LG, Sony, and Nvidia stole the show with their new high-spec television sets. Samsung and Panasonic also brought their best, unveiling their 2017 lineup of TVs and smart tech.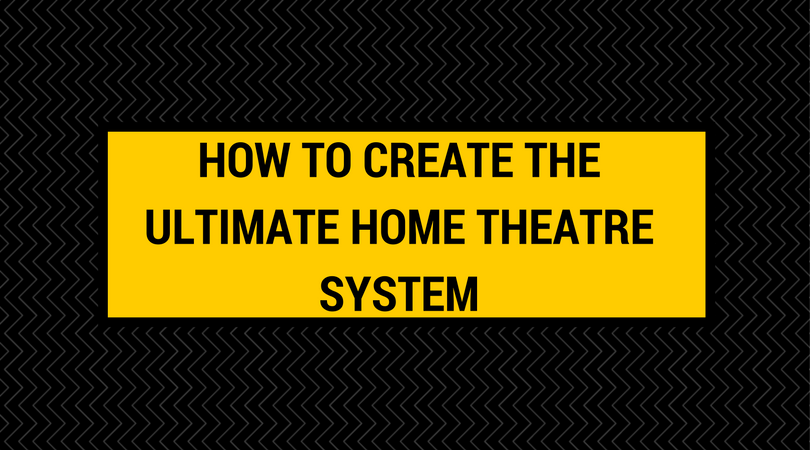 These impossibly thin television sets and intuitive smart home technologies mean that your at-home TV viewing experience has just been upgraded.
For those looking to create a true one-of-a-kind home theatre system to watch the latest movie releases or the big game, or marathon a complete Netflix box set, we've got you covered. From audio specs to choosing the right screen for your space, our ultimate guide brings the ultimate viewing experience to your home
The Visuals
To project or not to project? This is the first step and first question when installing a home theatre. The space in your home will determine which route you should take.
Projectors are great for dimly lit rooms. The darkness of the room accentuates the vibrant picture quality of the projector. Too much light will wash out the picture.
Projectors also come with a few caveats. You will need space in your room to mount or place your projector, and your projector will require a screen.
Television technology, on the other hand, is only going to get better and better. TVs are wafer-thin thanks to OLED, a type of display tech that exhibits ultra-dark blacks on your screen and is energy-efficient and eco-friendly. The average screen size now stands at 55 inches, and most will feature 4K as standard.
But in the case of televisions or projectors, bigger isn't always better. The optimum viewing experience is about 1 and 1/2 to 2 times the width of a television screen. The space between your couch and wall where your TV is mounted, or where the projector is displayed, will determine the right size.
Upgrading from analog to digital? A digital TV specialist can install cables, connectors, and a TV antenna for your newly minted digital TVs. Their expertise will make the transition effortless and hassle-free.
The Audio
If your home theatre's visuals are the star of the show, then the audio is the all-too-important supporting cast. The sound makes up approximately 80% of the moviegoing experience. It communicates with us on a visceral and emotional level.
To capture this emotive experience, surround your home theatre with high-fidelity sound. The average home theatre living room experience should be supported by a 5.1 speaker system. This simply means your surround sound should include five speakers and one subwoofer.
This will not only impress your guests but will add audio realism to your viewing experience as well
Much like visuals, the room's size will be a factor in determining the right audio equipment. Small speakers will do little to fill the room with quality acoustics. Likewise, large floor-standing speakers will overwhelm the space within a small room.
Avoid wireless or Bluetooth speakers. Although they may be tempting, stick to traditional cabled speakers. Wireless speakers cut the quality of the sound, which dampens the audio experience.
Televisions come and go as quickly as the next emerging trend. On the other hand, you'll keep your sound system for years. This makes your sound system a worthwhile investment.
The Accessories
Furnishing your home theatre is important, but what we're all looking for is that Jetsons-inspired smart home. And for a long time, that was purely speculative. But now, that's all changed.
Today's technology pushes the smart home functionalities into the mainstream. Now, smartphones are capable of managing our homes. With your smartphone, you're given complete control of your home theatre experience. You can even control the lights and climate of the room with your device.
Available at just a push of a button, you can control every aspect of your viewing experience with a tablet, touchpad, or smartphone. Want to turn up the sound to capture all the action of the big game? Or what about dimming the light for the true moviegoing experience?
Installing a smart home automation system delivers on convenience. But more importantly, it provides an exceptional immersive experience.
With the home theatre setup and accessories in place, consider hiring a home theatre technician. This ensures a correct setup the first time, every time. Plus, as an added bonus, most home technicians will install your home theatre setup with hidden cabling, ensuring there are no distractions when you're all glued to the screen.
Now, all that's left to do is to sit back, relax, and enjoy your ultimate home theatre.