How to Buy a Laptop for Work and Play
The convention used to be that either you buy a laptop for work and casual computing, or buy a special gaming laptop for playing your favorite videogame. The typical gaming laptop costs a lot of money, as they are often equipped with specs to guarantee more memory and processing power. In recent times, more and more people are interested in playing PC games, but cannot actually afford gaming laptops. The market is slowing answering these budget-minded gamers. Established brands like Dell, HP, and even some specialty brands like MSI, are issuing laptops that are suited for both work and play.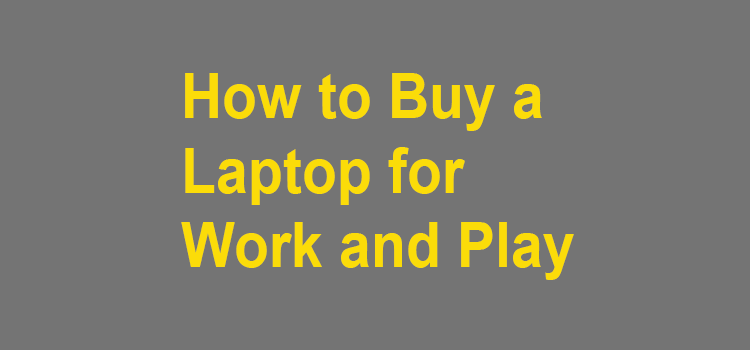 Now, don't get your expectations really high. If you are a hardcore gamer who likes playing Doom 4 on ultra settings, you will need to spend several thousand dollars on a gaming laptop. But if you are more of a casual gamer who wants to play MMORPGs like World of Warcraft, Minecraft, or older Need for Speed games, then a low-end gaming laptop would do. Dell, for example, has released a gamer-friendly version of the brand's popular Inspiron line intended for these casual to moderate gamers. Likewise, you will find classic laptop brand making machines suitable for moderate gaming for professional users.
Still, it's important to know what specs to look for when buying a gaming laptop for a budget price, and exactly what type of price range to expect for the specs you are looking for. Read ahead for several tips on choosing a work and gaming laptop that won't cost more than a $1,000:
Set a Budget for around $500
If you want a decent laptop with certain future-proof features, you will need to set a budget around $500 (or about 30,000 INR). There are ultra cheap budget laptops costing between $400 and $500. These are suitable for moderate computing and playing Flash games. These machines also come with shared graphics cards, where memory is not dedicated to the video playback, so the graphics could lag. If you want a decent machine with specs that will withstand the next 5 or so years, set your budget between $500 and $1,000. You can find machines suitable for casual to moderate gaming with speedy processors, solid RAM, and acceptable graphics cards.
Pay More for the Graphics Card, Not the Processor
How well a gaming laptop performs is determined by three things: the processor, RAM, and the graphics card. For laptops, graphics card is the most important spec because, unlike with a desktop, you cannot change it on a laptop. If you see that the graphics card for a machine is shared, don't pay more than $500 for it. You will need a card with dedicated memory. Aim for a NVIDIA GeForce GTX 1040 card at least (or AMD equivalent). The more numbers the graphics card has, the better it will be.
Invest in RAM
The minimum acceptable amount of RAM for a gaming laptop should be 8GB (4GB is okay only for work). If you want to future-proof your purchase, aim for at least 16GB. The more RAM there is, the speedier the computer will be.
Intel Processors are Better for Gaming
Intel Core i7 processors are the best for gaming. AMD's Ryzen beat Intel for speed, but it still lacks when it comes to gaming performance. Even some budget laptops these days come with Intel Core i7 processors. Try to buy a Core i5 at least. But a quad-core Core i7 would be the best for both work and play.
In addition to the above, don't forget to think about the other specs you might need for work, like speedy Wi-Fi. Most gaming laptops do come with good Wi-Fi cards for online gaming. Generally speaking, if you can buy a laptop with specs recommended above for gaming, then you will have a work laptop speedier and more efficient than it needs to be.
---
About the Author : Eduardo Bridges writes professionally about buying affordable and high-quality gadgets online. He is a former software engineer who is now self-employed in tech.
About The Author
admin
Amit Shaw, Administrator of iTechCode and Technoinsta. He is a 26 Year Ordinary Simple guy from West Bengal,India. He writes about Blogging, Technology, Gadgets, Programming etc.Connect with him on Facebook, Linkedin, Add him on Google Plus and Follow him on Twitter.