Google Launches HP Chromebook 11 – A $279 Laptop from Google
|
Google has unveiled its new HP Chromebook 11 which has features equivalent to all the high tech machines.  This sleek looking machine can be brought home for around $279 and has lot of attractive features which tech lovers would want to play with.  The laptop is a by-product of two well established companies in the world of technology – Google and HP. This amounts to curiosity among the people to try out the new Chromebook laptop.
The laptop has many interesting features that one would like to look forward to. Here's a complete list of what you can expect from this laptop.
Attractive Display
This Chrome laptop has an 11-inch, 1366 x 768 pixel IPS display with the display pixel inspired from Chromebook pixel design. This micro sized laptop looks ravishing in the 11 inch display with white color and decent screen resolution.  The laptop also has a sturdier magnesium frame, so that it won't flex when you hold it up from one corner and it is 10 pounds lighter than the previous Samsung Chromebook weighing at just 2.3 pounds. It comes in two colors chiefly white or black with four accent colours like red, yellow, green and blue.  To attract more, the designers have added the multicolor lightbar to the laptop.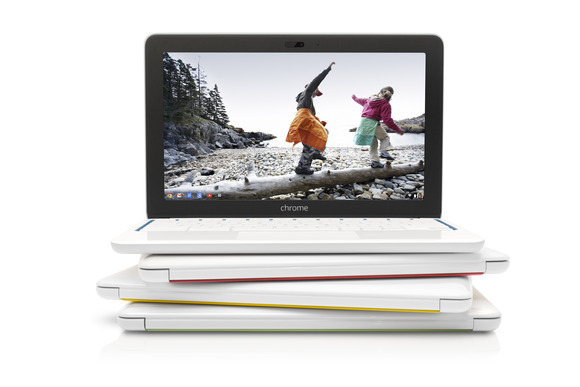 Finely Tuned Speakers
Google claims the speaker of the laptop to be 'finely tuned' and it is placed under the keyboard so that the sound easily projected towards the user. The sound quality of the laptop is far superior to the previously launched Chromebook laptops. It resonates peace through it's effective sound system embedded inside the keyboard.
Other Interesting features
HP Chromebook is tuned with fresh features like a VGA webcam embedded into the bezel surrounding the display.  It is powered by a dual core Samsung Exynos 5250 processor and 2GB of RAM along with 16GB of internal storage.  The laptop comes with two Micro USB 2.0 ports and a slimport video out port.  The battery life of the Chromebook is alive till about 6 hours when fully charged.  Interestingly, the way to charge the laptop is through the use of micro USB port which is more convenient for the users.
Cheap Pricing
The reason why we believe HP Chromebook 11 by Google will have good sale in the market is because of its pricing. It's very much affordable for young college students and working professionals who want to spend the least on a laptop yet get all the interesting facility of owning a laptop. Especially with Google and Hp's name attached to it where the laptop can be purchased within the price range of $279 with all the updated features.
Attractive Offers by Google
In order to attract consumers to increase the sale of this launched laptop, interesting offers like 100 GB of free Google drive storage,  a dozen free sessions of Gogo-free flight internet and a trial version of 60 days of google music accessibility.
Source: IBNLive