Enjoy Free Video Calling with Viber Messenger For PC
|
Viber Messenger for PC has lots in store for the users to make them want to download and use in the PC version of the messenger. The successful chat messenger has lots of exciting features which mainly is experienced for it's high calling video calling experience downloadable and used for free of cost. With this chat messenger, users can also send free messages with facilities to engage in group conversation and host of eventful activities to perform by using this software. We will tell you the advantages of using this software and how you can extract the best out of Viber.
Viber for PC – Advantages
Simple to Use:  Simplicity is one unique factor in technology which unites tech lovers of all kinds – the users and the non-users. In Viber, the simple interface shows the contact list,call log and conversation history. The application features options like real-time notifications,which is good for users who keep on getting notifications as there's hardly a chance of missing it with this feature.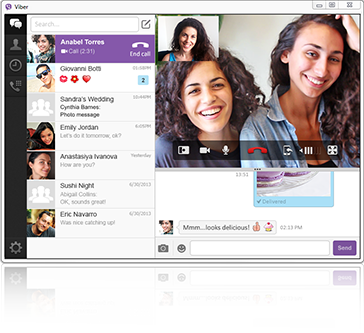 Free Calls: Now the basic reason why users install this messenger is because users can enjoy the thrill of making free video calls from their PC to other devices like smart phones, tablet,iphones etc. The condition is simple. All you need is to have the viber messenger installed in your system.
Full Sync with Mobile and Pc: Viber syncs your mobile phone with contacts and messages of your pc. This makes Viber a great source for bridging the gap between any sort of transformation taking place between the pc and the mobile phone.
No registration,password required: For newbies who find it troubling to create an account for chatting, this messenger is your answer to the problem. For viber to operate, you need not have any sort of registration or account creation problem, all that is required is probably the phone number.
Userability
With free calling experience, Viber messenger for PC is certainly an eventful experience to engage in. Not only does it require simple usage by adding all your data, call logs and other details, but it also creates a fine nexus between PC and mobile phones in terms of easy transferring of data,important calls etc. With windows screen as an option, users can certainly enjoy the video calling experience with great screen visibility, other adjustable video calling options and the best part of inviting groups in one conversation. So imagine your friends living in distant parts of the world, they all can simply unite and celebrate group discussion,shared memories without having to worry about paying for such a glory. Now call friends, in groups, by installing Viber and talking for unlimited hours. It's simplicity in usage is created to keep in mind the opportunity for the messenger to be used by all the users – the tech friendly as well as the non-tech friendly users.
Download Viber Messenger for PC