EaseUs MobiSaver for Android Review
|
EaseUs MobiSaver for Android is a rather simple and easy to use data recovery software. It is an extremely easy to use software for your windows or Mac computer and even your Android mobile phones, tablets and SD cards. Now some files may be lost due to accidentally deleting them, a virus infecting your phone or you may have even formatted your phone and forgotten to back up your file. In this case there is no need to worry because this software can restore anything you may have lost from photos and videos, to music and audio files and even PPT presentations and data stored as text on MS word, MS access and MS excel. It even retrieves SMS's and contact details stored on your android phone. It is compatible with most of the popular android phone brands like HTC, Samsung, Sony, LG, Google, Huawei, etc., and even most android OS systems like 2.3, 4.0, 4.1, 4.2, 4.3 and 4.4.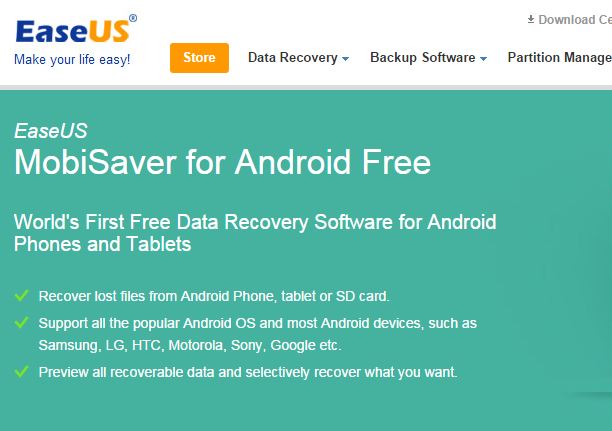 Android Data Recovery
Usually when you delete files from your phone or android device you assume that has been removed completely but that is most definitely not the case. The files are still stored on your phone and all it requires is an android data recovery software to retrieve any and all files that may be lost or deleted. The EaseUS MobiSaver for Android Free is a user friendly, easily downloaded and used and highly recommended software available.
How to use it
It is reliable and guides you through retrieving any and all lost data in three simple steps: connecting your device, allowing it to scan through lost files and previewing and selecting files you want to recover and recovering them. This may take some time but is extremely successful in the end. With EaseUS MobiSaver, you can easily recover deleted photos android without ay problem.
Recovering Lost Photo's on Android
Some of the most important items that we always seem to be wanting to recover are the photos we keep deleting or get deleted accidentally or may be a virus has removed all the photos. However this software can easily retrieve them all and allow you to even choose which ones you want to recover and replace's just those photos. The software is extremely satisfying and easy to use software that doesn't take much time to download and install and get the job done. You can recovery and store your files on the phone or SD card or even on a separate folder on your computer for future use. This software comes in handy and works brilliantly.
Price
This product is absolutely free and requires no input of debit or credit cards in order to use it.