Dell Latitude 6430u Review
|
Dell has finally launched its series of the high end ultrabook for businessmen. The Dell Latitude 6430u promises a tough and sturdy performance wrapped in a shell of stylish and sleek exterior. Dell has equipped the Latitude 6430u laptop with a very wide range of features that are business friendly. The strong security system promises to protect your information and data with utmost safety. Along with all these, you will also find yourself at convenience if you are looking for a good battery life for travelling purposes. Though the Dell Latitude 6430u is available at a hefty price, we are yet to see how much of that money is worth the thing. Let us find that out.
Design of Dell Latitude 6430u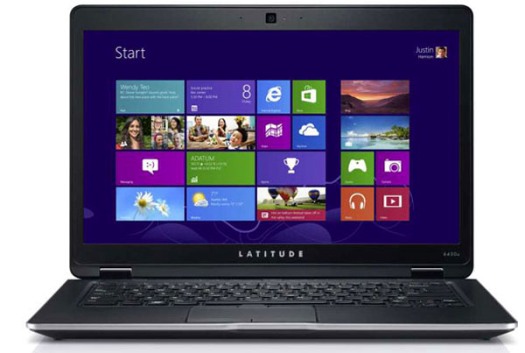 The design and looks of the Dell Latitude 6430u may not be exactly a head turner, but it is definitely quite up to the standards and has an exquisite feel of class and quality to it. The whole of the Dell Latitude 6430u is covered in a polish matted black cover that is soft to the touch and you will not be able to keep your hands off it. At the centre of the lid, the chrome logo of Dell has been embellished. While the upper half of the laptop is of a darker shade of grey, the bottom half is a lighter shade, giving it a good contrast of shades. The chassis and the hinges are extremely sturdy and will provide good support against wear and tear.
Dell Latitude 6430u Hardware
While the Dell Latitude 6430u i7 laptop does not support touch screen facilities, this business laptop does not fall back on any accounts. The keyboard provides you with a lovely experience when you type. It is spill resistant and is backlit as well. The key travel will have you mesmerised. There is also a pointing stick. The power button is located on the top of the keyboard at the middle, with the volume buttons and a set of lights on either side. The speakers are small and are located on each side below the right and the left hinges. The camera is located at the conventional position on the top bevel of the screen at the middle.
The Dell Latitude 6430u weighs as little 4 pounds, which may be heavy for an Ultrabook, but will definitely not put a weight on your shoulder when you are travelling.
Dell Latitude 6430u Software
The Dell Latitude 6430u is loaded with features in terms of the software as well. This business laptop comes pre-loaded with Windows 7 Professional.  It is powered by an Intel core i7 Processor with a strength of 2GHz. It will backed up by a 8GB RAM and a 256 GB SSD. It is available integrated with an Intel 4000 HD graphics card. These configurations has ensured a fantastic performance.
Battery
Dell Latitude 6430u i7 Ultrabook draws power from a 60 WHr battery, the life of which is commendable, having worked for as long as 7 hours and more without breaking a sweat. To say that it will be travel friendly, might be an understatement. It is removable too and you can carry a extra battery with you in case you go on a long journey.
Dell Latitude 6430u for Gaming
While the graphics card and the superior performance do make it a good machine for a few 3D games, it should be kept in mind that is meant for business purposes primarily.
Performance
Loaded with the above mentioned software, it is quite obvious that the performance will be quite up to the mark as well. It can handle almost anything and when tested, boots the Windows 8 OS within an amazing 10 seconds.
Price of Dell Latitude 6430u
The Dell Latitude 6430u is currently priced at around Rs. 60,000 , which is quite expensive. Dell has set a price of $1,636.46 for this  business laptop.
Pros and Cons
Among the pros, are the attractive chassis, the ultra-fast start-up time, the mind blowing performance, Ethernet ports and amazing battery life.
Among its cons are its weight bordering on heavy, the low brightness of the display and somewhat uncomfortable pointing stick.
What is my Opinion about Dell Latitude 6430u
All in all, it can be said that Dell has definitely delivered what it has promised in the Latitude 6430u i7 Ultrabook. The strong and reliable performance and super fast speed of the same only add up to its favour. The battery life will make sure that you can work no matter where you are. Latitude 6430u is one of the best laptops that you can buy if you are more into the need of productivity and performance. It also provides an external optical drive and a removable battery.
For more information do not forget to check- Dell Latitude E6430u