Christmas Giveaway: Deals and Offers by Leawo.Org
|
Hello readers, leawo.org is organizing a giveaway on their website, where everyone is welcome to participate. The winners of this contest stand to win a 1 year license for Leawo Blu-ray Ripper and Leawo Tunes Cleaner. Also a multitude of lifetime deals are available.
Leawo Blu-ray Ripper
Leawo Blu-ray Ripper Win  is a quality converter as well as ripper software, which can be utilized for making backup of Blu-ray or DVD to some other disk, for converting from one format to another, as well as for cracking the encrypted or copy-protected disks. It supports a multitude of formats, thus allowing for one to convert from virtually any format to another that is being used today. These files then later can played on almost all types of media devices such as Android phones, Apple devices, tablets, PC media players, other smartphones, etc.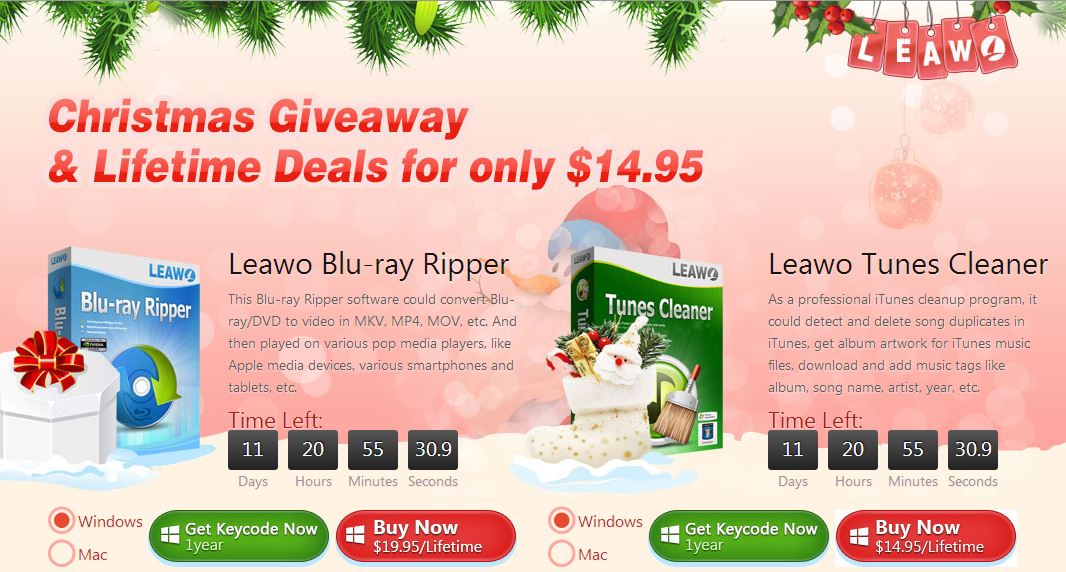 Some other useful feature of this software is its user-friendly video editing function, and its 2D to 3D converter for making videos playable for 3D players with the ability to modify 3D depth according to their needs. To meet the requirements of target devices with ease, there are various professional file output parameter settings are available like codecs for audio and video, frame rate, aspect ratio, bit rate, video size, etc. Also one can add their own choice of audio and subtitles to the output as per their requirement. Apart from these, with these you can merge multiple files into one.
Leawo Tunes Cleaner
Leawo Tunes Cleaner Win is an iTunes cleaning tool for Windows, for managing the iTunes. It has ability to check for duplicates of songs in iTunes and then delete them, search for missing artwork, music tags, attributes such as song name, artist, year, etc. and then complete them by downloading. It is not only limited to iTunes library, as it can perform similar efficient functions for other music or MP4 folders too. One of the innovative features of this its rating system of music libraries, through which you can compare the scores of your library, before and after the clean-up.
More Lifetime Deals
You can get them with a 1 year license for free. You can also check the lifetime deals that are being offered also here, but only for a limited time. While you can get the Blu-ray Ripper for a mere $19.95 for lifetime, the Tunes Cleaner is available for a measly $14.95 for lifetime. You can also check out the various other promotional offers and discounts that Leawo.org is giving on other products as well as products-combo on the occasion of Christmas.
Hurry up, and get these useful software at these deals, all before it ends.
Click to Enter This Giveaway Here>> Christmas Giveaway