BlackBerry Q10: Five Interesting Things All Should Know
|
BlackBerry Q10 has been launched recently this year to fulfill the tech savvy customer needs and demands. It was known to be the most awaited mobile device by the users without any doubt. It is not much expensive and is being liked by users the most as compared to other mobile devices available in the similar domains. This new mobile device is comprised of variety of features including Wi-Fi, fast processing, Bluetooth, Touch Screen, Qwerty Keyboard, and lots of others. If we talk about the keyboard of this smartphone, its QWERTY styled keyboard is unique, awesome, and fantastic as compared to all other touch screen mobile phones. Let us have a quick look at the 5 most interesting things regarding BlackBerry Q10.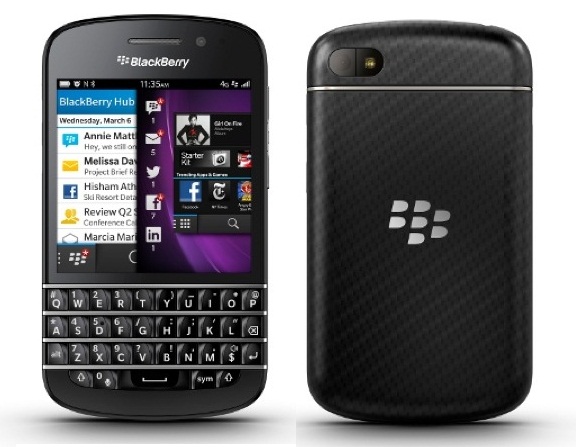 Best Performance and Awesome Display
The device performs more efficiently and perfectly than any other comparable gadget because of the high-speed processor available in it. It consists of 1.5 GHz processor, which is a dual-core chipset and capable of providing best performance to its users. It makes best use of BlackBerry 10 OS. Moreover, as far as its display is concerned, it comprises of 3.1-inch screen, and supports AMOLED screens along with the best resolution of 720X720 Pixels to provide the most amazing experience to the users.
Q10 Design
It is a fact that the design of any mobile device either attracts or disappoints the users at the first glance because first impression is always the last impression. If it goes good, everything after that will be best. The most attractive and convincing thing regarding this Q10 mobile device is that unlike other touch screen phones, it is made up of a complete fiber instead of plastic designs. In addition to this, each Q10 device being sold by company to users is comprised of unique designs from its previous model.
Applications
A variety of applications has been offered by BlackBerry to its users. In this version of BlackBerry Q10, the developers have provided users with lots of new and fresh apps for the sake of entertainment and fun. Application including BlackBerry World, Blackberry Balance, BlackBerry Remember, and many other entertainment applications are available for the users for free. The most popular application is BlackBerry Hub, which allows users to have a single swipe over an interface and it flows effortlessly through your personal messages and chats. The other above mentioned applications are also useful in their own ways like BlackBerry Balance keeps your data and information secured by managing and creating two user profiles; one for personal use and other for office use. Similarly, BlackBerry Remember allows you to have a better collection of your data i.e. photos, images videos, movies, lists, messages, links, group chats, and much more.
Mind Blowing Camera
Q10 is having awesome camera providing 8 Mega Pixels results to users along with complete HD recording facility. Moreover, a 2 Mega Pixel camera with HD recording is also provided in rear/back. Camera of Q10 is of 5X Digital Zoom. Other features include flash, 720 p video recording with 3X Zoom, and much more are also available in this amazing smartphone.
Price
If you are looking for something unique with best features, then price will matter for you for sure. Users normally prefer the most cost-effective, reliable, and trustable mobile devices because they never wish to suffer repeatedly. Phone is available in almost all countries on reasonable prices but remember that price may vary from place to place or region to region. Retailers always are in competition with respect to price because if one of them will offer the same gadget to the users at less expensive cost by keeping everything else constant i.e. quality, usage, durability, and standard, then the users will never hesitate to purchase this mobile device.
In nutshell, Q10 has been declared the best manufactured device by BlackBerry and hence, has covered a lot of market right after its launch. Users are purchasing and trying these devices a lot and in near future, it is expected that BlackBerry is going to take market of iPhone down. This will only be possible if and only if they will raise their standards and adjust the product price as per the customers' needs.
Author bio: This guest post is written by Muhammad Azam who is an avid blogger. He loves to write on gadget and upcoming business smartphones. He has previously written for European brands such as Protect your bubble where you can insure multiple gadgets at affordable rates.