App development – All you need to know as an App development company
|
All the leading mobile operating systems have hundreds of millions of applications in their proprietary app stores thus making the mobile app development industry worth billions in today's time.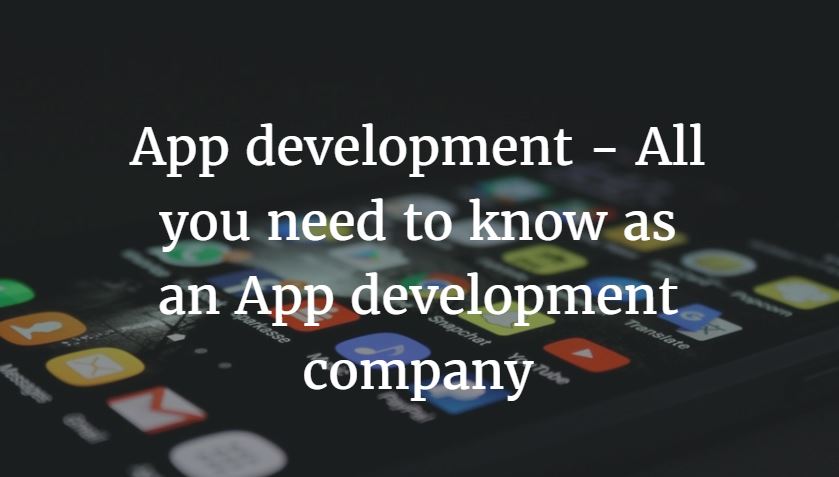 And as the craze for portable devices are reaching new heights every year, the demand for mobile app development will not be dying out anytime soon.
Because of the immense popularity of app development for mobile devices, there are several online and offline sources which will teach you the basics of mobile app development and how to create your own application.
Even if you are not interested to join any online or offline courses for mobile app development, you can simply learn mobile app development if you have some prerequisite coding knowledge and if you can dedicate enough time as leading mobile operating systems like Android and iOS offer its application developers with an application builder tool that eases out the task of developing applications that can suit Android and iOS devices the best.
Moreover, these mobile operating systems also provide detailed tutorials on almost every detail that is required in developing applications for these platforms so as to help newbies and professionals alike.
However, in today's time, the idea and functionality behind an application needs more attention than developing the application itself. As app building has become easier, multiple applications have emerged that performs basically the same task. However, there are still some core features and functionalities that differentiate one app from the other.
To create an application that stands out from the rest of the competition, creating a unique application with a fresh idea and list of functionalities is really important.
If you have a unique idea that you think will work best if implemented as an application, then it is important that you keep an NDA agreement with whoever you discuss the idea with. NDA for app development is the acronym for Non-Disclosure Agreement, which legally prevents anyone with whom you share your app ideas from sharing the idea and any such secrets with a third-person.
However, please be aware that only the parties named in the NDA are restricted from sharing your app ideas and your app ideas may still be subjected to copying.
Final Words:
Hope this article helped you understand the importance of app development in today's time and also the importance to sign an NDA for app development whenever you share your app ideas and other secrets with anyone else.