Any DVD Cloner Platinum Review
It is annoying that DVD copy protections like CSS, RC, RCE, APS, UOPs, ARccOs, etc. always prevent you from copying DVD to DVD or hard drive.  That is why Any DVD Cloner Platinum comes.
There are so many DVD Cloner in the market and it is difficult for laymen to tell them apart. What really makes a DVD Cloner application excellent is that it can rip the DVD discs you want to rip to recognizable file formats for your blank discs or digital devices. Any DVD Cloner Platinum is such a comprehensive DVD Cloner and DVD ripper that it perfectly caters to your needs.
Easy to install and easy to use
It is possible to finish installation and get the program running in a heartbeat.  Figuring out that most folks who acquire DVD copy software have never done this type of thing before, Any DVD Cloner Platinum has been designed so simple that people will find it easy to use regardless of their level of experience. And, it is by no means the only feature of the program.
Clone DVD to other DVD disc
Any DVD Cloner Platinum is compatible with several types of media, including DVD-9 and DVD 5. Thanks to the intelligent Analyzing Technology, the program would analyze the structure of the DVDs automatically when you first insert them.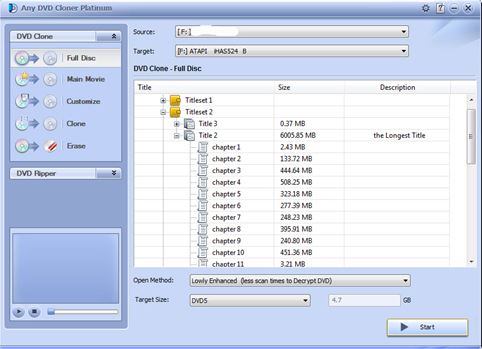 Any DVD Cloner Platinum is a flexible software program that provides you with a number of options for fine tuning and customizing your cloning procedure. You can make an exact DVD Clone with perfect 1:1 quality in 1:1 clone mode. If you would like to compress a full DVD-9 disc to DVD -5, just set the Target Size to DVD5 and you will make it in Full Disc mode.  When making a copy, sometimes you don't need all the previews or all the language tracks. By choosing the Main Movie mode, you can keep a high-quality copy and take up less space and time. However, if you decide not to include every scene, the program gives you the full control to remove the unwanted scenes.
It is worth noting that Any DVD Cloner Platinum supports erasing written DVD-RW or DVD+RW independently. This feature can also be found on "DVD Clone" panel.
Rip DVD to popular formats and devices
The program is more than a DVD Cloner.  For people who rent Movie DVD discs and want to watch them on their own digital devices or make backup for their DVD collections, Any DVD Cloner Platinum is absolutely a godsend.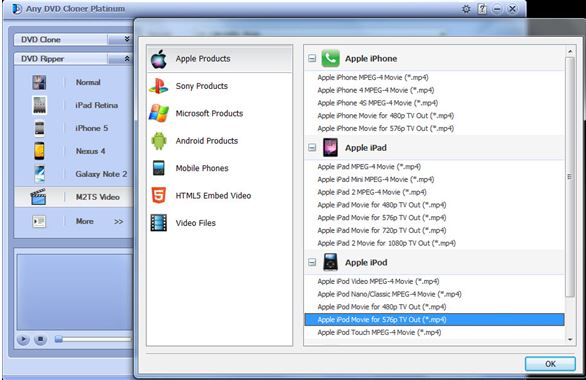 It enables users rip any DVD movies to popular video formats like MP4, M4V, M2TS, and AVI.  It even does not matter if you do not know which format your device supports as the program has made it an all-you-can-eat buffet.  What is more important, you can also choose the parts you need and leave the rest behind. The copy quality is excellent. The flexibility that Any DVD Cloner Platinum offers in ripping DVD is unequaled and undoubtedly one of reasons why it is so loved.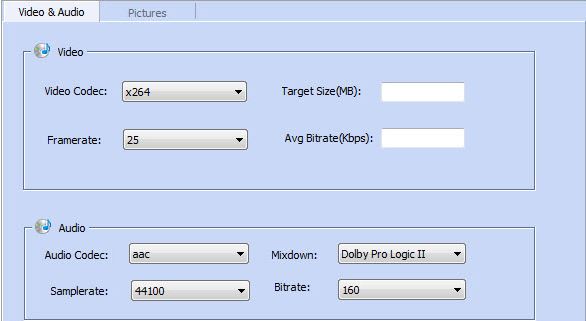 Summary
Not all DVD Cloners are identical. Any DVD Cloner Platinum gives you complete control over your DVDs. You can make a backup for your Movie DVD collections with high-quality. You can copy the rental DVD to blank discs with extraordinary speed. You can rip your DVD to your preferred digital devices. If you are invested in Movie DVDs, Any DVD Cloner Platinum is dynamite choice.
Homepage: http://dvdsmith.com/