An Effective Review of Samsung Galaxy Tab 2 7.0
|
Samsung Galaxy Tab 2 7.0 is meant for all those who were looking for something comparatively more portable, smaller as well as lighter than an iPad. Since the success of Samsung Galaxy Tab 10.1, Samsung has been among the leaders of Android tablet and now it brings to you Samsung Galaxy Tab 2 7.0. Samsung hopes to offer something which is not like the new iPad in form of the 7 inch Samsung Galaxy Tab 2 7.0 which runs on Android 4.0. With this Tab Samsung might find its competitors in Amazon Kindle Fire, Nook or the several ICS tabs which are of the similar price. We got the first view of the tab at Samsung Worldwide Conference which took place in February.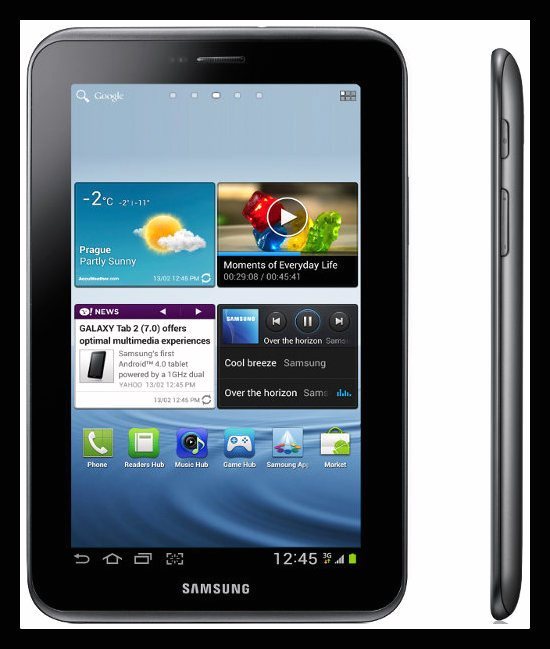 Features of Samsung Galaxy Tab 2 7.0
From the back, the Samsung Galaxy Tab 2 7.0 is silver in color and looks great. With a weight of just 344g it feels pretty light to hold. When compared to the iPad, the weight of this tab is little more than the half of what the iPad weighs. The size of Galaxy Tab 2 7.0 is small enough to read one handed. It is pretty easy to handle.
It features a TI OMAP 4430 dual core processor and has a I GB RAM. Hence you will get a good lineup of storage sizes without any scrimping.
You can get this tab in 8 GB, 16 GB as well as 32 GB sizes. A microSD card up to 64GB will help you increase the built in storage. So even if you get the 8GB version, you do not have to worry. A 3G option is also available with pricing and the availability TBC.
The screen is 7 inch 1024×600 TFT. The panel is pretty dull and not impressive. You might feel the touchscreen experience is somewhat sub-par. The sensitivity of display isn't all that great and the small parts of the browser ( like close tab button or the links) are not pressed easily. The camera isn't among the best things about this tab. It takes satisfactory pictures. You can record 720p video at 30fps with Samsung Galaxy Tab 2 7.0.
Deep Look at the Design
The Samsung Galaxy Tab 2 7.0 is plastic but it is certainly not slippery or unpleasantly glossy. It is pretty solid. The thickness of the tab is 10.41mm while the weight is 344 gm.
When compared to the previous galaxy tabs, you will not find anything extraordinary in this one where buttons and ports are concerned. When you hold this tab in portrait mode, you will find the power button on right at the top and below the power button, you will find the volume rocker. The stereo speakers as well as the proprietary charging port are present at the bottom while the IR port and Micro SD port are to the left. The top part also consists of the micro phone jack.
Performance of Samsung Galaxy Tab 2 7.0
Samsung Galaxy Tab 2 7.0 is powered by Texas Instrument OMAP 4 dual core processor. This 2011 chip isn't the state of the art. Qualcomm, Samsung as well as Texas Instrument do have faster cell phone processors on market. However OMAP 4 is not a slouch.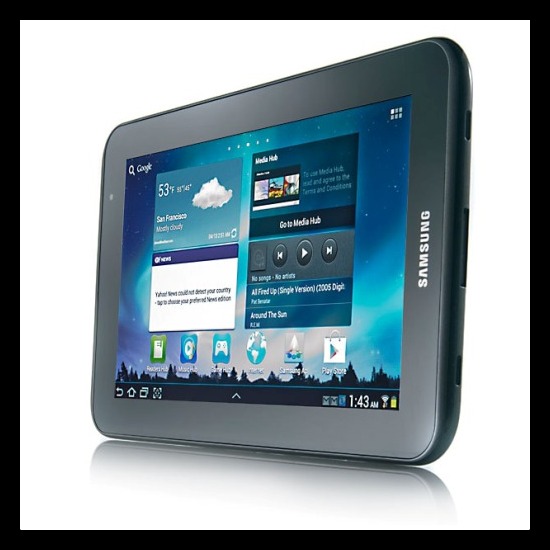 The tilt-sensor of Galaxy Tab 2 7.0 seems to be somewhat over active. The screen orientation will change automatically as soon as you tilt the tab. This happens in most of the modern tabs. This way you will be able to shift between landscape and portrait mode quickly. However, Galaxy tab may flip the screen on being tilted just a bit.
The battery will last about 8.5 hours while you perform tasks such as listening to music, browsing the web and other light tasks in which the screen is on.
The front camera of Galaxy Tab 2 7.0 is a VGA (640×480) and can be used for taking pictures or video chatting. The tab also has a 3MP rear camera. The front camera is nothing great. Samsung could have given just one front camera of a higher quality than compromising its quality for the rear camera. This tab can take decent pictures under right circumstances but it lacks auto focus so this is one of the cons of the Galaxy Tab 2 7.0.
Battery
The Tab sports a 4,000 mAh battery. When compared to Galaxy Tab 7.7 LTE, it is about twenty five percent smaller. As mentioned earlier the battery might last you about eight and half hours when you use your tab for music or web browsing. The performance can be called decent if not extraordinary.
Price
Samsung Galaxy Tab 2 7.0 is available at 199 USD. Keeping in mind all what it has to offer, this isn't a bad deal after all.
My Verdict
In case you are searching for a full featured tab which would support full Android software experience, with a microSDHC card, decent camera, then the all new Samsung Galaxy Tab 2 7.0 is what you have to compete against.
Few tabs have the display quality, speed as well as the looks in one package and the new Samsung Galaxy Tab 2 7.0 is certainly one of them.
4 stars to this all new Galaxy Tab 2 7.0.
Share your opinion with us under comments. I would love to hear your thoughts on the amazing Samsung Galaxy Tab 2 7.0 and its features.