Acer Iconia Tab A510 Review
Acer Iconia Tab A510 Review
The all new Acer Iconia Tab A510 is finally in market. The new Acer has been moving up in the world of technology from quite some time now and it has all the reasons to be raved about. The latest addition to the list of their gizmos is the Acer Iconia Tab A510. But not judging the book by its cover, this tab is pretty good. This tab has delivered all that it has said till date and this is one of the main reasons why its popularity is rising consistently. Besides having a 10.1 inches touch screen of 1280×800 resolution, it also has an inbuilt Bluetooth port, a front camera of 1 MP and a rear camera of 5 MP.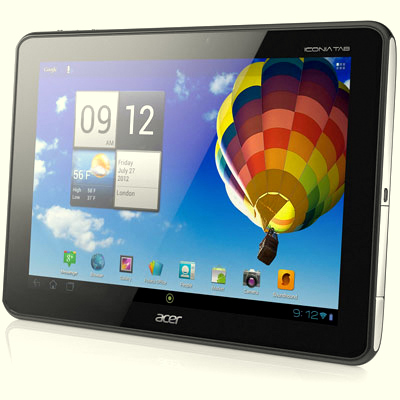 One cannot stop raving about its features, be it speed, clarity, size and price and that is why it is giving tough competition to its fellow competitors. The details of its features are as stated below:
Acer Iconia Tab A510- Design and hardware
Acer Iconia Tab A510 comes with a soft and a smooth to touch back in either black or silver, which lets the tab become handy and gripping. With only 10 lbs of weight and 0.43 inches thick, this new Acer Iconia Tab is being said to be the best of all the tabs Acer has produced till date. Its sleek width holds a large amount of capacity and securely places a battery of 9800 MAh, which the company claims can run for 15 hours at a stretch. All the external ports come with covering lids which are attached to the corners of the ports, which makes it very easy and convenient. Even the slots for SIM card and microSD are covered thereby protecting them from falling off.
Acer Iconia Tab A510- Display
As mentioned earlier, Acer Iconia Tab A510 has a 10.1 inches wide screen with a screen resolution of 1280×800 pixels. The viewing angles are pretty good; in spite it not being an ISP, and has a brightness of 320 nits. The color payoff is also good as there is no light bleed which means that there are no dead pixels present anywhere on the screen and the sides and edges are as clear as is the center portion of the tab. The auto brightness feature allows it to adjust itself automatically according to its environment.  The new Acer Iconia Tab also provides the options for the touch sensitivity as to you chose whatever level you want for the sensitivity.
Acer Iconia Tab A510- Camera
The Acer Iconia Tab A510 comes with a 1MP front camera and a 5MP rear camera. The rear camera has good quality and is seen that it takes great shots. The quality of the picture remains intact as long as it is viewed in the same frame as it was shot in. but the moment one starts to zoom the picture, the pixels can be clearly seen. You also have to fiddle a lot with the options available on the camera home screen to get the desired settings. The front camera of this new Acer Iconia on the other hand is not much different from the other tabs. The clarity is not very great, but we do not expect anything great out of 1MP. The rear camera can also shoot videos in 1080p mode. But one cannot expect a very good quality HD transformation from it.
Acer Iconia Tab A510- Performance and battery life
One of the best features to be included in this Acer Iconia Tablet is that it is quite fast; so much so that one is not interrupted by the pauses and the wait/force close dialog boxes that usually appear making it a little irritating for the user. It runs on 1.3 GHz quad Tegra 3 processor. It does not hang ar slow down when flipping through various screen pages. It has an internal cache memory of 32 gigs and memory of 1gig of DDR2 RAM. The battery life of the new Acer Iconia Tab is anywhere between 11-12 hours for videos and 14-15 hours for general use as claimed by the company.
Acer Iconia Tab A510- Sound and multimedia
Acer Iconia Tab A510 comes with "Dolby Mobile Sound" which is very good by the standard of a tablet. The MPEG4 video makes it very easy for the 720p and 1080p videos to play. It also supports the AVI format of the videos.
Looking at the all new Acer Iconia Tab price, it is available just for $449.00. So is the price of Acer Iconia Tab not less looking at the features? The tab is easily affordable and its great functionality makes it a good gadget to have under $500.
Conclusion
This Acer Iconia tablet is here to stay for a long time given to its amazing features and design. Also the price is quite affordable and thus will make its place in the hearts and pockets of the masses without letting them pinch.
Get your hands on Acer Iconia Tab A510 and let us know what you like most about it.
About The Author
Sanjib Saha
Connect with me on Facebook, Twitter and Google plus.